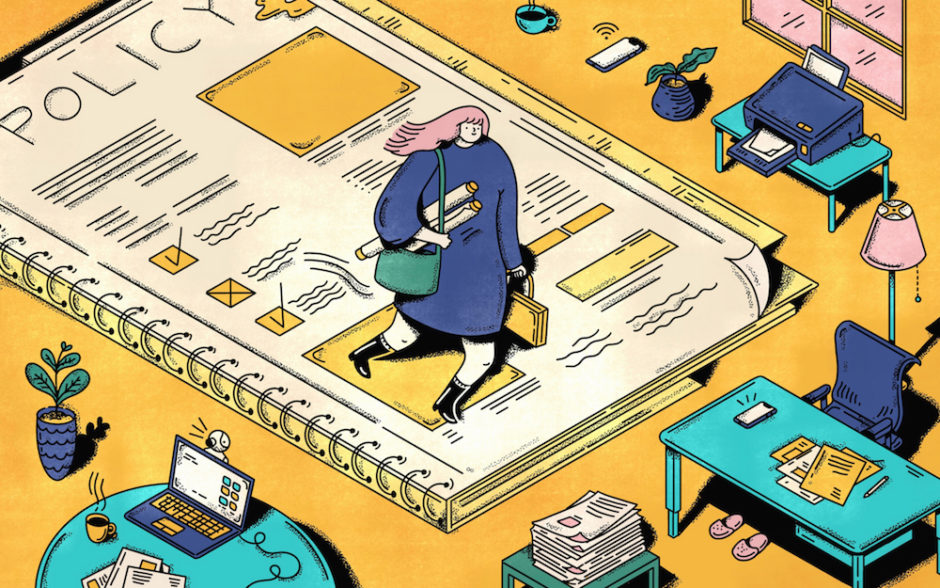 Illustration: Kathleen Fu
You're not one to brag, but when you were all working side-by-side in the office, your team was a well-oiled machine.
Expectations were clear, communication was efficient and effective, and there were high-fives all around as you continued to achieve goals and cross projects off your to-do lists.
But suddenly, everything feels like it's turned on its head. Your entire team has had to rapidly adjust to working from home, and it's thrown a wrench in things.
People aren't sure if there are hard and fast rules about when they need to be signed on or how soon they should be responding to pings. They don't understand the best ways to get in touch with each other. They're missing the resources they need to be successful in their new home office environments.
Sigh. It's a lot to work through. But here's the good news: Drafting a work from home policy can help get everybody on the same page.
What is a work from home policy?
Chances are, your company already has a bunch of existing policies in place. Maybe there's a harassment policy or a policy for requesting vacation days.
Much like those other formal documents and procedures, your work from home policy details your expectations for people who are now working outside of the office.
Put simply, it's an agreement between the employer and the employee about the rules that need to be adhered to when they're getting work done outside of your standard workplace.
Do you really need a work from home policy?
Working from home is an approach that has gained a lot of traction in recent years. Gallup's 2017 State of the American Workplace report found that 43% of Americans work from home at least occasionally.
In the wake of the current COVID-19 pandemic, that number is only growing. The vast majority of businesses who are considered "non-essential" are now figuring out how to manage a staff that's no longer cranking through work under the same roof.
While a work from home policy isn't an absolute requirement to making these arrangements successful (plenty of companies don't have a formal policy in place), documenting one can offer numerous benefits, including:
Proactively answering employee questions: People are bound to have questions, especially if working from home wasn't the norm for your employees before now. Your work from home policy can address a lot of common confusion upfront, so employees have the information they need—and so you don't have to repeat the same answer again and again.
Navigating around potential pitfalls: From increasing productivity to boosting employee happiness, remote work has plenty of benefits. However, there are also some hurdles and drawbacks. Mapping out a policy can help you proactively address those before they become larger issues.
Providing support and resources: Making the transition to working from home isn't exactly seamless, particularly if your employees lean on a lot of in-office equipment and tools. Rather than just mandating rules and expectations, your policy should also equip them with helpful resources they can use to thrive in their new home office environments.
So, no, documenting a formal work from home policy isn't a requirement (we promise the remote work police won't be banging on your door). However, we're firm believers that getting all of this down on paper is still a good idea.
What needs to be included in your work from home policy?
You're sold on the benefits of getting these rules and expectations in writing. Now here's the big question: What should your work from home policy look like?
Like any other company policy, these documents can run the gamut from simple one-pagers to complex booklets. You have the flexibility to create something that works best for your organization and your team.
But when it comes down to the bare essentials, let's dig into the core elements that your most basic work from home policy should include.
1. Policy objective
At the top of your policy, start with a clear statement about the purpose. Basically, why does this policy exist? What are you hoping it accomplishes?
This might seem like an unnecessary formality, but setting this context upfront lets your employees know that this policy exists for the benefit of both of you, and isn't just a scare tactic or harsh reprimand.
EXAMPLE:
Policy Objective
Here at CompanyXYZ, we want your time working with us to be as productive, rewarding and positive as possible. That's true whether you're working in our office, from home, or somewhere else entirely. We've mapped out this policy to align expectations, answer common questions, and set everybody up for success when working from home.
2. Eligibility and approvals
This section won't carry as much weight if you're currently in a situation where working from home is mandated or required. In those cases, you can't really have a formal approval process in place.
However, if you want this policy to be something that you can use for the foreseeable future (you know, even outside of a global pandemic), it's important that employees understand who is allowed to work from home and how they can go about requesting those accommodations.
EXAMPLE:
Eligibility and Approvals
Employees are eligible to work from home if they meet the following criteria:
They prove that they have access to all of the necessary resources and equipment they need to fulfill the responsibilities of their role outside of the office
They have a request form signed by their direct supervisor and an HR representative
They have confirmed receipt, signed, and filed a copy of this work from home policy
To request approval to work from home, an employee must complete and submit the work from home request form (located in CompanyXYZ's shared drive) to their direct supervisor and HR representative. The completed form should be emailed directly to both parties, and all required fields must be filled in. Employees will receive approval, denial, or a prompt for additional information within five business days of submitting the request.
Company XYZ reserves the right to deny work from home arrangements to employees. In such cases, the reason for the denial will be thoroughly explained to the employee.
3. Availability and working hours
A flexible schedule is often cited as the biggest benefit of remote work (a whopping 40% of respondents pointed to this advantage in Buffer's 2019 State of Remote Work Report). And you're more than happy to provide your employees a bit of wiggle room.
However, work still needs to get done and people need to know how and when they're able to get in touch with each other.
That's why this section is all about detailing standard working hours, expected response times, and any requirements that employees should be aware of for logging their time and productivity. For example, do they need to track their time with a solution like Toggl Track? That should be clearly stated here.
EXAMPLE:
Availability and Working Hours
While we allow for a certain amount of flexibility, employees are generally expected to be signed on, working, and available between the hours of 9 a.m. EST and 5 p.m. EST, Monday through Friday.
In the case that an employee is taking a brief break, they should update their instant messaging status accordingly so that team members know they're currently inaccessible. When longer absences are required (such as for a medical appointment, childcare, etc.), the employee should notify their direct supervisor and team about how long they'll be signed out and when they expect to return.
Employees are expected to respond to any pings, requests, or messages within a 24-hour period during the workweek. Team members are never required to work or respond to requests during weekends or holidays.
4. Required technology and equipment
When you were in the office, it was easy to ensure that everybody had access to what they needed to do their jobs effectively. But now that everybody is relegated to their own home offices, those tools and resources aren't quite so reachable.
Treat this section as a checklist of the things your employees will need to work from home. Do they need to download Zoom or Slack? Should they have a webcam? Do they need access to your team-wide Trello?
Pull all of that together here, along with any instructions they'll need for downloading or accessing those resources.
EXAMPLE:
Required Technology and Equipment
In order to effectively fulfill their responsibilities from home, employees will need access to the following tools and equipment.
Office equipment:
Computer
Printer
Webcam
Phone
Internet Access
Tools and Platforms:
If you experience trouble logging in or accessing any of the above, please contact the IT department at ithelpdesk@companyxyz.com so that they can assist you.
5. Communication channels and uses
You no longer have the luxury of popping by a team member's desk or engaging in an informal status update session around the break room coffee pot. That means communication can be a real challenge for teams who are working remotely.
One of the best ways to get ahead of potential communication issues on your team is to break down the different communication methods you have available, and the intended use for each one.
For example, should Slack be used for casual or quick updates while email is reserved for more detailed communication? Lay those ground rules here. They'll hopefully help you avoid a ton of crossed wires moving forward.
EXAMPLE:
Communication Channels and Uses
Company XYZ has a number of different channels that team members can use to communicate. Below is a brief breakdown of the intended use of each channel so we can ensure we're communicating as efficiently and effectively as possible:
Slack: Primarily used for quick questions, real-time conversations and water cooler chatter
Email: Primarily used for longer and more complex updates and information
Zoom: Primarily used for weekly team meetings and bi-weekly one-on-ones with managers
Trello: Primarily used for project or task-specific communications, where messages should be left on the corresponding card
6. Staff support
Working from home can be lonely. In fact, the remote work lifestyle is frequently tied to social isolation.
In addition to missing out on shared lunches or informal catch-up sessions with coworkers, your team has also lost their easy access to the people resources within your office. They can't just swing by their HR representative's desk with a quick question.
You want your employees to feel well-supported—even when working from home. So, use this section of your policy to give them the details of who they should contact with specific questions. That way they'll feel empowered to get the information they need (and they'll feel a little less alone, to boot).
EXAMPLE:
Staff Support Contacts
Have questions? Below is the information of the best people to contact with specific inquiries.
HR-related questions: Send an email detailing your question to Prashanth at prashanth@companyxyz.com.
IT-related questions: Submit a helpdesk ticket request at helpdesk.companyxyz.com. For straightforward or urgent inquiries, ping Claudia via a direct message on Slack.
All other questions: Reach out to your direct supervisor, who will help point you in the right direction.
7. Security and confidentiality
Working from home means your employees are going to need to access information outside the confines of your office, and that can be scary—especially in industries where you're dealing with a lot of sensitive or confidential information.
If security is a concern for you, this section will ease some of your fears by making sure employees understand what's expected of them in order to maintain adequate confidentiality.
Should they avoid taking client calls in a public setting? Are they not allowed to use public WiFi? Lay out all of those requirements right here. After all, it's better to be safe than sorry.
EXAMPLE:
Security and Confidentiality
CompanyXYZ places a high priority on information security and the confidentiality of our clients' information. To continue to prioritize a high level of security, employees are not allowed to:
Accept company phone calls in public places
Disclose confidential information to non-approved people, including friends or family members
Share company passwords, logins, or other sensitive details with non-approved people
Public WiFi (such as in coffee shops, airports, etc.) may be used by employees. However, if they have any concerns about the security of their information while using those networks, they should notify the IT department.
All other security and confidentiality-related agreements that have previously been signed by employees still apply in the home office environment. As always, please practice the utmost caution with sensitive information.
8. Other general expectations
The above sections covered a lot of the specific requirements and concerns you have related to your staff suddenly working from home.
However, there are probably some other basic expectations—like treating everybody with respect, for example—that apply to your employees both inside the office and out.
You'd like to assume that these sorts of obvious things go without saying. But since you're pulling together this policy anyway, it certainly doesn't hurt to reiterate them.
EXAMPLE:
Other Expectations
CompanyXYZ prides itself on its positive work environment. Whether employees are working inside the office or out, they're expected to:
Abide by all signed company policies and procedures, including the Discrimination Policy and Harassment Policy
Communicate and collaborate with everybody in a respectful and courteous manner
Make every effort to produce their best work, including being honest about their working hours, avoiding time-wasters and distractions, and fulfilling all responsibilities of their role
Any questions about basic expectations and requirements should be directed to the employee's supervisor for continued discussion.
9. Confirmation of receipt
You're not creating this policy for the fun of it. It's something that you want your employees to review in detail and then abide by.
At the very bottom of your work from home policy, include spaces for the policy to be signed and dated by the employee, the employee's supervisor, and the HR department. That way there will be no doubt that everybody is on the same page.
EXAMPLE:
Confirmation of Receipt
The below parties authorize that they have read and reviewed this policy in detail and agree to carry out all of the outlined expectations.
________________________ _______________________ ___________
Employee's Printed Name Employee's Signature Date
________________________ _______________________ ___________
Supervisor's Printed Name Supervisor's Signature Date
________________________ _______________________ ___________
HR Rep's Printed Name HR Rep's Signature Date
Have your work from home policy ready to go? Be prepared to make the most of it
You did it! You walked through each of those sections and have a draft of your work from home policy ready to go. Now what?
Go ahead and share the policy with your employees. But rather than announcing this as the finished version right off the bat, allow them the chance to ask questions and provide feedback.
Are there areas that your employees think are missing or need to be expanded on? Are there certain elements that they take issue with? Make it clear that you're open to their insights and opinions about how this policy can be improved.
By giving them that opportunity to chime in and then making any changes or updates accordingly, you'll end up with a work from home policy that not only supports your company's best interests, but also sets your employees up for continued success in their home office environments—whether this change is permanent or temporary.