How modern is your employee selection process?
The world is constantly changing, and that's especially true for technology.
So, to be competitive and acquire the best talent, employers also need to keep their recruitment and selection process, strategies and tech stack up-to-date.
In this article, we take a look at each step of the employee selection process to uncover how you can use the latest tech and digital trends to streamline, automate, and update your hiring flows.
TL;DR – key takeaways
Employee selection is a process of matching a company's organizational requirements with applicants' skills and qualifications.

The traditional ways of employee selection are outdated. A more modern recruitment process can not only save time and money but can also help bag the best candidates.

HR teams need not manually screen CVs and cover letters now that you can automate resume screening and utilize AI and skills tests to help find the best job candidates.

Say goodbye to inefficient processes by learning the common problems and the latest solutions for each of the 7 steps of the employee selection process below.

Adding skills assessments can help modernize and streamline your employee selection stages. Browse our assessment library to see what skills and competencies you can test with Toggl Hire.
What is the employee selection process?
Typically, the employee selection process refers to the five or seven steps, depending on the company, that complete the hiring cycle. These are: announce the job, review applications, screen candidates, conduct interviews, make your candidate shortlist, further testing, and finally, make an offer.
At least, that's what's supposed to happen. In reality, of course, it's not uncommon that a fair share of your new hires — think former colleagues or that awesome freelancer you've been working with — will skip at least a couple of those steps.
And while following a series of steps may sound straightforward, another hard truth for many companies is that their processes are by now outdated and inefficient — with entrenched old habits costing time and, that's right, time is money.
So let's be honest.
As we go through the 7 stages of the employee selection process, we'll be revealing some of the most common problems facing hiring teams today, and highlighting some of the very best modern-day solutions to help you nail your hiring cycle. Corny drumroll, please.
The 7 stages of the selection process
Despite those various exceptional cases, recruiters and hiring managers (for a long time now) have generally followed seven steps when trying to fill a position — changing or combining them as necessary, depending on the position, size of the company, etc.:
Create a robust job description and announce it on job boards and ads
Pre-screen applicants by CV and cover letter
Conduct an initial screening of the best applicants, usually by telephone interview
Set up a series of in-person interviews for the best candidates to follow
Shortlist the best candidates with feedback from the hiring manager
Check the candidate's references, qualifications, background, and anything else
Finally, offer the position to the leading job candidate
Are you starting to see the problem?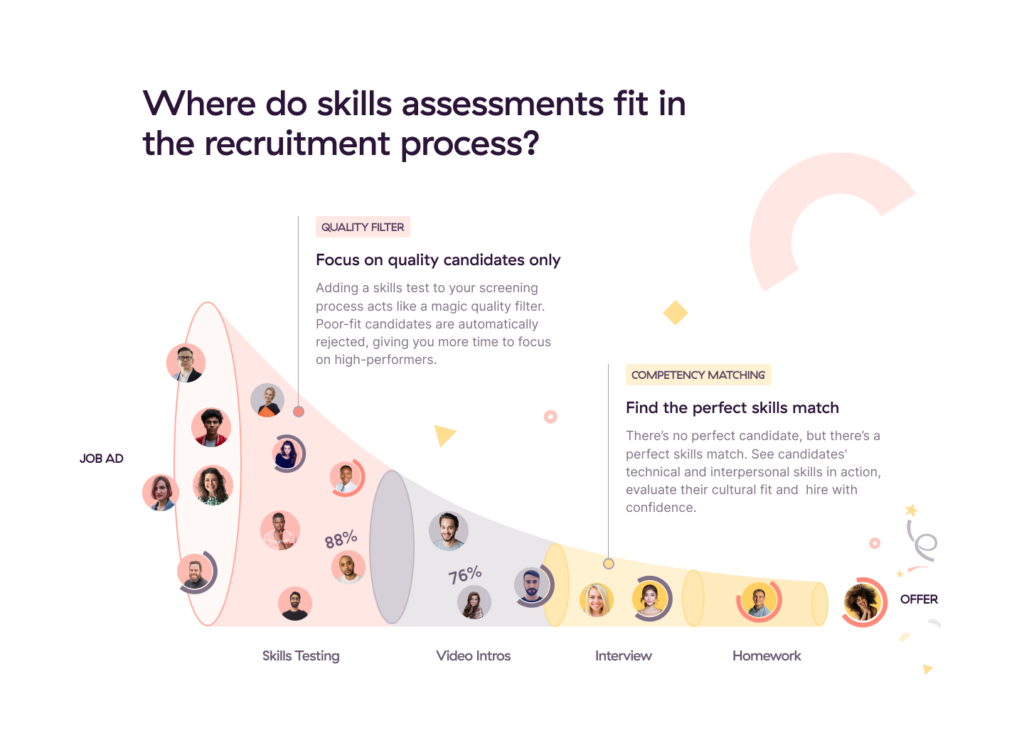 Modern vs traditional employee selection – what's the difference?
The main difference between the modern and traditional employee selection process is technology, of course. While the traditional recruitment process is lengthy, manual and labour-intensive, modern methods use automation, digital platforms, and innovative SaaS solutions (like Toggl Hire, for one!) to reach and engage top-tier candidates.
And yet, for a terribly long time, the basic steps of the employee selection process at many companies have continued to remain exactly the same. But that's all about to change. Early adopters of modern HR technology will already be familiar with the exciting new tools and strategies for hiring, and now, these are finally making their way towards mainstream adoption.
The modern employee selection process
In this more modern age — one where landlines are all but forgotten — employee selection now includes various methods for acquiring talent, such as targeting passive candidates and applying creative recruitment strategies.
Additionally, technology has made it possible to automate the screening process and filter out unqualified candidates using algorithms or pre-defined questions that screen for specific keywords in resumes. Saving time for the hiring manager while also ensuring that only the most qualified candidates are selected for further evaluation or the interview process.
Video technology, for example, is slowly but surely replacing phone interviews, and skill tests and pre-employment skills testing are now offered online, enabling employers to measure job-related skills objectively and accurately to cherry-pick the top candidates.
With that bit of context out the way, let's now dive into what a modern and digitized employee selection process should look like.
7 steps to a smart and modern employee selection process
A good employee selection process is important. And to make the most of the cutting-edge technology out there, here are 7 steps that you can follow for a smart and modern employee selection process:
1. Announcing the job: craft a thorough job description
The first step is to create and post a job ad detailing the position's duties and job requirements. A well-defined description announced on the right channels will aid in recruiting the most suitable candidates while ensuring that they understand the role's expectations.
Common problems:
• Vague descriptions can lead to an influx of unsuitable applicants resulting in an inefficient process and wasting time and resources.
• On the other hand, an overly detailed description of the job requirements can discourage potential strong applicants who may not meet all the requirements.
• Recruiters need to be careful when crafting their messaging for job ads to ensure that it does not discriminate in any way, which is especially important for a targeted recruitment strategy.
• Many job listings will emphasize formal education as a requirement for the role, which discounts candidates that may have obtained the relevant experience from more alternative education platforms like Udemy and Skillshare.
Modern solutions:
• Craft your job descriptions based on skills and abilities instead of just formal education and work experience.
• Integrate AI into your hiring process to detect and eliminate discriminatory language in job postings.
• Use inclusive language in your job descriptions to attract a diverse pool of candidates.
• Utilize niche job boards specializing in a particular sector, field, or skill set. For example, AngelList, VentureLoop, and Startupers for startups, or Dice and CrunchBoard for developers.
2. Pre-screen applicants
Before assessing applicants' suitability for the role, hiring teams need to pre-screen to ensure that the job candidates that go on to the next step have met the minimum requirements.
Common problems:
• Manual pre-screen methods for any large volume of candidates are a significant waste of time and resources.
• Spending too much time and effort reviewing applications from candidates who do not meet the basic requirements.
• Overly narrow criteria can potentially exclude qualified candidates from the process.
Tip! The quality of your screening is directly linked to your ability to catch the right candidates or mistakingly let them go.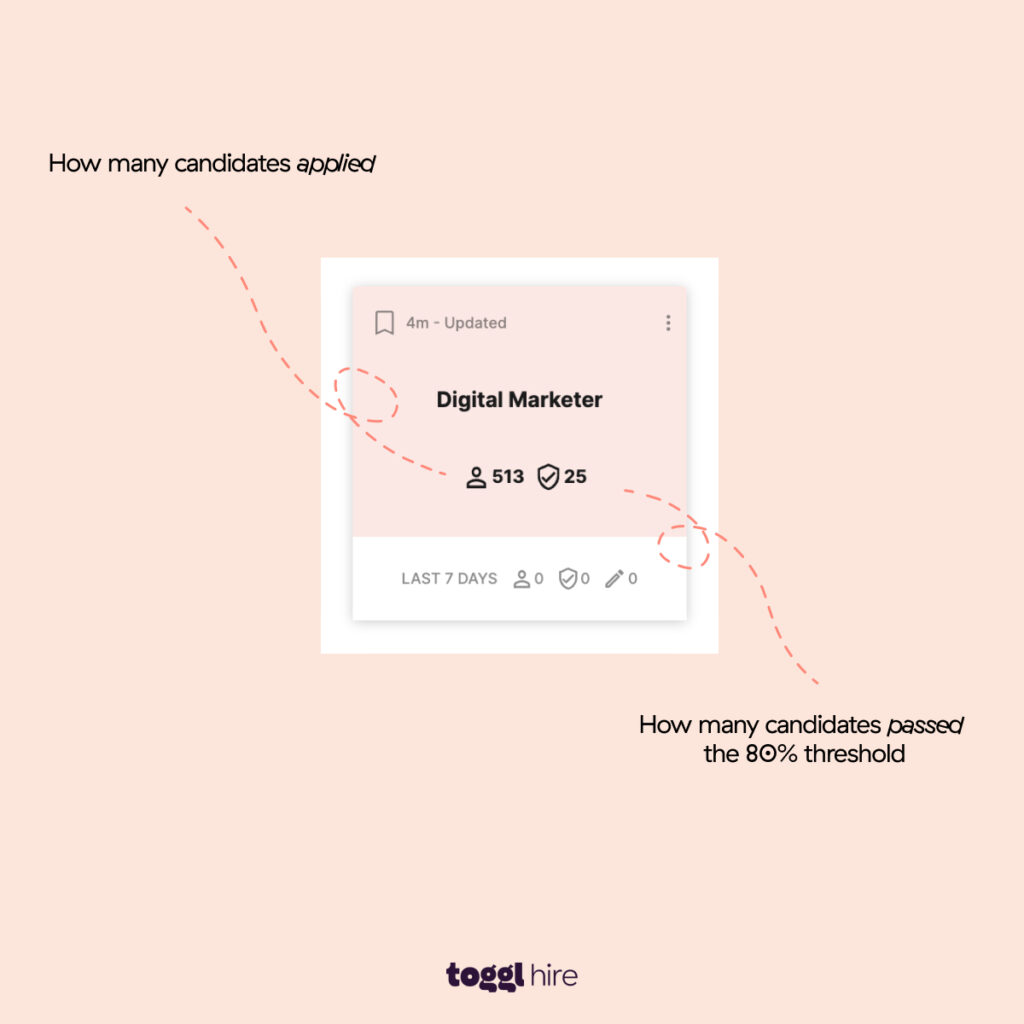 Modern solutions:
• Utilize pre-employment assessments to assess cognitive ability or a candidate's personality, such as skills tests and integrity tests, as a faster and cost-effective way to filter out candidates that don't meet the basic requirements.
• Leverage predictive analytics to identify candidates best suited for a position based on their previous performance and experience.
• Use automation to streamline the pre-screening process and quickly identify the most qualified candidates.
3. Initial candidate screening of the best applicants
One of the goals of the initial screening interview is to cut down on the amount of interview time HR management has to do. That's why this type of screening is traditionally done over the phone. However, video intros are increasingly replacing initial phone interviews as a more comprehensive way to meet and screen candidates.
Common problems:
• An over-reliance on resumes and cover letters can create bias and the potential to overlook less traditionally qualified applicants.
• A narrow understanding of this stage eliminates other useful and time-saving screening tools on the market, such as assessments or even emails.
Modern solutions:
• Request links to online portfolios and incorporate video resumes to provide a more comprehensive view of candidates' qualifications. Don't forget to set up work sample tests to better understand the strengths and weaknesses of potential employees.
• You can also use chatbots to conduct initial screenings and engage with potential candidates more efficiently, but only if it supports the candidate experience.
• Digital, or "blind" initial candidate screening can help the hiring manager to eliminate any biases.
4. Making the most of the interview
Once you have identified your top candidates, it's time for in-person interviewing. As your candidates progress through each round, consider a range of different interview formats to help you assess the candidate's personality and skillset.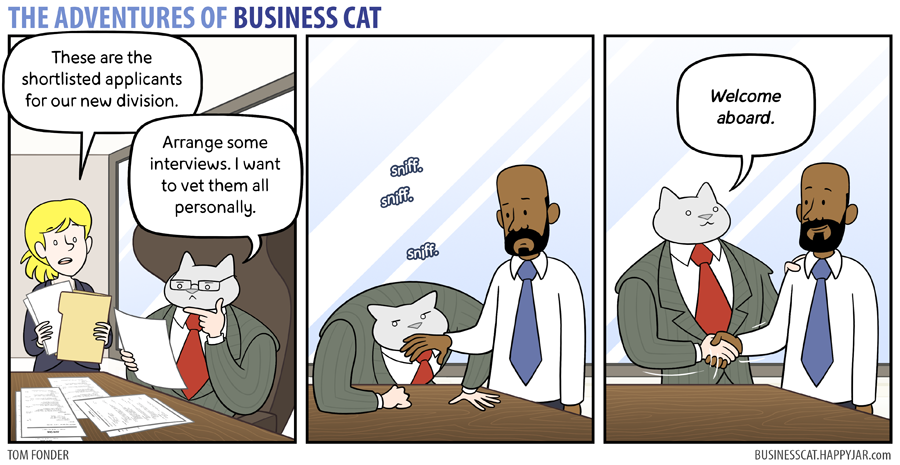 Common problems:
• A lack of structure or consistency in the interview process can lead to a lack of objectivity and fairness.
• Asking irrelevant or inappropriate questions can lead to discrimination and the exclusion of qualified candidates.
• Too many rounds of interviews will quickly dissuade candidates from joining your company. Do you really need three rounds of interviews for a junior designer?
Modern solutions:
• Use behavioural interviewing techniques to assess a candidate's past behaviour and predict their future job performance. It sounds quite futuristic, but it's really about asking the right questions and evaluating the candidate's answers so that the hiring decision is easier.
• Use software like Google Chat, Zoom, or Otter to save transcripts of your interview calls so that you can go back and review them if needed.
To help you out, we wrote a guide to the top 30 personality questions for interviews. Why not put together a full personality test?
5. The final candidate shortlist
This sounds a bit like the final week of Survivor, doesn't it? Well, it kinda is.
At this point, your pool of qualified applicants for the open position will have shrunken down to the final candidate selection. So, how does a hiring manager go about choosing between several different job candidates that each meet the requirements?
Common problems:
• Having a variety of candidates to select from is good news. But many companies that fall back on 'safe choices' can end up with a diversity problem.
• Difficult to assess and compare candidates' strengths and weaknesses objectively.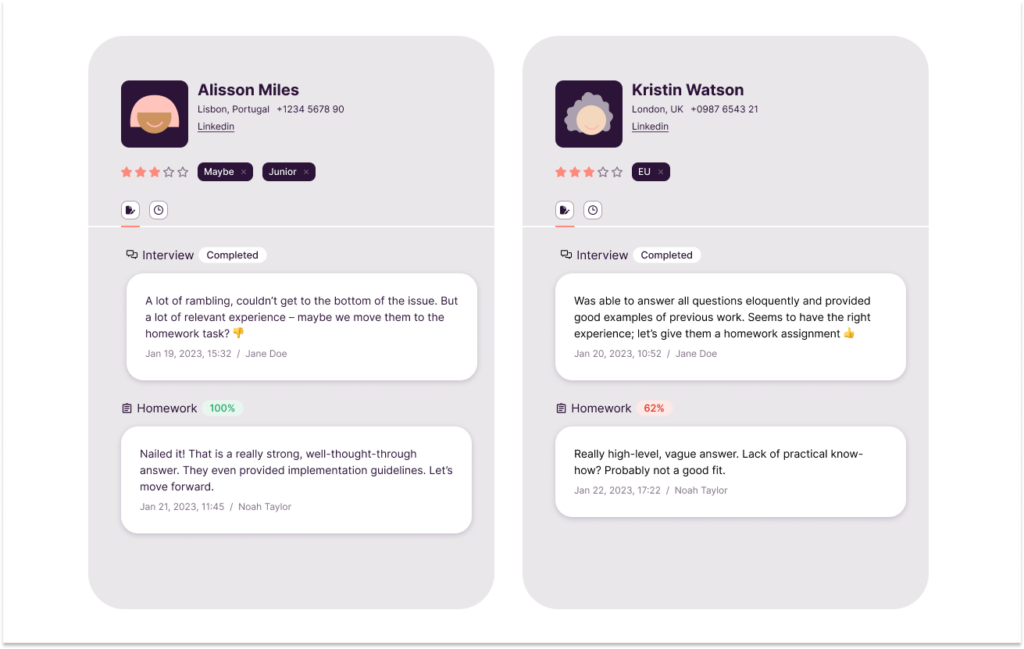 Modern solutions:
• Incorporating data and analytics into the final group selection process can lead to more informed and unbiased decisions.
• Be sure to include Diversity, Equity and Inclusion (DEI) policies that meet modern-day standards, which will help you to fairly end evenly evaluate candidates, regardless of race, gender, or location.
6. Check references and other requirements
For some roles, it's essential to check references and any other necessary requirements, such as criminal background checks or drug tests – in accordance with your country's employment laws – before the final candidate selection.
Common problems:
• Faking reference checks is pretty easy, so you may want to double-check by calling the company to make sure that the reference you are calling actually works there.
• References may be biased, so it is important to balance their impression with the candidate's skills and experience.
• There may also be instances where a job candidate has a criminal record or fails a drug test, which can complicate hiring decisions. Be careful that prescription drugs aren't dirtying the drug test.
Modern solutions:
• Improve reference checking by taking advantage of technology, such as online reference-checking tools. These tools, like Xref and Zinc, streamline the process and provide a comprehensive overview of the candidate's qualifications and experience (and, sometimes, recommendations as well).
• Look at a candidate's recommendations section on LinkedIn. This will help you feel out how the candidate used their soft skills at their previous job. It's easy to see exactly who gave the recommendation and what their professional relation is to the candidate.
7. Make the job candidate an offer they can't refuse
As we come to the final step, it's time to make the final decision and extend the job offer to the selected candidate. Here, it's important to ensure that the offer is competitive and reflects the candidate's experience and qualifications — and an opportunity for the job candidate to discuss any additional details or questions they may have with the hiring manager.
Common problems:
• Lack of transparency over the salary all too often can result in a declined offer.
• Weak employer branding versus the competition.
Tip! When a job candidate has multiple offers, it's not always the pay that will hook them. To remain competitive, companies need to focus on the whole package, which includes your employee value proposition and employer brand, and employee benefits.
Modern solutions:
• Keep in mind any special considerations that the candidate may bring to the table. Often, a candidate can become more attractive when companies factor in these unique elements.
• Make the most of sites like Glassdoor or Payscale to research salary ranges.
• Be open and transparent about the remuneration and perks they're seeking right from the beginning.
Remember, all the cool, and hip job seekers will research the position beforehand, where it pays to be open about salary (even in job adverts!), and don't lowball job candidates.
🎯 And finally, your new hire should seamlessly fit into the company culture. Read our guide to hiring for an organisational fit.
Upgrade your hiring process with Toggl Hire
With today's modern technology, there are a growing number of effective tools at your disposal, including online assessment tools, to simplify finding and selecting your new hires.
By following the seven steps outlined in this article, hiring teams can create a smart and efficient process that streamlines employee selection and attracts the right talent.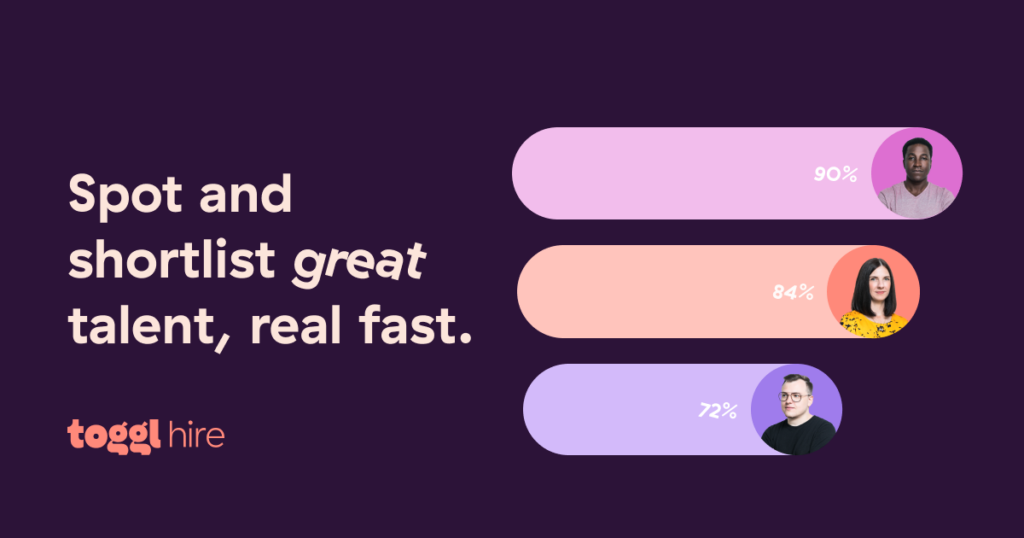 At Toggl, we provide a modern applicant tracking system with a range of features to simplify and streamline the process. So that hiring teams can spend less time on administrative tasks and more time assessing and selecting the perfect candidate.