All projects are governed by basic constraints like scope, deadlines, and budget, which are part of a project baseline.
Without a baseline, you don't have a project. Instead, you end up with an endless odyssey that no one will enjoy – least of all you.
To help you avoid this, we've created this guide with tips and best practices for how you can create a solid project baseline that sets your project up for success.
What is a project baseline in project management?
A project baseline in project management is a clearly defined starting point for your project. It is typically based on the approved project plan and used as a benchmark to assess progress and manage changes throughout the project.
A project baseline typically includes the following components:
Scope baseline: based on the project scope consists of the project's objectives, deliverables, requirements, or any other relevant information that defines what the project will accomplish.
Schedule baseline: includes the project's timeline, start and end dates, milestones, and overall project duration.
Cost baseline: outlines the project's estimated costs, including resources, materials, equipment, and other expenses.
Why is a project baseline important?
A project baseline is important for various reasons, such as:
Facilitating project monitoring: If you know from the start what the expectations and requirements of the project are, it's much simpler to monitor progress.
Helping measure project performance: Project managers can use the baseline to determine if the project is on track, ahead, or behind schedule.
Enhancing cost management: It allows project managers to accurately monitor and control project costs.
Helping manage stakeholder expectations: By providing a clear cost baseline from the start, project managers ensure effective communication and transparency with stakeholders.
Now that you know project baselines act as benchmarks for monitoring project performance, you might ask:
How do you create a project baseline?
Let's take a look.
How to create a baseline project plan?
Creating a baseline for your project might sound easy, but many project managers find it challenging to put their planning ideas into practice.
To help with that, here are three important steps to take when creating an initial plan for your project.
Scope baseline: start with a scope statement
A good starting point for creating your scope baseline is a scope statement, which is a document that will answer questions like:
What are the project's goals and objectives?
What are the key deliverables and milestones?
What tasks are involved?
What are the key deliverables?
What are the constraints and assumptions?
Answering those questions will help you keep the project within scope and prevent scope creep.
Schedule baseline: use a Gantt chart timeline
Next, establish the key milestones, due dates, and the overall project timeline.
Some good questions to ask when creating the schedule baseline are:
What are the logical milestones for this project?
What are the high-level tasks (or activities) needed to complete the project? (Use Work Breakdown Struture to identify these tasks.)
What are the natural order and dependencies between the tasks?
What is the estimated duration of each task? (Looking at past projects might help with this.)
After you organize your workload based on your estimates, create a Gantt chart (aka project timeline) — a graphical illustration of project tasks, durations, and interdependencies.
You can easily create your project schedule using a timeline app like Toggl Plan.
Here's how:
On the left sidebar, click on the '+' sign next to the Projects section to create a new project.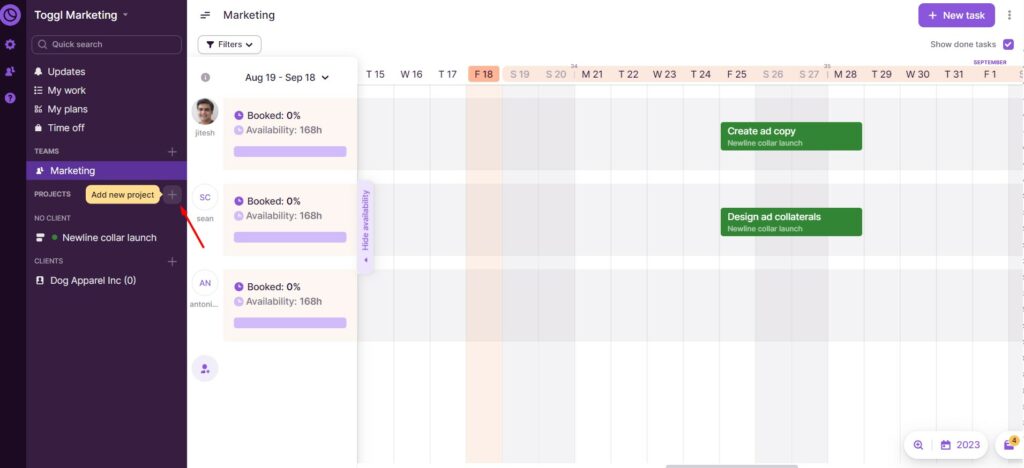 Then, you can create tasks for your project.
To create a task in Toggl Plan, click on New Task on the top right of your screen.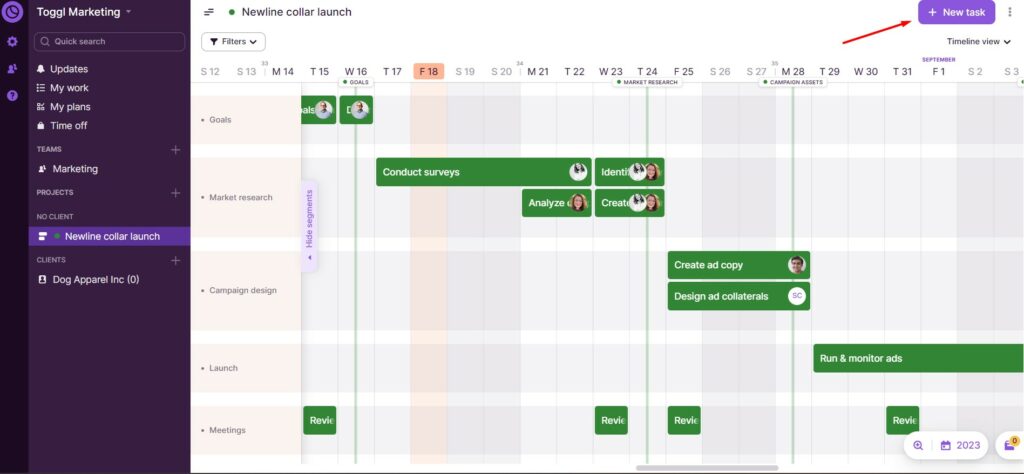 Then, a little window will pop up where you can add details like:
Name of the task
Start and end date
Custom notes
Time estimates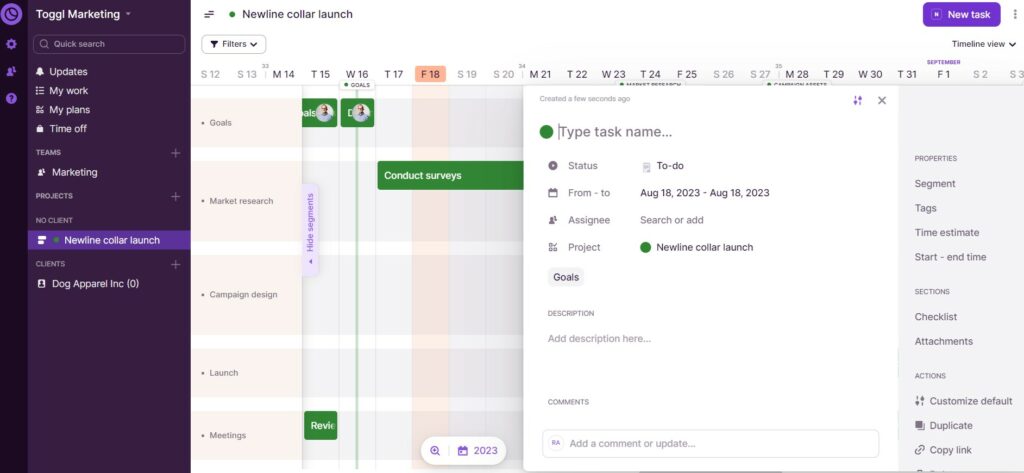 The next step in creating your schedule baseline is to add milestones.
To create a milestone, just click on the date on top of your timeline.
A window will pop up, where you can name your milestone and choose a color to differentiate it from other milestones.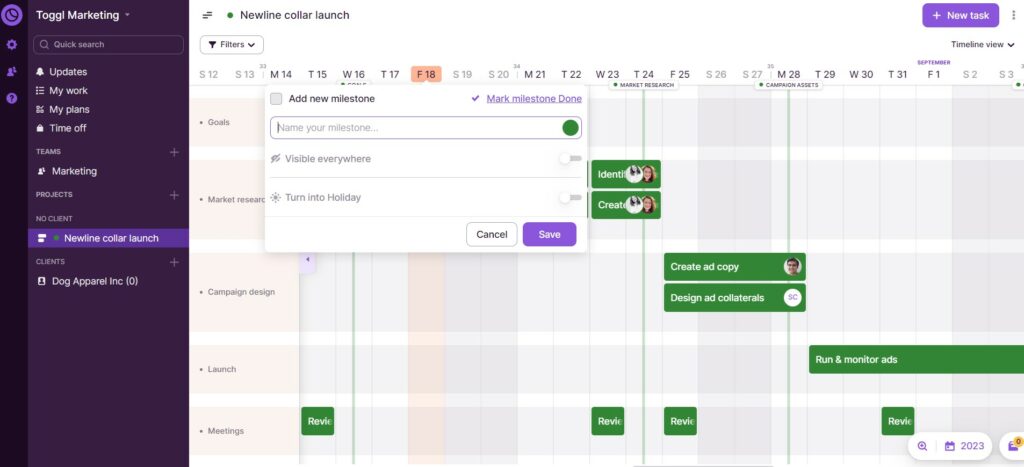 Cost baseline: don't forget contingency reserves
Time and money. Two essential resources that you must efficiently manage from the start of a project to ensure its success.
The cost baseline will help with the latter by establishing the project budget and overall financial requirements.
But what should the cost baseline include?
Here are its key components:
Direct costs: These are expenses directly related to the project and typically include labor, materials, or equipment.
Indirect costs: Also known as overhead costs, these are expenses that are not directly related to a specific task but are necessary for the overall execution of the project. Examples include administrative costs, utilities, rent, project management salaries, etc.
Contingency reserves: These are funds set aside to account for known risks or uncertainties that may impact the project's cost. It's a good idea to include contingency reserves in your cost baseline to mitigate potential cost overruns resulting from identified risks.
To create a solid cost baseline, here's a quick step-by-step process:
Estimate project costs: Don't forget to consider labor, materials, equipment, software licenses, subcontractors, overhead costs, etc., when estimating the costs associated with a project.
Breakdown cost elements: For example, if your labor costs are a significant part of your overall project cost, break it down into individual roles to gain more accurate estimates.
Determine resource requirements: What are the resources required to complete the project? What are the quantity, duration, and associated costs for each resource?
Assign cost estimates: Associate costs with specific activities, tasks, or deliverables based on your resource requirements and their durations.
Aggregate costs: Summarize the estimated costs from your cost elements to create a comprehensive project budget.
Validate and review: Review your cost estimates with the project stakeholders.
Finalize the cost baseline: Once you gain approval from stakeholders, establish the cost baseline.
Monitor and control costs: Compare actual costs to the cost baseline and make adjustments where necessary.
Next, we'll look at how you can measure and track your project's progress.
How to track and measure progress against the project baseline
Tracking and measuring your progress can be challenging.
The good news is that with tools like Toggl Plan and Toggl Track, it's much easier to measure and track your project's progress.
Let's look at how we can make your life easier when tracking each baseline created in your project.
Scope baseline: tasks, phases, deliverables
With Toggl Plan, you can follow the progress of your entire project in one view
You can access this view by clicking on the Project Timeline and Board view button at the top right-hand corner of your view.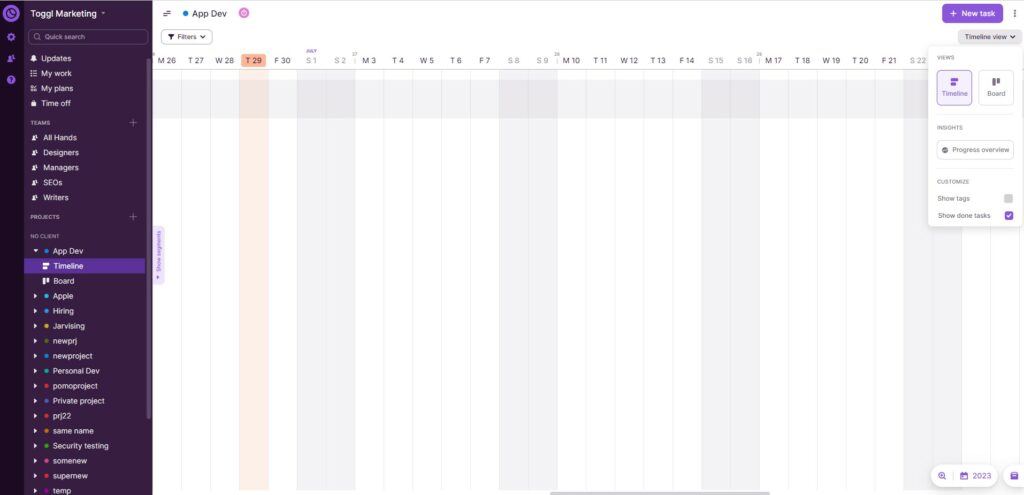 Here you can see two boxes, one which shows the task progress and one which sums up the time estimates for all Tasks in this specific Project.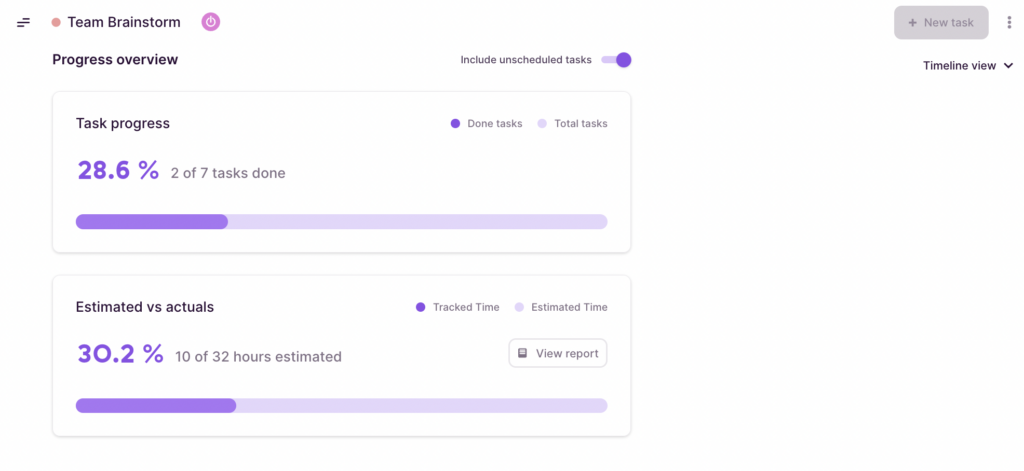 If you use Toggl Track and have enabled the integration, this view also provides:
A comparison of tracked and planned hours.
A direct link to the Detailed Report of this Project in Toggl Track.

Schedule baseline: timeline, milestones
With Toggl Plan it's easy to create and track milestones so you can ensure your project development meets the schedule baseline's requirements.
To add a milestone to your timeline:
Click on a date in the header that you wish to add a milestone to.
Add a relevant name for your milestone.
Choose a color that matches your project.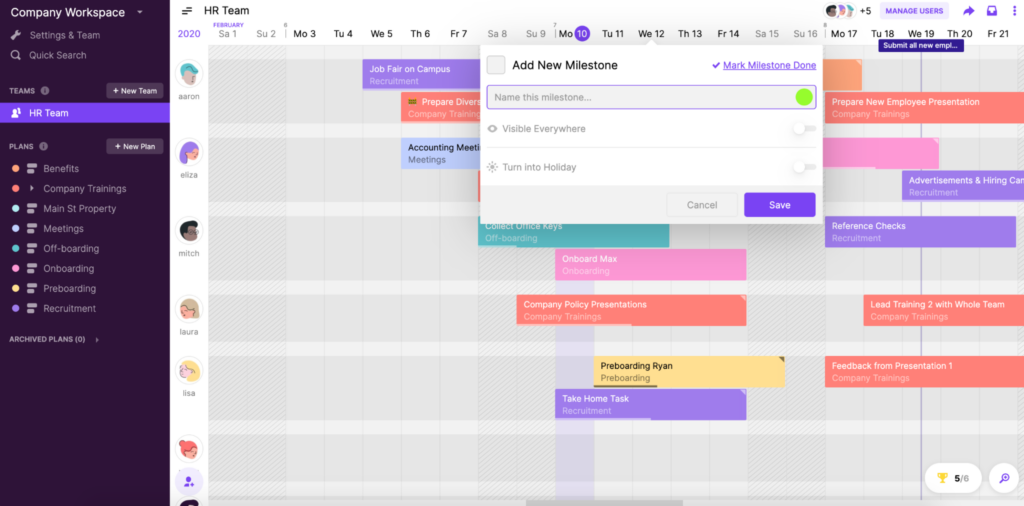 You can add project-specific milestones, which are only visible in the project's timeline, or global milestones, which will be visible in every timeline.
Also, you can easily share existing milestones with clients and stakeholders to keep them informed and ensure everybody is on the same page.
If you want to include only the most relevant milestones in your project, you can choose to exclude specific milestones.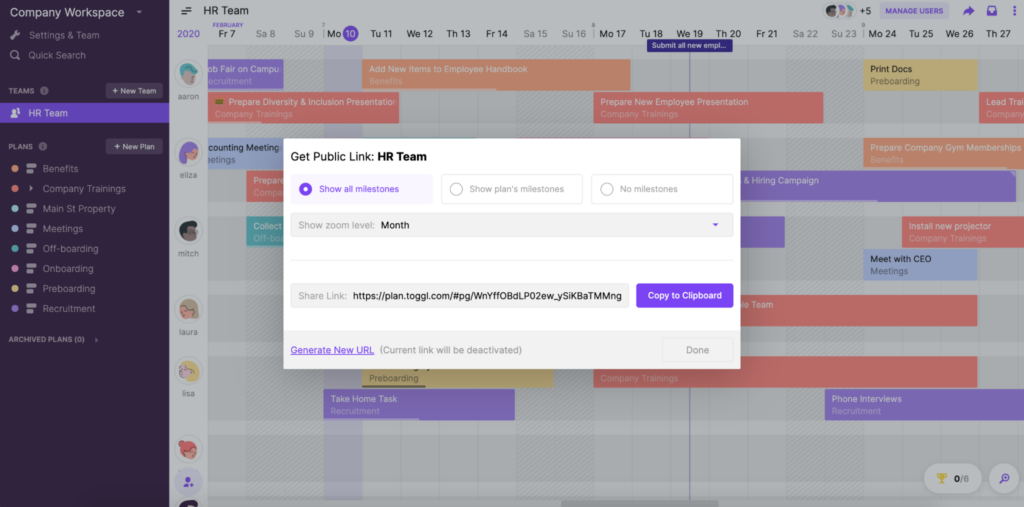 By easily creating and managing milestones in Toggl Plan, you can track critical dates of your project visually.
Also, the Toggl Track integration allows you to visualize the actual time tracked compared to the time estimated in the schedule baseline.
Cost baseline: labor costs, project budget
When tracking project costs, it's easy to get lost in numbers. But not if you use Toggl Track, which offers valuable insights into project profitability and resource management.
You can create project alerts in Toggl Track for projects that reach:
A certain percentage of their time estimate
A certain percentage of their fixed-fee amount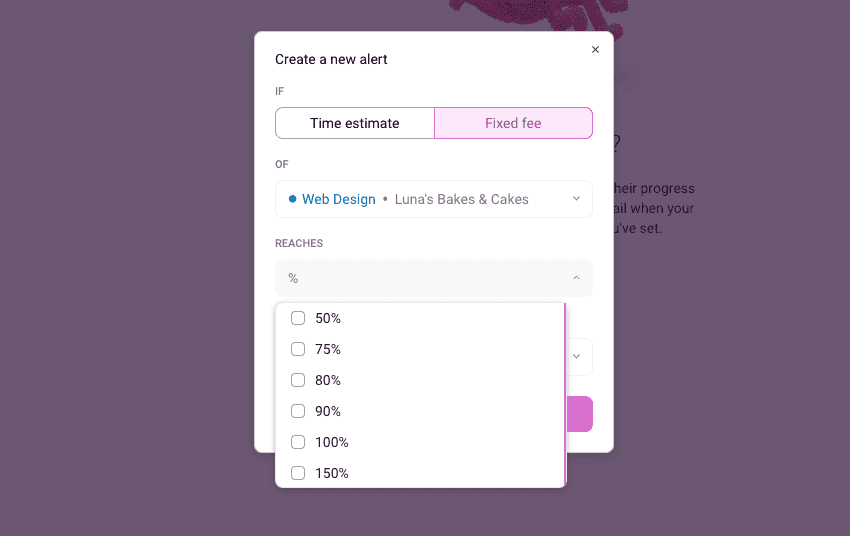 With the Insights feature in Toggl Track, gathering data trends and measuring the profitability of your projects gets much easier.
You can select the following types of insights to explore:
Data trends
Project profitability
Employee profitability
Comparative analysis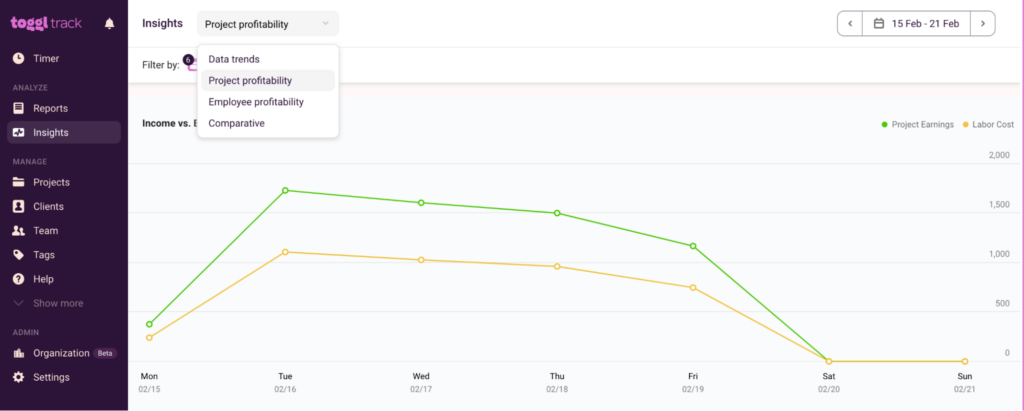 You can also select the date range in Insights so you can view cost reports during specific timeframes.
Create a project baseline with Toggl
Now that you know the importance of a project baseline and what it takes to create a solid one, you may also understand the need for a trusted partner in your project management journey.
Toggl Plan can offer you support to create, manage, and measure projects more quickly and efficiently. And Toggl Track can help you track and make the most out of employees' hours.
Try Toggl Plan for free and see what it can do for your next project!