Google is the most popular search engine in the world. You know that something has become a phenomenon when it's also used as a verb. Ask someone to Google something for you, and they're on it. Ask them to 'Yahoo' something and -you guessed it- they'll Google what that means.
Because it's so pervasive, a lot of project managers assume that Google has its own project management apps and tools. The answer is, "No, but kind of."
Google Sheets
Before you Google that, let me explain. No, Google does not have a native software or app designed for project management. But it does have an alternative that you can use to create project plans and Gantt chart timelines. It's called Google Sheets. No coding experience is necessary: all you need to do is fill in your data, click Share and add your team.
If you're looking for an efficient way to manage tight deadlines, monitor project status, and assign work on the fly, you can create a shared project timeline.
Benefits include:
The most recent version of the project timeline is always available.
If you need to access a previous version for any reason, it's easy to find in the sheet revision history.
All team members can make real-time updates to their status.
Data is available online 24-7: no more emailing Excel spreadsheets back and forth.
The timeline template makes it easier to organize and implement all of your project steps. You can also assign custom colors to tasks and deliverables, which simplifies things when you need a quick overview.
If you want to know how to make a timeline on Google Sheets, they have a great tutorial here. Or, save time with a free, easy-to-use template.
Gantt Chart
When you've got a complex project with overlapping tasks and multiple dependencies, the Gantt chart template lets you visualize all the steps and delegate responsibilities with greater insights and efficiency. Have a look: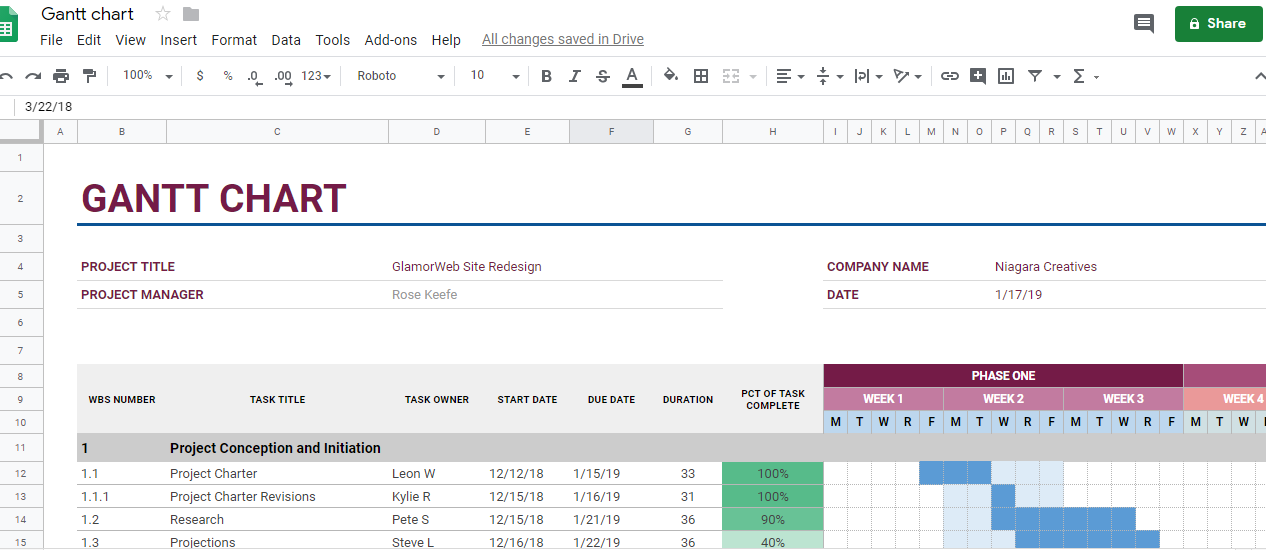 When you assign start dates and due dates, it automatically tracks the percentage of task complete each time you date the spreadsheet. Now that's convenient!
Project Tracking
Much as I like the timeline template, it's the project tracking template that will become your new best friend when you're juggling multiple projects simultaneously. You can use it to organize all your projects by date, deliverables, status, cost, and hours so you can see at a glance where you're thriving and when you need a lifeline.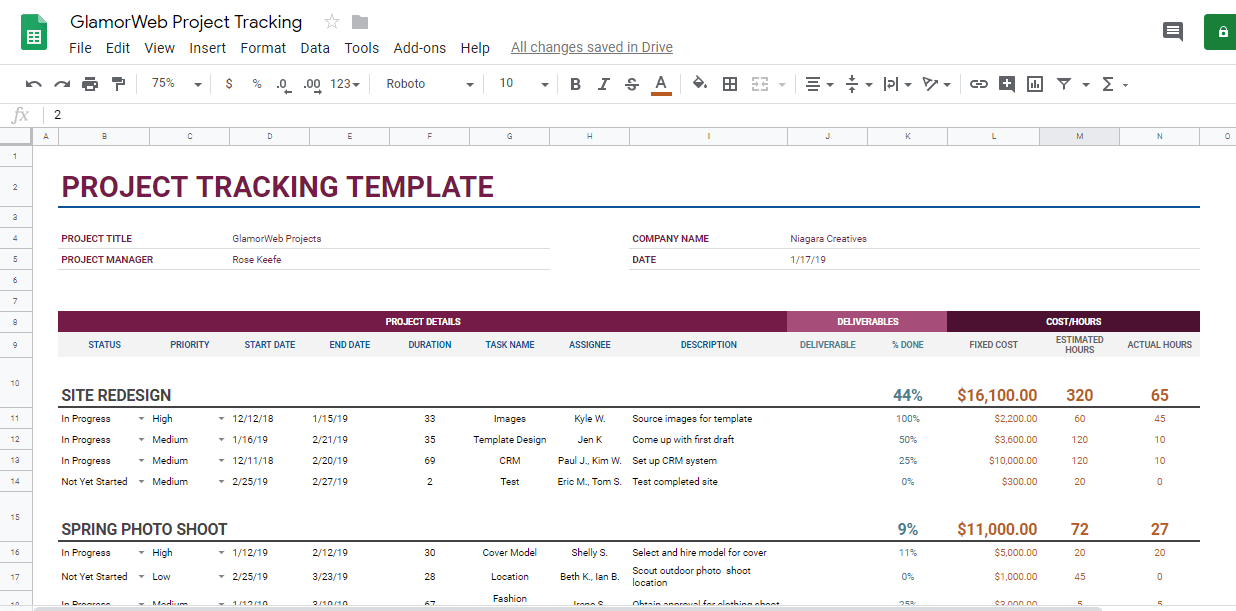 I'll be honest here: I used Google Sheets for awhile. But over time, I realized that it has shortcomings that are pretty annoying. The biggest is that it's still a spreadsheet app, but a close runner-up is its limited ability to accommodate more in-depth project tracking needs. The spreadsheet also doesn't look great on smartphones: try updating one from your iPhone and you'll see what I mean.
I'm not the only one who finds the Google projects app too limited. In one case study, the studio manager at online music platform Boiler Room stated that at her previous job, she found it impossible to stay organized using a spreadsheet. When she started at the Boiler Room, which uses the free project management software Teamweek, she found that she was able to:
"Before Teamweek, things were a lot more chaotic," she said, "I think it added a lot of structure to the business that they didn't have before. When it was introduced to the company, it changed things around."
If you find Google Sheets project management too restrictive, here are some alternatives. Let's start with the Boiler Room's software of choice, Teamweek.
Teamweek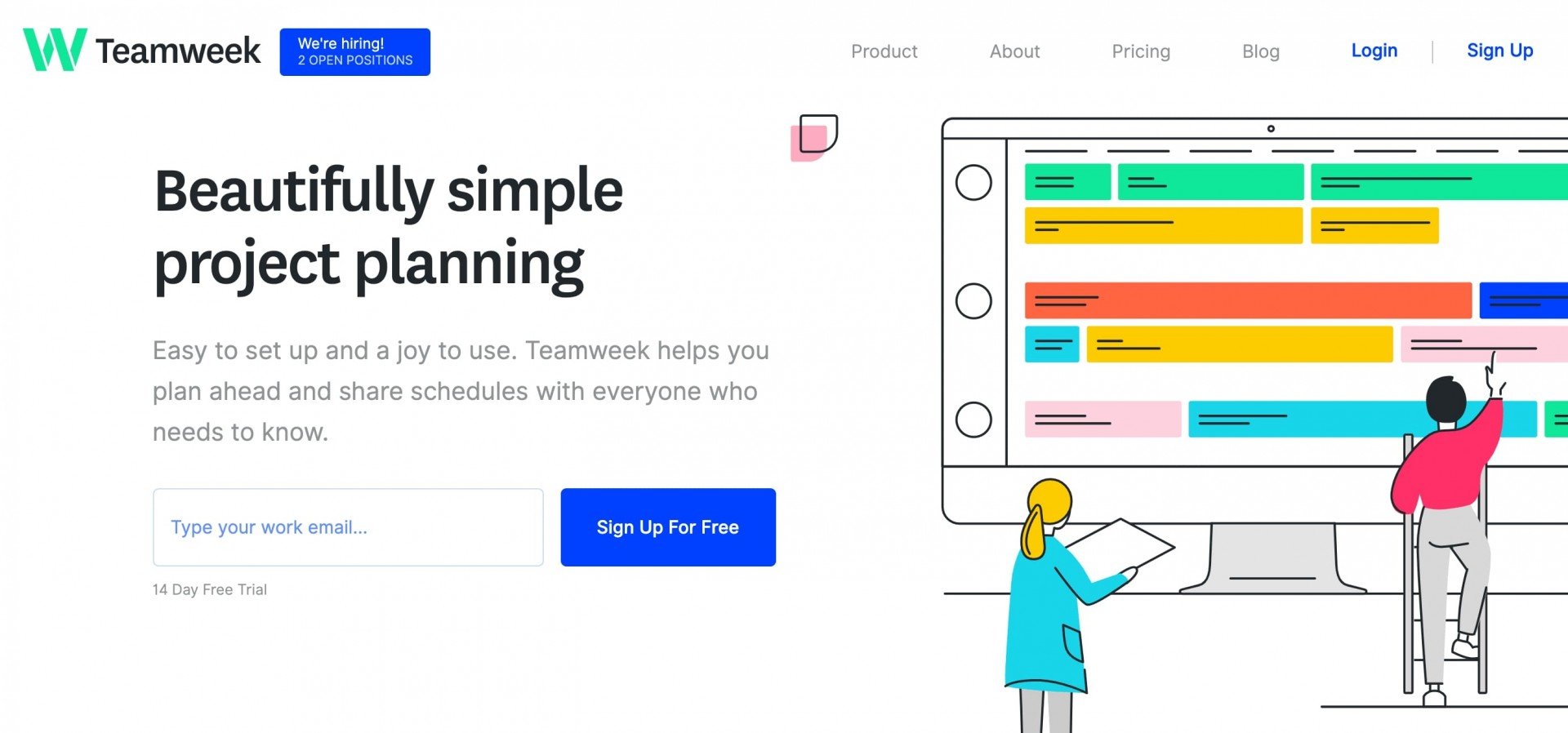 Teamweek is a comprehensive project management solution that has underscored successful projects as Buzzfeed, Microsoft, and National Geographic. Unlike some other brands of Gantt chart software, the free version includes robust features that are normally reserved for paid subscriptions only. They include:
An easy-to-use timeline that you can share with everyone on the team. You can color-code your timeline to make tasks, deliverables, and deadlines stand out so that everyone with access can immediately see and understand project status as well as keep track of their responsibilities.
The ability to integrate with other project management software and import project data from these outside sources into the Teamweek environment. One of my colleagues was in the middle of a project when his department switched over to Teamweek, and he said that the transfer process was "seamless."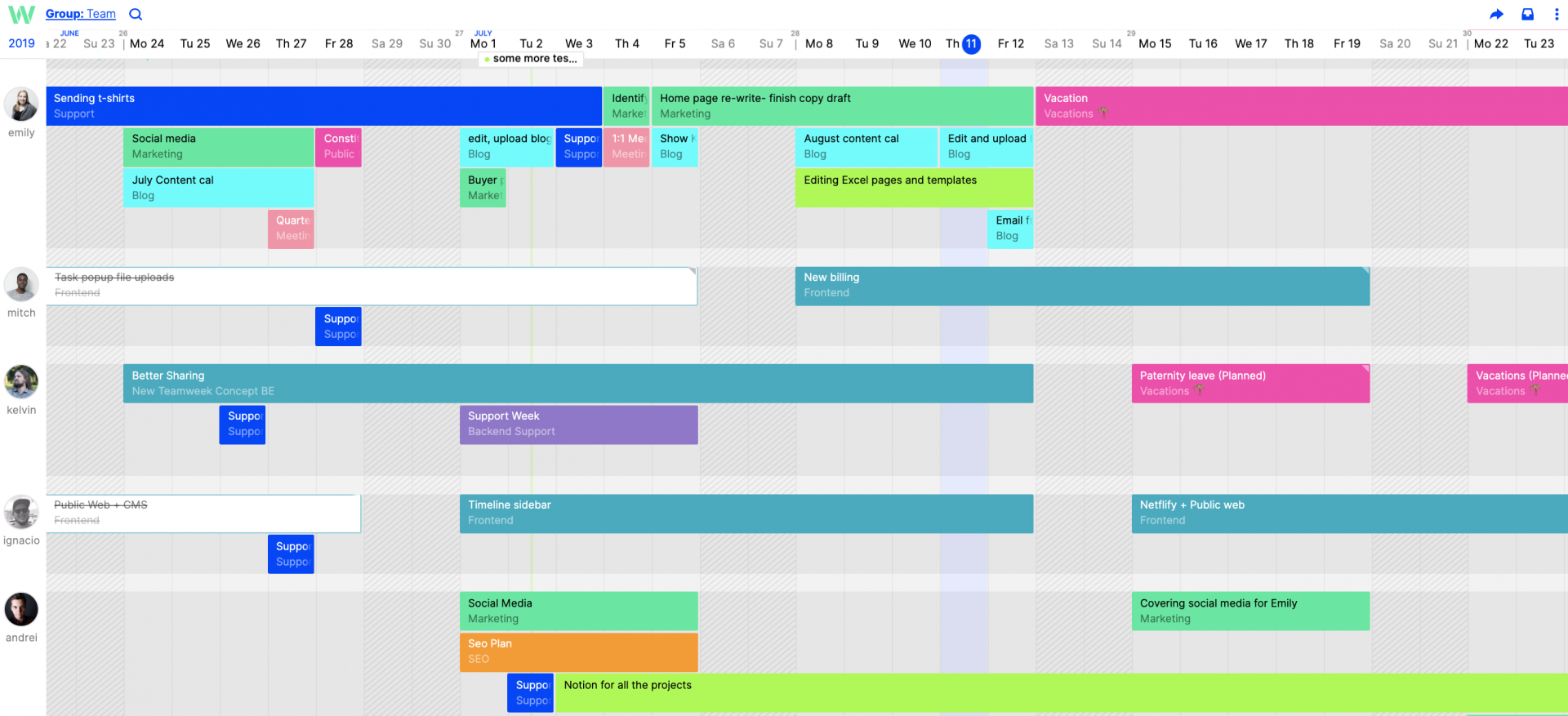 The learning curve for Teamweek is practically nonexistent. The clean interface is no easy to master that you can start plotting your projects immediately. To add a task, all you have to do is click on the timeline, name the task, and add particulars such as:
The name of the team member responsible for carrying it out
Duration
Start and end times
To change your timeline, all you have to do is drag and drop tasks, deliverables, and deadlines into their new positions. Like Google Sheets, there are no complex steps involved or a need to master any type of coding.
Trello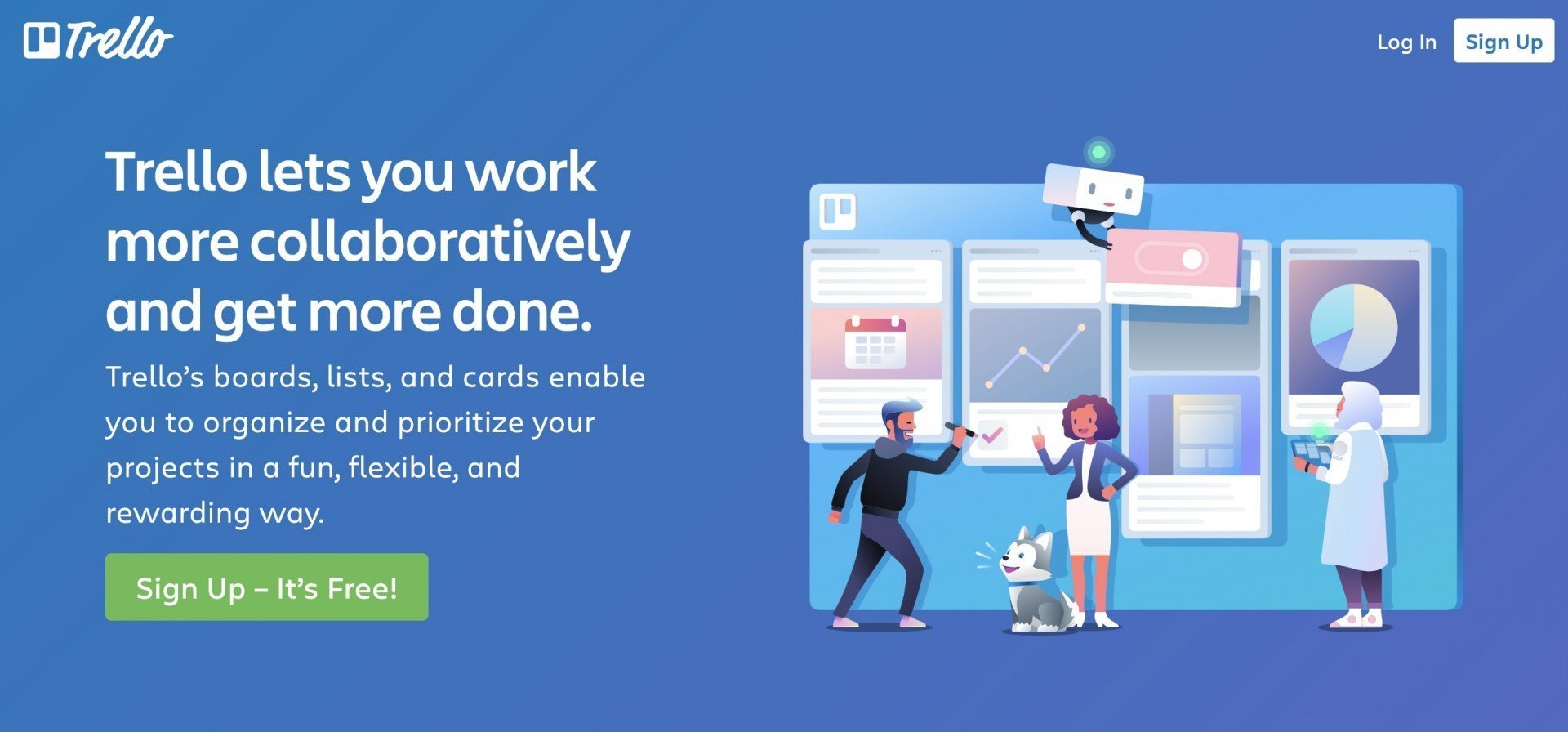 Like Teamweek, Trello is a browser-based project management software with a clean and colorful board-style interface that's easy to master. It's designed to enable individuals and teams to visually organize their projects and tasks and keep track of everything at a glance.
Project managers handle projects and tasks using a series of boards, lists, and individual cards. The cards represent tasks, such as "Assemble and deliver photo proofs to the client." You arrange them into vertical lists that represent workflow stages. As team members complete their tasks, you can move the cards from an 'in progress' list to a 'completed' list.
If you're switching to Trello mid-project, the good news is that you'll probably experience little to no interruption in workflow. You can integrate its boards with Google Drive, Salesforce, MailChimp, and other software, so importing data is easy and efficient.
Asana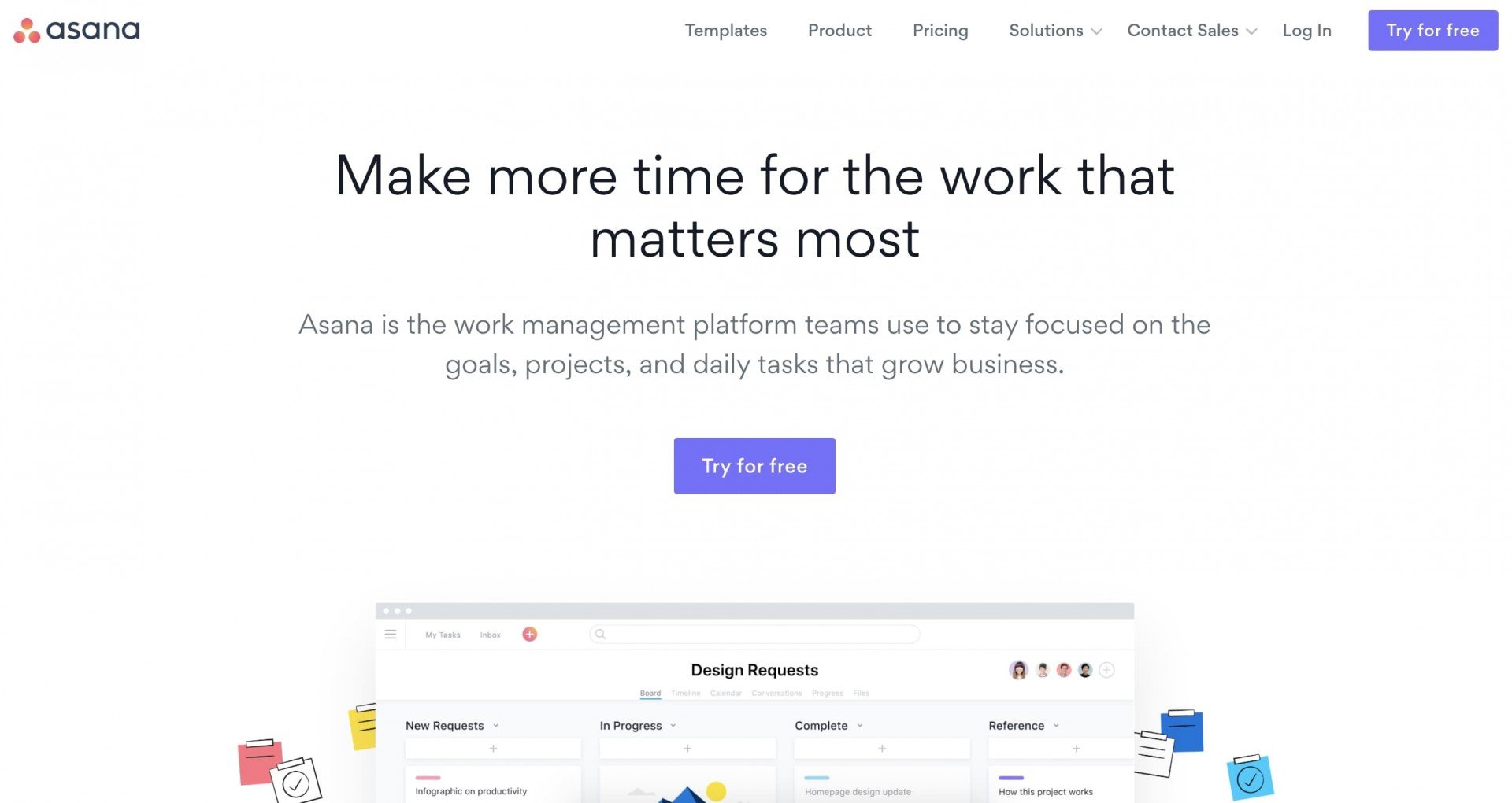 I worked with Asana at a previous agency and really liked it. Its timeline maker creates beautiful and interactive project overviews, which is one of the reasons why our graphic designers loved working in its environment. As a project manager, I valued the ability to map out my projects in a way that made it easy to see detect potential scheduling and resource allocation conflicts.
Other popular features include:
Easy updating of team tasks. If you need to change a due date, just select the task and drag it to the new position on the timeline.
Automatic adjustment to timeline changes. When you add, change, or complete tasks, your timeline stays up to date without any inputting from you.
If any changes create a dependency conflict, you see it right away.
If you used Excel to plan and manage projects before switching to Asana, you'll be glad (and relieved) to know that you don't have to manually enter the information in the spreadsheets. Instead, you can import your CSV file into Asana and convert it into a timeline. Mission accomplished!
Conclusion
No, Google Project Management doesn't exist, but Google Sheets does a decent job of creating and managing timelines for simpler projects. When you want a solution that's more robust, portable, and adds powerful new features on a regular basis, one of the project management software packages in this article will definitely do the trick.
Rose Keefe is an author and technical writer who has over ten years' experience in supporting project managers in the manufacturing and construction sectors. One of her primary responsibilities was developing product manuals that supported efficient use of industrial equipment. She continues to write on the subject of time management and commercial productivity for trade websites and publications.