In your rush to hire someone to fill a position, sometimes you can make certain mistakes along the way. Here are the 9 most costly and time-consuming hiring mistakes you're probably making, along with some easy ways to fix them.
At Toggl, we've been working as a fully remote company since 2014. This means we have become somewhat pros at hiring remotely too. Initially, it was one of our biggest challenges. However, ever since we came up with our candidate screening app, Toggl Hire, we actually look forward to hiring instead of dreading it. If you want to take it for a test run, you can get started for free.
1. Not expanding your candidate search
If you keep posting open positions in the same places all the time, you cannot really expect new results. Using the same methods, you will get the same applicants as always.
Some employers think that it's enough to have a Careers page on their website in order to attract applicants. However, most people will only find it by chance. Unless you drive traffic from other places to your site, your career page will be the equivalent of a nice bar in the middle of a desert.
A large number of jobs today can be done remotely. This allows for a greater variety and quality of applicants. Keep this in mind when creating your job ad and posting it on the web.
With Toggl, we don't use job boards or local ads anymore (relying too heavily on job boards was one of the hiring mistakes we used to make). While we do have a Jobs page (it's awesome, we promise), we don't rely on it either. Instead, we create screening tests using Toggl Hire and we put them on social media. With some precision targeting, we're able to get right in front of the kinds of people we want to hire.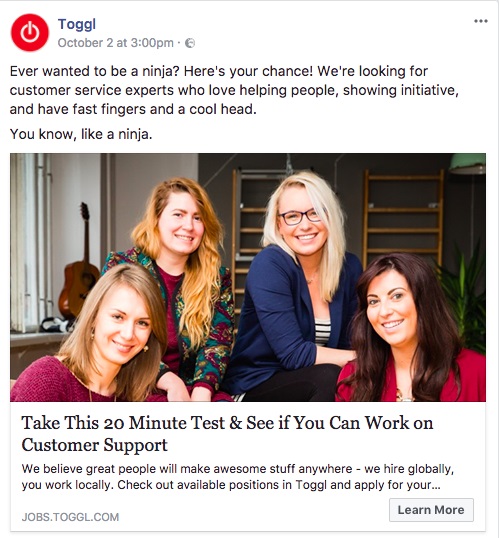 2. Having a poor job description
Good job descriptions are all alike, every bad job description is bad in its own way. In other words, there's a multitude of ways to mess up the first point of contact that candidates have with your company.
A great job description focuses on what the person can do. On the other hand, a poor one merely lists the necessary traits and skills. We're a huge fan of performance-based job descriptions. They state the exact tasks that need to be done, as well as what constitutes success for the role. For example, your new growth hacker has to be able to increase signups by 15% within one quarter.
Luckily, this is an easy hiring mistake to fix. Be sure your job description covers both info about the company, the role, and the type of person that would thrive in it. It is also worthwhile making sure it is written in an unbiased way. Tools like Textio are designed to scan for inherent bias and suggests rephrasing that is more inclusive.
3. Screening candidates manually
As applications start rolling in, do you sort through the pile one by one? The average job opening at Toggl in 2021 attracts over 400 candidates. Only a small percentage of those are candidates that are fit for the role. However, getting to the best 5 out of 400 takes a lot of time and work – if you do it manually.
That is why a candidate screening tool like Toggl Hire is so vital. With Toggl Hire, you can go from 400 to 40 applicants in one afternoon – it's just that powerful. The trick is to use short, fun skills tests to screen out the candidates who don't have what it takes right off the bat.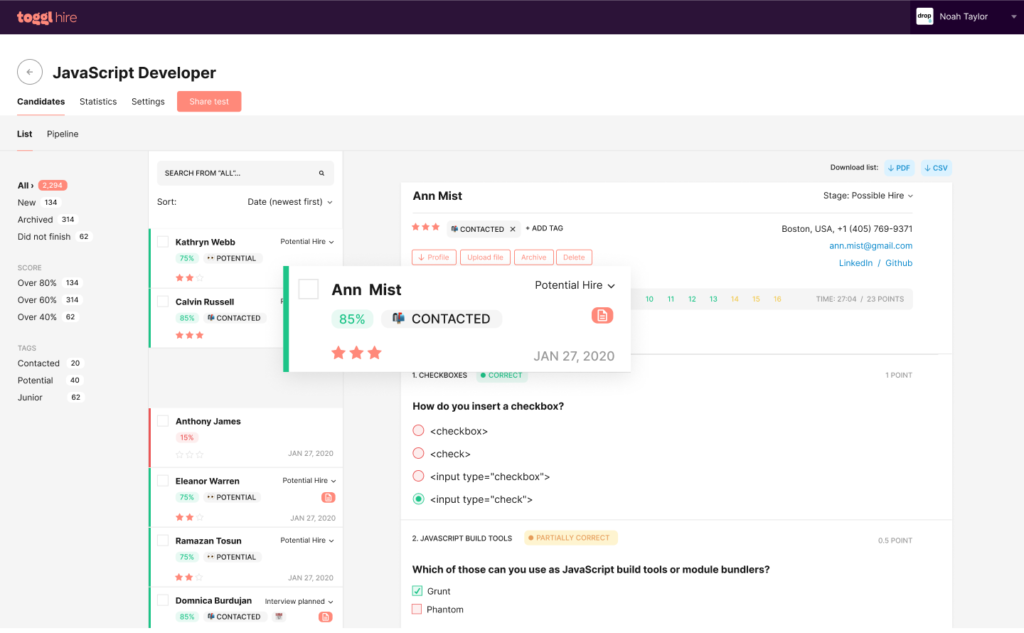 A good hiring app does all of the heavy lifting for you so that you don't waste time with unqualified applicants. For example, when we were hiring for Toggl, we saved a total of 22 hours per applicant using Toggl Hire. When you have hundreds of applicants, that adds up FAST. The app weeds out unqualified candidates from the start so that you can devote your time to the best potential hires.
4. Not considering people who already work for you
It's very likely that you've already met your ideal candidate. Chances are, you collaborate with them every day. Instead of spending time and resources to find new employees, it's a good idea to take a look at your own workforce first.
There are several benefits to this approach. As we've mentioned, you save time and money. Second, you know about their work ethic and if they fit in with the rest of the team. This is why we try to identify the best talent at Toggl and promote them into team leads as time goes by. If the role is completely different, you should give your employees a shot at branching out. Like this, you can turn one of your hiring mistakes into one of the best business decisions you make.
5. Having too much faith in the resume
How many people do you know that lie on their resumes? Perhaps you've done it too – we don't judge. In any case, you may have exaggerated with your experience in a few places. "Created a global social media strategy for an enterprise client" may as well mean that you sat in the same room with someone who created a Facebook ad targeting New Zealand. The point is – resumes aren't exactly accurate.
At Toggl, we're fans of looking beyond CVs. That's why we primarily look at candidate skills and not their resumes. Each of our 68 employees' path to working at Toggl started with a skills-based performance test. Ultimately, we care about what a candidate can do, and not how they present themselves. Speaking of this hiring mistake…
6. Being persuaded by the interview
As a candidate, you probably already know that there's plenty of hiring mistakes you can make in the job interview. As it turns out, hiring managers are only human as well.
For the most part, the candidate's task in the job interview is to present themselves in the best light. Unfortunately, this means that interviewers don't always make the best decisions. A candidate may not have the necessary skills for the job, but they could be a great presenter. On the other hand, they could be a first-class performer who's really nervous and doesn't handle social situations well. Both situations are far from ideal.
Going back to our personal experience, this is why we prefer testing skills before the interview. First, there is less pressure on the candidate as they know they've proven themselves to be fit for the role. Second, we don't waste time interviewing the wrong applicants.
7. Interviewing too many candidates
Let's say that you've had the good fortune of having lots of quality applicants. You're super excited and you want to invite each of them for an interview. However, this is not the best of ideas – only a handful of the best candidates should be invited to sit down and talk with you.
Simply put, the more people you talk to, the harder it will be to remember who said what and what kind of impression they left. Best case scenario – you have to invite the candidates for the second round of interviews. No matter what kind of business you run, it's a waste of time and resources.
8. Hiring out of favor
Have you ever had someone ask if you could hire their cousin/sister/nephew/mother-in-law or something along those lines? We hope you haven't fallen for the trap. This is even worse of a mistake than hiring someone who impresses you during an interview – at least that person had some qualifications.
If you hire to do someone a favor, you're only doing a disservice to yourself and your new employee. Sooner or later, they'll turn out to be the wrong choice for the position. This is when you have to fire them, and your good intentions won't be so good anymore. Simply put – never hire someone just to do a favor.
9. Discussing numbers too soon
Salary is one of the major factors in the hiring process, for both sides involved. However, unless you've stated a salary (or a range) in your ad, you shouldn't discuss the salary too early in the hiring process. At Toggl, we believe in transparency so all of our open positions have a clearly stated salary.
If you talk about numbers as soon as your first call with the candidate, you're stressing the financial aspect of the position. A great candidate will be more interested in career growth, work environment, how they will be able to use their potential and more.
The salary should be discussed, but not at the very beginning. You should use it as a means for negotiation, and not a motivator for someone to come aboard.
Have you made any of these hiring mistakes?
Have we missed out any hiring mistakes? Have you done anything we've mentioned here? What's more, have you done something that we haven't covered, that turned out to be an error for your company? Let us know in the comments.