A project is a set of tasks. Project teams execute and complete tasks to deliver projects. That's why a project task list is the foundation of any project.
Big tasks are difficult to estimate and execute. On the other hand, make them too small, and you'll end up micromanaging a project. So how do you maintain this balance and create a task list?
In this article, we'll show you exactly how. Specifically, you'll learn:
Let's dive in.
What is a project task list?
A task list is a prioritized set of activities you (or your team) need to do to complete a project.
A task list contains specific tasks assigned to a task and when the task needs to be done. Typically these lists are created at the start of a project. And are agreed upon by the entire team and the stakeholders.
For a small project, a task list can be a simple checklist. However, for work-related projects, a task list is often mapped to a project and resource timeline. This ensures the timely availability of resources to execute a task and deliver the project on time.
Benefits of a project task list
Fast delivery: Breaking down a project into tasks enables you to delegate them to different team members and execute them in parallel. And thus, helps delivery faster.
Reduced risk: When you break down a project into tasks, you also reduce risk. So when a task gets delayed, the entire project is not at risk.
Improved productivity: Work gets done when your team knows exactly what needs to be done and when. Otherwise, time is wasted looking for what needs to be done.
Motivated team: It's hard for a team to stay motivated over the long term. As tasks get checked off, a team can see it's progress and stay motivated.
Progress tracking: Stakeholders and clients can see a project's progress as tasks get done. It also creates an opportunity to get intermittent feedback.
How to make a project task list?
As simple as a task list seems, breaking down a project into tasks may seem overwhelming. Whether you're a new project manager or a veteran, use the steps below to create a list of tasks.
Step# 1: Establish project scope
The project scope decides what's included in a project and what isn't.
It documents the goals of a project and defines the deliverables. These are decided based on the stakeholders' priorities and constraints and the risks to the project.
The project scope document helps establish this scope. It's recommended to freeze the project scope mutually with the stakeholders before beginning execution.
Step #2: Create a work breakdown structure (WBS)
Once the project scope is established, you can create a work breakdown structure (WBS).
To create a WBS, break down the project into phases. At the end of each phase, a part of the project is delivered. To identify project phases, an easy way is to split the project into smaller deliverables.
For example, a house construction project could be broken down into the following phases: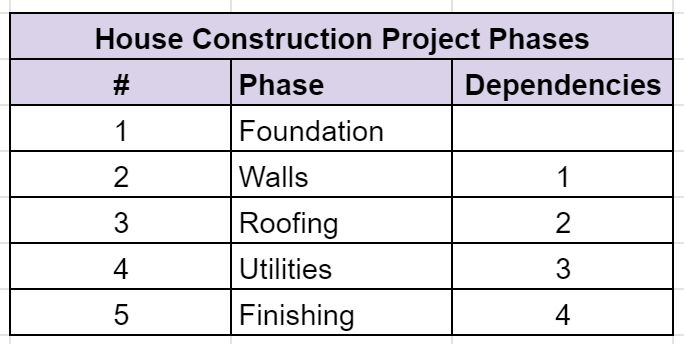 Step #3: Break work phase into tasks
Now that the work phases are identified, you can further break each phase into individual tasks. For each task, you can also include the task's attributes. These include the estimated effort, responsible team members.
Best practices for creating a task list
Phases and tasks should be prioritized based on dependencies and the client's priorities.
Depending on your industry, each task should be between 4 and 40 hours. Any more, and you lose control to track task progress. Any less, and you'll waste time micro-managing tasks.
As a simple rule, a task should be easy to estimate, assign, and track.
Task estimates should be arrived at based on experience or taking inputs from experts.
Here's an example task list for the Foundation Phase of the house construction project.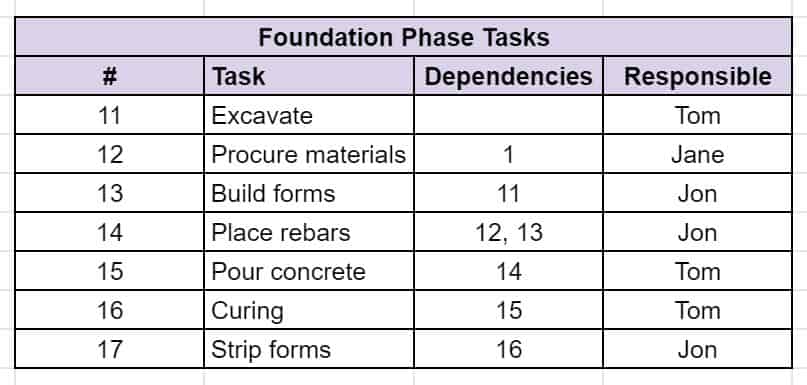 Project task list templates & tools
A task list can be easily managed using spreadsheets like Microsoft Excel or Google Sheets. Most office suites also come with templates to help you manage tasks. Here are some templates you will find useful.
Project Task List Template
This simple MS Word document template can be used to manage simple projects. You can download it from the Microsoft Templates website. With this template, you can create a task list and track its progress.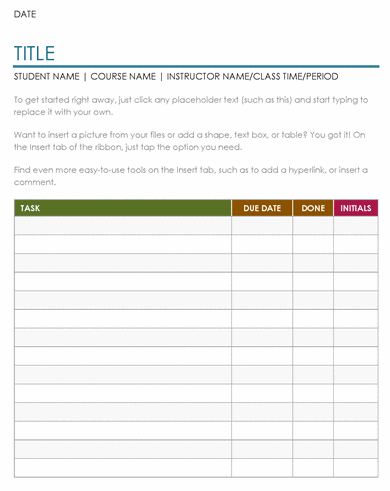 To-do list for projects
If you prefer a spreadsheet, there's also an MS Excel task list template available for download. With this template, you can list down all the project tasks. You can add a due date as well as notes for each task.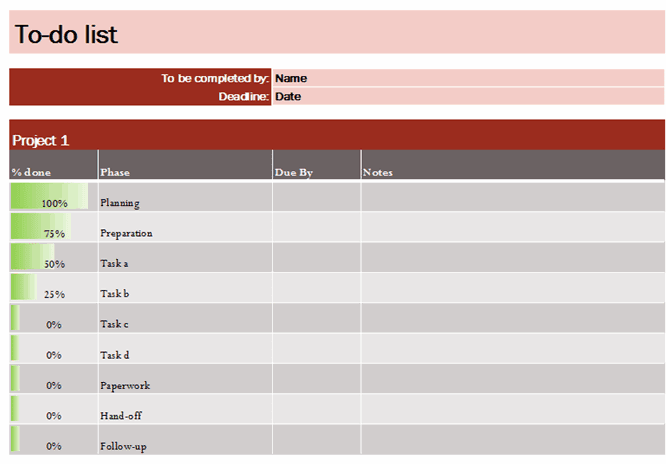 Disadvantages of using templates
Tasklist templates are a fast, cheap, and easy way to create a list of tasks. However, templates also have the following disadvantages:
Lack of access control: Unlike task management tools, implementing role-based access is almost impossible with templates.
Lack of integrity: With all team members accessing and updating the document, keeping track of who's changing what becomes difficult.
Version soup: Lack of integrity can be solved by maintaining versions of a document. However, this can result in even more confusion, with different people updating different versions.
With these shortcomings, Task management tools are a better choice over templates for managing your team tasks. Take a look at the top team task management tools here.
Finally, create a project timeline
Once you have the task list, the next step is to create a project timeline.
A project timeline lays out the tasks on a Gantt chart timeline based on dependencies, due dates, and resource availability.
Using a drag-and-drop tool like Toggl Plan, making a project timeline is simple. Toggl Plan's Team and Project timelines come with the following features: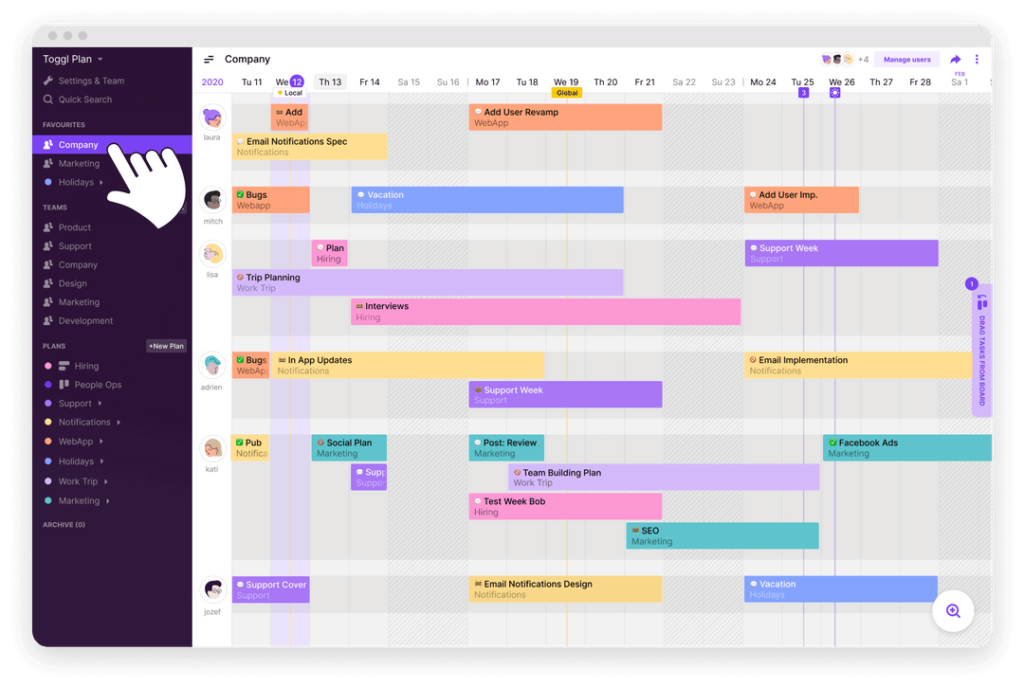 Simple, drag-and-drop timelines to plan project schedules.
Zoom in on the timeline to get a detailed look or zoom out for a birdseye overview.
Add color-coded milestones to give your team clear visual cues about when deliveries are due.
Segment tasks by departments or phases.
Share timeline with stakeholders and sub-contractors when necessary.
Visual task management with boards
Toggl Plan also comes with kanban boards to help you execute your tasks and manage projects visually. That way, instead of managing a dull to-do list, you can visually track progress as tasks move from to-do to done.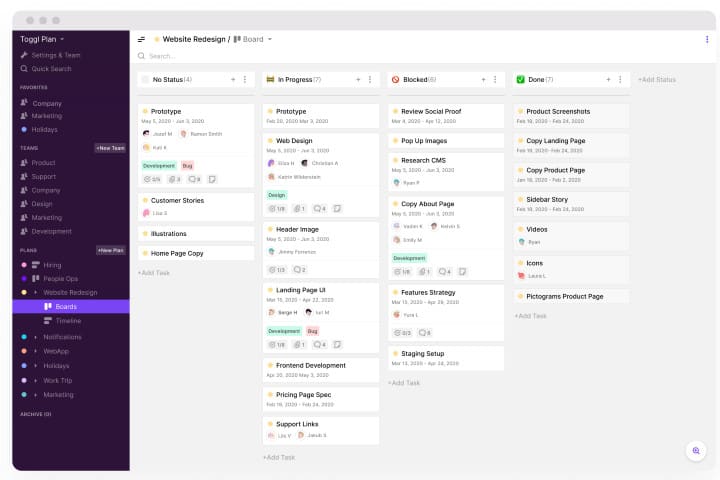 Toggl Plan boards can be customized to match your team's workflow. And similar to timelines, you can give role-based access to each board.
From managing your project's phases and tasks to tracking progress, Toggl Plan makes it a breeze.
With over a decade of experience in content marketing and SEO, Jitesh shares actionable tips for digital service teams to deliver projects profitably on the Toggl blog.