As any talent manager knows, there are there are several tools on the market designed to aid in recruitment, onboarding, and employee experience. Choosing the right talent management system can make all the difference between delightful or disappointing employee satisfaction and performance. Here we share our top 7 talent management systems for 2021.
But before we reveal the list, let's talk about what a talent mangement system actually is, and the features of all good talent mangement systems need to have.
What is a talent management system?
Put simply, a talent management system (TMS) is a system that allows companies and HR teams to manage:
Recruitment: finding and hiring the best people
Performance management: evaluating how employees are doing at their jobs
Learning and development: guiding and implementing professional development for teams and individuals
Compensation management: salary, benefits, and the rest of it
Put even more simply, it's a tool that lets you manage employees from the moment they apply for your job, until they become a valued employee. A TMS may come with the features of an applicant tracking system.
What to look for in a talent mangement system
1. It should be in the cloud
This may seem implied since most modern apps use the cloud in some way. However, lots of businesses still use talent management software which is tied to their work devices. With the advent of remote work and the need for constant access to data, it only makes sense for talent management systems to be fully online and in the cloud.
Your ideal talent management system can be accessed in any place, any time and from any device that you can think of – don't settle for less. You and your team can collaborate, no matter where you are. The only exception for having an on-premise TMS is if you work with highly classified information that needs to be stored so securely that the cloud is not an option. This brings us to our next point.
2. It should be comprehensive
I try to avoid the cliché expression one-stop-shop, but this is exactly what you need. Your TMS needs to take care of the entire talent management process, including recruiting, onboarding, succession planning, performance management and everything else that your HR team or hiring managers need to keep on top of staff admin.
The more features your TMS has, the fewer integrations and apps you will need to purchase separately, and the more streamlined and efficient your workflow will be.
3. It needs to be secure
The data in your talent management system is extremely important. Not only does it have the data from your employees, but it also stores the data of all the applicants that were interested in working for you. Needless to say, you want to keep this data as safe as possible. Make sure to choose a TMS that has encryption methods to keep your data safe.
4. It needs to integrate with other apps
In the world of applications, it's crucial to use those that play well together. Your new talent management system should come with integrations to your most-used apps, such as:
If the talent management system doesn't come with some important features out of the box, you need to make sure that it integrates with the additional tools you will need. Moreover, factor in the costs of those additional tools which you need to purchase.
5. It needs to be easy to use
If you're a startup founder, you're probably venturing into the world of HR software for the first time and you need to learn the ropes. Even if you have used a TMS before, you need something that has a good learning curve and a great user experience. Unfortunately, you won't be able to find this out until you commit and purchase.
There are, however, things that you can check before grabbing your wallet. First, make sure that the company has a good customer support system, and that it doesn't take more than a day for them to get back to you. Also, check to see the resources that the company has on its website. You need to look for FAQs, documentation, wikis, databases, video tutorials and things of that nature. If you can find an answer to your question before reaching out to support, it's a sign that they have things under control.
6. It needs a (functional) mobile app
You don't really appreciate a good mobile app until you've had to use a bad one. The problem with most talent management systems is that their mobile apps look good and they're excellent at viewing employee data. However, they don't do anything further than that.
The mobile version of your TMS should have similar, if not the same functionalities as the desktop/cloud application. By far the worst offenders are those apps that don't let you edit or add new employee data. If you have the chance, toy around with the mobile app before purchasing.
7. It should have a great track record and a plan for the future
Imagine a scenario where you have 200 people working for you and all of their data stored in your talent management system. At this point, switching to another system is both expensive and complicated. However, there might come a time when you're forced to make a move.
Your talent management system should be relatively established, and you should know what their product development has been like. You want to invest in the future and know with certainty that the developers are going to be working on new features and updates in the times to come.
For this reason, it's useful to look at the product roadmap and see what the developers have in store for the future. That way, you're not forced to switch systems a year down the line because your talent management system is not being updated. It's a solid idea to try out a free trial for some time before locking yourself into a risky and costly contract.
A rarer occurrence, but still something to consider, is that the company could simply run out of funding – especially if it's a startup. It shouldn't be your primary concern, but make sure that the people behind your talent management system have a good financial plan for the future so you're not left stranded if things don't go as planned for them a year or two down the line.
5 Best Talent Management Systems in 2021
Without further ado, here is our shortlist of the top 5 best talent management systems in 2021.
1) Toggl Hire: Best for Fast Candidate Screening
Toggl Hire is a candidate screening tool that allows you to shortlist the best talent over 80% faster than traditional methods. It intends to replace resumes with 20min skills tests – that are designed to assess practical, on-the-job skills that are highly relevant to the role.

One thing that sets Toggl Hire apart is instant candidate feedback. Candidates know instantly how they scored on the test and whether they made it to the next round.
It also boasts a Chrome extension and public API, which allows you to integrate it with your hiring stack however you see fit. Toggl Hire integrates with Workable, Greenhouse, Slack, and Zapier.
Drawbacks of the product include a limited free version and a lack of external emailing functionality.
Price: from $99/month.
Free version: Yes, there is a free version of the software and free demos on request
Pros
Super efficient candidate screening
Create skills tests in just a few clicks
No need for resumes – and candidates LOVE that
Cons
Can only unlock 5 candidates on free plan
Some skills tests only available on Premium plan
No external emailing function (yet!)
2) Hellotalent: Best Dashboard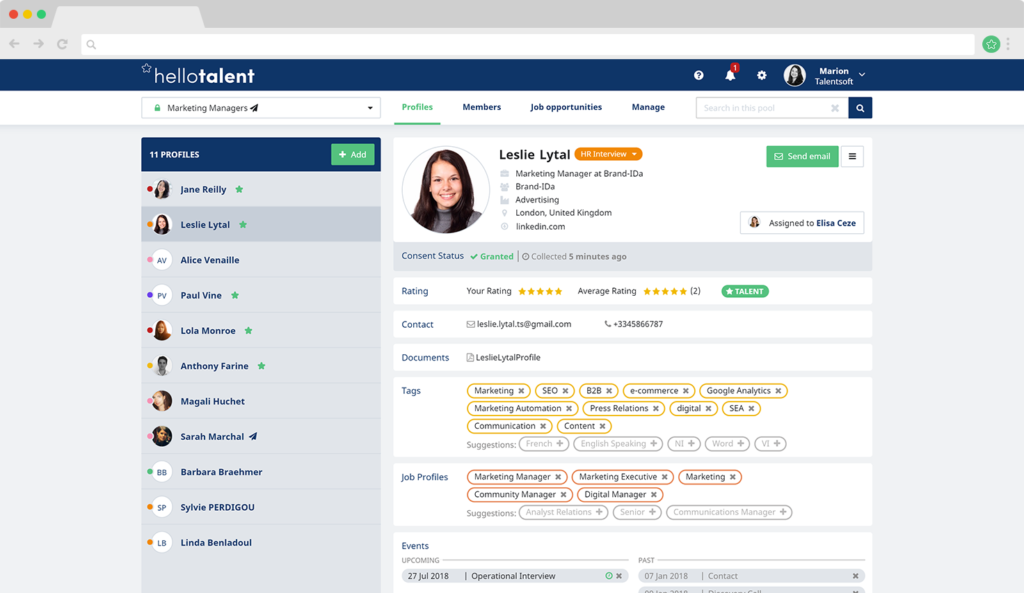 Hellotalent provides automated social media aggregation, email, resume parsing, job opportunity promotion, and team collaboration on candidate profiles.
Many basic features, like tags and ratings, are available on the free version of the tool. Recruiters can also access up to 1 document per candidate, and access Hellotalent's mobile app.
One downside to Hellotalent is it's mail campaigns feature. It doesn't appear as well-developed as other talent management systems on the market, which can make candidate communication clunky.
Price: from $63.50/month.
Free version: Freemium plan available.
Pros
Free plan available
Scalable recruiting tools
Seamlessly add Linkedin profiles to candidate pages
Cons
Only 1 document per candidate on free plan
Resume parser only available on enterprise plan
Keyword search feature isn't super slick
3) Recruitee: Best iOS and Android App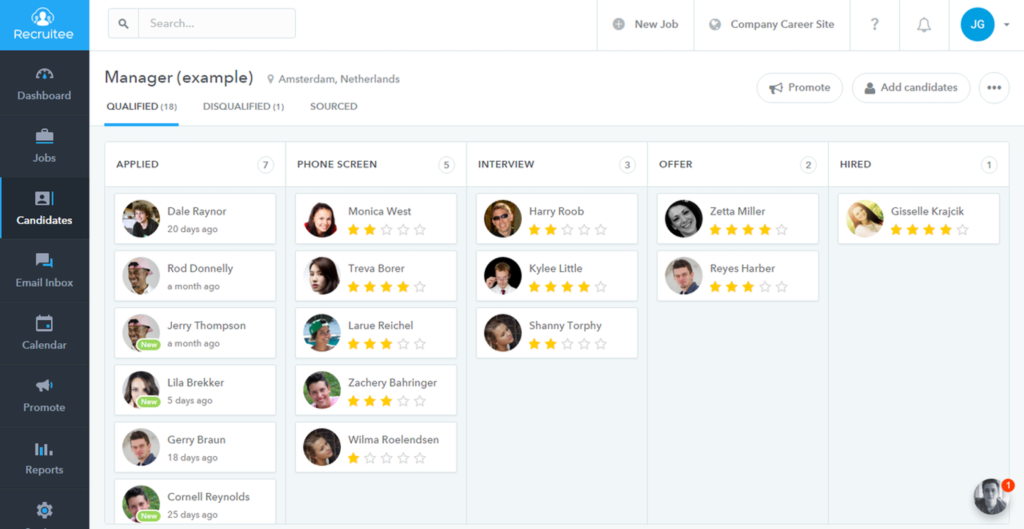 Recruitee is designed to attract talent and automate repetitive recruiting tasks. Features include advanced CSS and media options for your customized career site and the ability to post to free job boards worldwide.
They also have an open API, which allows you to integrate Recruitee with your hiring tech stack however you wish.
One drawback of this tool is its interface issues. Recruitee also struggles to parse documents like resumes and other PDFs.
Price: from $79/month.
Free version: 18-day free trial + free demo.
Pros
Access to over 1000 job boards
User-friendly design
Has a talent sourcing chrome extension
Cons
Multi-language job sites limited to paid plans
Custom careers site URL available only on paid plan
No emailing feature
4) Oleeo: Best for Internal Mobility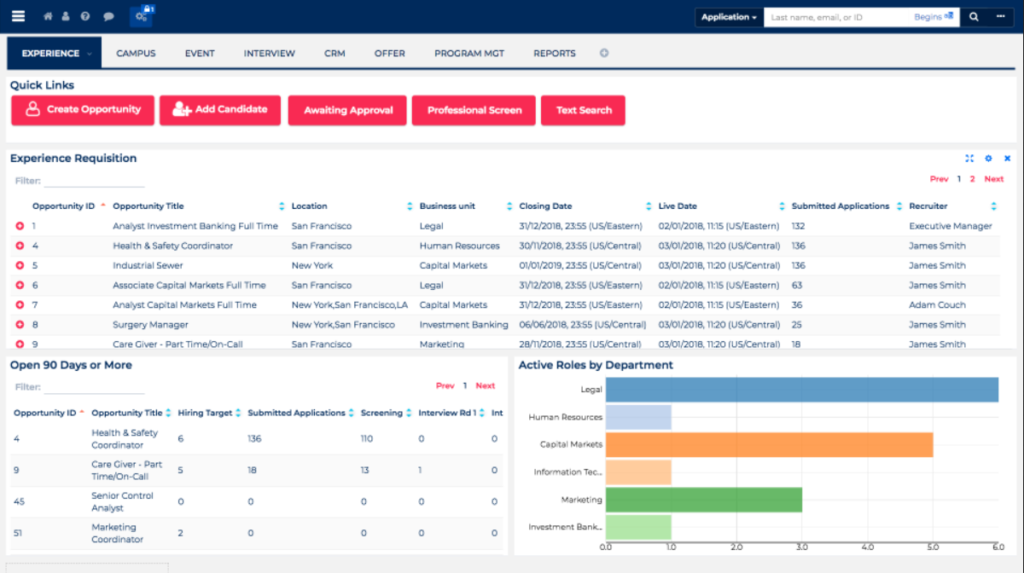 Oleeo was created with diversity-sensitive hiring in mind. Additionally, it was initially made for VA and intern sourcing. It hones in on college campus populations and other graduate entry channels. As such, it has somewhat naturally become the defacto TMS for internal mobility management.
This software does a fantastic job at managing high volumes of applications. It is also flexible enough to allow you to design and scale its uses around your existing process.
Oleeo doesn't advertise their pricing, nor does it offer a free version of its software, which could put some HR managers off.
Price: Available upon request.
Free version: No, but has free demo.
Pros
Thorough training agenda, designed for interns
Great for high voume recruiting
Interview scheduling feature
Cons
Large focus on entry level positions and campus recruiting
No integration with Outlook
No pricing information online
5) Pathgather: Best Employee Learning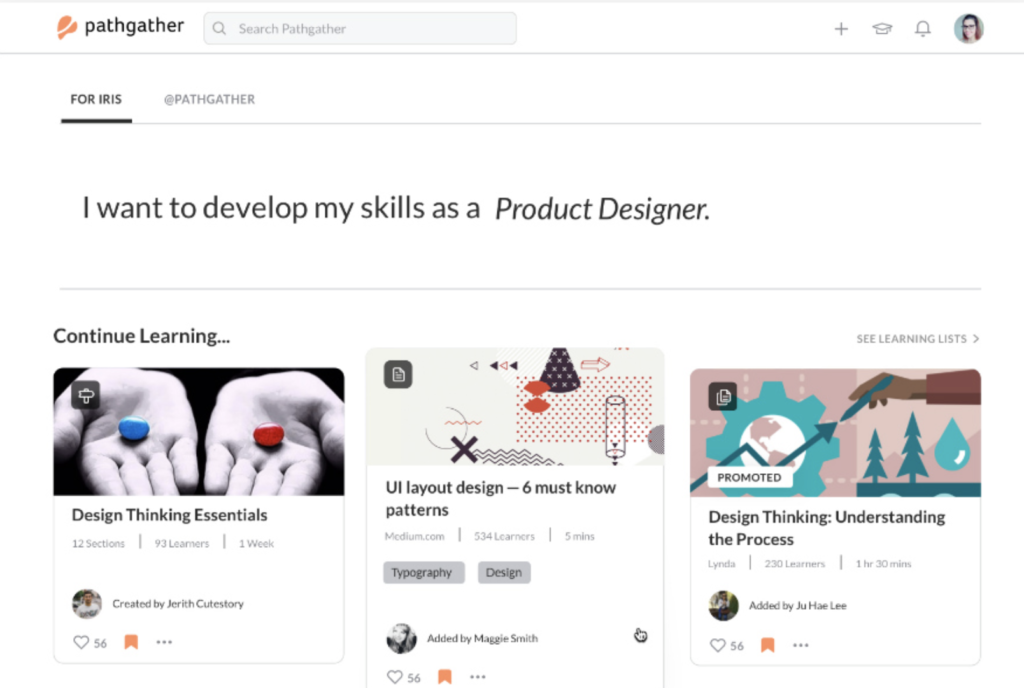 Pathgather is primarily concerned with and designed for developing the talent you already have, rather than attracting or recruiting new hires. Its focus is on employee learning experiences and engagement.
With an expertise in training and learning, Pathgather carries this knowledge into their own ecosystem with ample resources for onboarding and exploring their software, through videos, tutorials, articles, and more.
One downside to Pathgather is that their mobile app lacks a lot of the functionality and accessibility found in the browser/desktop version.
Price: from $5 per user per month.
Free version: No, but has free demo.
Pros
Rich labor market data
Provides personalized learning recommendations
Integrates with learning management systems
Cons
Limited functionality on mobile app
Database search too broad
Very course/learning focused
Conclusion
Whether you're behind a two-person startup or a corporation with hundreds of employees, choosing a talent management system for your company is not a task to be taken lightly. Once you consider these factors, you can choose a talent management system that ticks all the boxes and works for your specific needs.