Connecting with prospective candidates where they are today means using social media platforms to reach and recruit them. With social media recruiting, your team can catch the eye of active job seekers and reach passive candidates.
Innovative companies draw applicants to their social platforms, and into their recruitment funnel, by sharing creative recruitment assets. Here are a few examples to inspire your social media recruitment strategy.
TL;DR – Key Takeaways
Organizations use their social media platforms to get a broader reach for their job postings, connect directly with their target candidates, and streamline their recruitment process.
Get inspiration from good examples of social media recruiting, such as using video, communicating with your target audience, and promoting a diverse workforce to maximize your recruitment efforts.
Kickstart your social media recruiting strategy with our six tips, from easy-to-read job descriptions and sharing a mix of content types to measuring your success and employee advocacy.
Once you've hooked prospective candidates, Toggl Hire's skills assessment platform can help you sift out the best from the rest! Gamifying your job application process is another way to streamline recruiting and maintain an engaging candidate experience.
Why do companies use social media platforms for recruiting?
A creative social media recruiting strategy helps companies keep their recruitment methods fresh and personalize their job posts to connect with a specific demographic of candidates, such as programmers or remote workers.
What's more, it trumps traditional recruiting methods, such as newspaper ads and job boards, which are less data-driven and typically more manual. Social hiring helps your team streamline the recruitment process and stay more connected with applicants.
Plus, recruiting candidates through social media also assists companies with:
When you think about employer branding and how you articulate your culture to attract, engage, and retain talent, you need to go beyond performative. Candidates can see through it. They're tapping into their networks to understand who you really are — beyond what your career site says.

John Graham Jr., VP of Employer Brand, Diversity, and Culture at Shaker Recruitment Marketing
11 Best social media recruiting examples around
Getting social media recruiting right means sharing your job posts with the kind of messaging and medium that appeals to your target candidates.
For instance, hiring via TikTok or Instagram may not attract mid to senior-level candidates or Gen X-es. And, if you're wondering whether it's worth all the fuss, consider that 57% of today's job seekers look for their next job on social media platforms.
But don't fret. Here are some great examples from different social media platforms to guide your social hiring strategy.
Example 1: Showcase your company culture
By showing job seekers your company culture in action, they can see if it's a team they'd feel welcome in. But, make sure that your company does 'live' your culture and that it's not confined to a few lines in your employee handbook…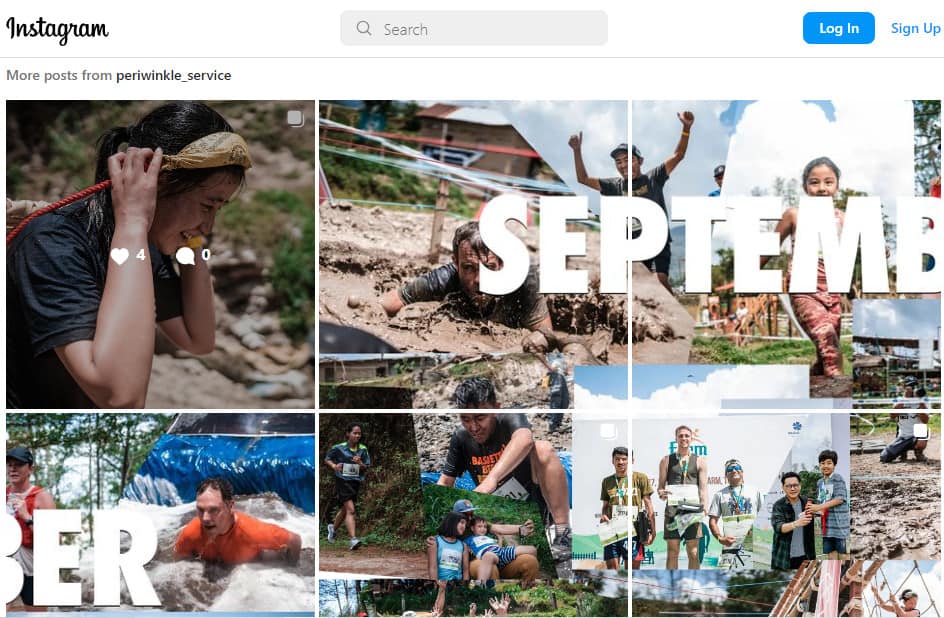 What works well
Posting good quality photos of recent company social activities that 'show' the story of your company's culture rather than merely 'telling' it.
Example 2: Provide an in-depth view of the role and its impact
Some candidates are motivated by more than the remuneration. They want to know what impact the role and the company has. Sharing in-depth info on what the job entails and its outcomes can hook these job seekers. Also, providing the context in a unique way, like a Linkedin blog about a role, can drive better engagement.
What works well
Using an original format, like a blog, to share in-depth details about what impact the successful candidate will have on pressing global issues.
Example 3: Have company influencers or C-suites share job posts
If you need to fill a post quickly or you're dealing with a hard-to-fill role, consider having your own company influencers — hiring managers or colleagues that have a big social media following — share the job ad from their social media accounts.
That way, they act as brand ambassadors, amplify the post's reach, and get the word out to prospective candidates in the same sector.
What works well
Having the CMO share the new opportunity that's opened up in their own team can boost reach and engagement.
Example 4: Use video
Video is a powerful way to engage top talent, considering that 93% of marketers find it indispensable.
For instance, posting recruitment videos on the company's YouTube channel is a great way to show what the day-to-day tasks entail and can help candidates decide whether it looks like a good match for them.
What works well
The video gives an in-depth look into what they can expect from the role and the general company vibe, helping them decide if they want to apply.
Example 5: Highlight your DEI achievements
Boost your employer brand and attract broad, diverse talent to your organization by empowering all voices.
This can be even more effective in technical sectors, like cybersecurity, where women make up only 24% of the workforce.
What works well
Hearing from women in industries where they are in the minority, like in tech, can help boost the number of applicants for your open roles and support a more diverse workforce.
Example 6: Express your employer brand values
By celebrating your people and their achievements, you're demonstrating your company's values and employee value proposition.
This can help you connect more genuinely with candidates and support your talent acquisition strategy through a strong employer brand.
What works well
Showing the humans behind the brand and using high-quality visual content.
Example 7: Make the benefits clear
When you make the benefits clear on your job posts, like study programs or paid time off, job seekers can see what's in it for them and how your offering compares to similar roles at other organizations.
Social recruiting only works if candidates engage with your posts, so be sure to put the most compelling employee benefits front and center.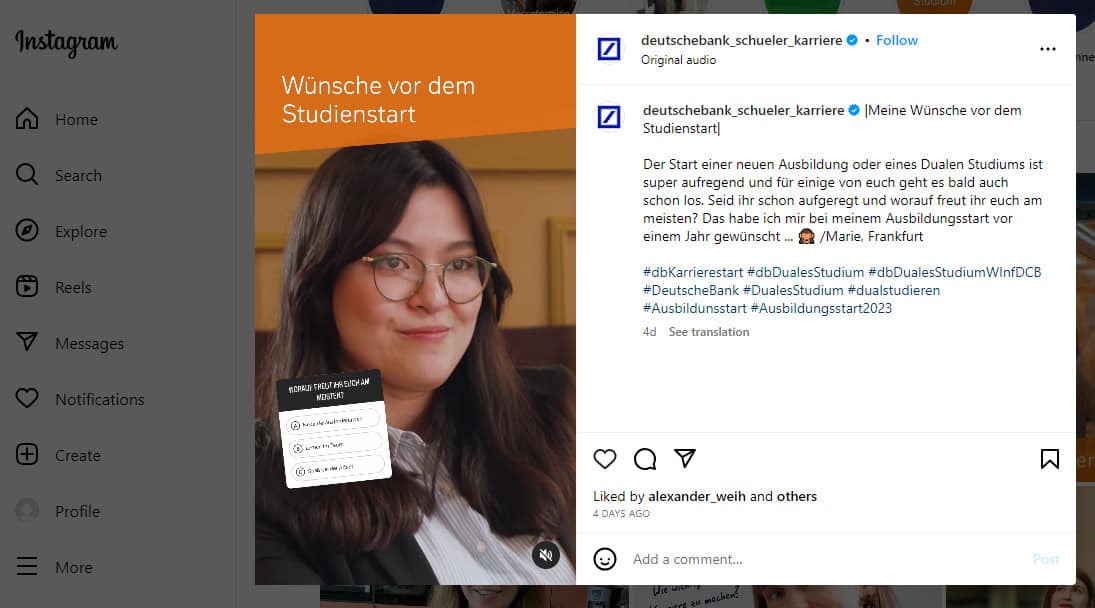 What works well
Hearing directly from one of the employees about their experience in Deutsche Bank's study program provides effective communication to other grads considering applying.
Example 8: Make sure it's easy to apply
Always make sure that it's super easy for applicants to apply for your open positions. Including clear 'Apply now' buttons or even a nifty QR code makes the candidate experience more streamlined, and less likely that qualified candidates drop the application process.
What works well
Doing things differently. Using a cool QR code makes it super easy (and fun) for job seekers to apply for your open positions.
Example 9: Include relevant hashtags
Include the hashtags that relate to the open position, such as #B2B and #digitalmarketing for a new addition to a software company's marketing team. That way, you direct more of the right crowd to your job ads.
What works well
Using relevant hashtags like #nosql that bring the post to the attention of the right audience.
Example 10: Align the tone to your target candidates
Adapt the tone of your social media assets to the candidates that you want to target. For instance, to target experienced candidates, use clear, professional language rather than slang. If you miss the mark, you risk putting off the potential employees you are actually looking for.
What works well
This apprenticeship video employs a user-generated style and has a very informal feel to it that matches the ideal candidates the company wants to recruit.
Example 11: Gamify your application process
One simple way to elevate your social recruiting strategy is to make the transition from a job ad to a job application seamless.
Requiring candidates to upload an up-to-date resume or, worse, submit a tailored cover letter deters many suitable candidates from throwing their names in the hat – especially the passive ones. Instead, gamify the initial screening step by directing all applicants to a skills quiz.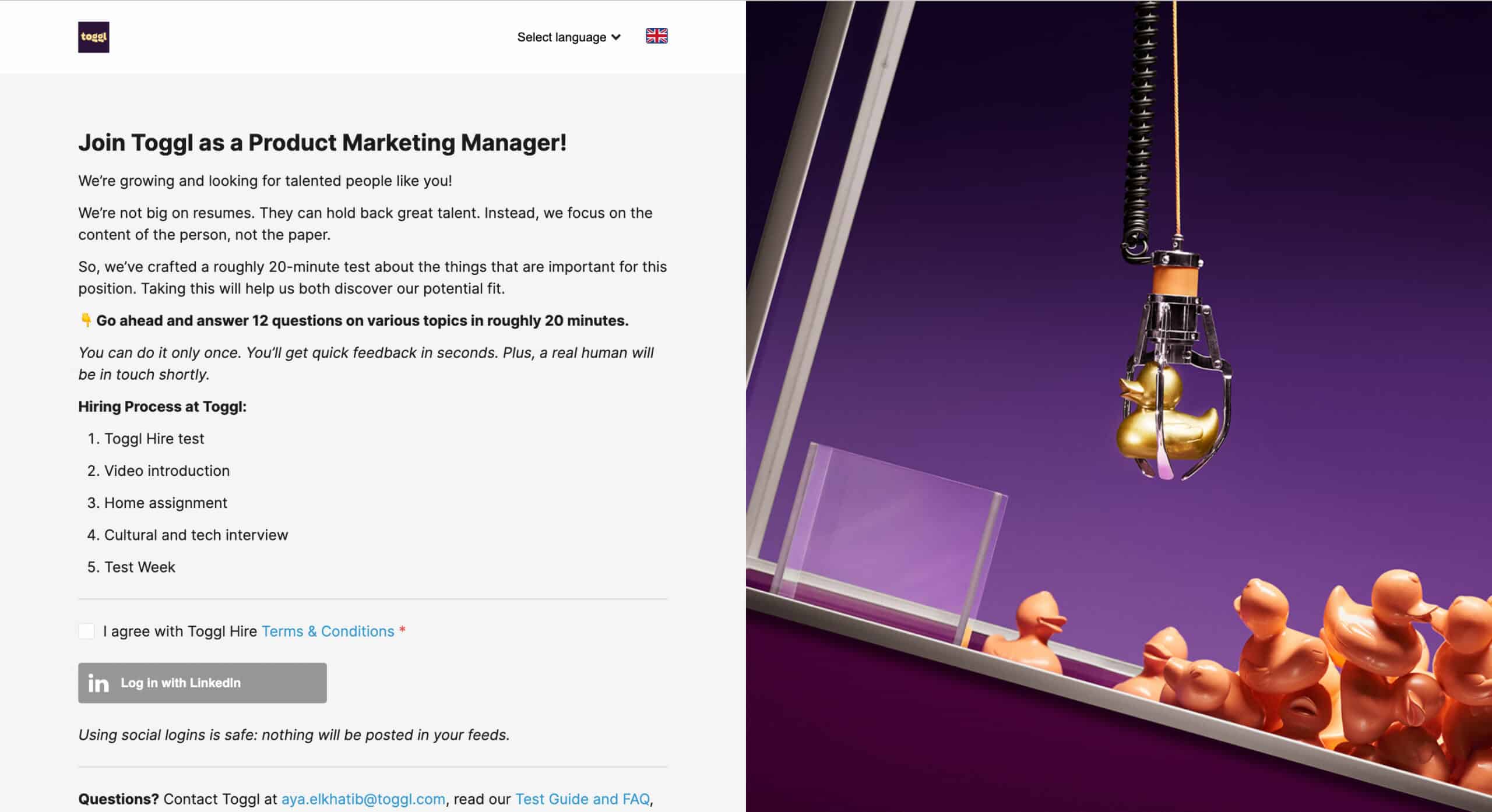 What works well
Using a skills test instead of the resume to pre-qualify candidates for the next step wins on many fronts:
6 tips for social media recruiting
There are many best practices for social media recruitment that you can follow. Here are a few key tips to help employers refine their strategy and fill their recruitment funnel fast:
Create appealing job ads. Make sure the language is conversational, jargon-free, and is laid out so it can be reviewed quickly, such as including bullet points (and optimized for mobile devices).
Use the right platform to target a particular audience. For instance, if you're looking for Gen Zs, use social media channels like TikTok or SnapChat. Getting this wrong could cause damage to your employer brand.
Include videos. Considering that short-form videos on social media capture the attention of 66% of consumers, video is still a great way to hook potential candidates.
Share a mix of relevant content that appeals to both potential customers as well as potential employees. You could work with your marketing department to ensure employer brand and recruitment posts are included at a regular cadence each month.
Don't overlook or put off the analytics. Measuring the success of your social media posts is an important part of your bigger data-driven recruitment strategy.
Get employees involved in social recruiting. They should engage with job posts and even share them from their own social media accounts. For instance, if their team is growing, employee advocacy is a great way to get the word out further to a bigger, relevant network and increase the chances of finding a good match.
There are only a few companies out there shaking up social media recruiting. To get a competitive advantage, start by modernizing your careers page. Once that's looking good, get started on some creative recruitment ideas that include social hiring, one's that stop the best applicants scrolling further on their feed!