For any company to grow and succeed, you need someone on board with top-notch recruitment skills. But what does that mean, exactly?
We'll explore the core recruiting skills that make up this skillset, so you're equipped to pick not only a good recruiter but a great one.
TL;DR — Key Takeaways
What does a recruiter do? They're responsible for sourcing and screening talent matching a company's growth needs.

How do you become a recruiter? If this is a career you're keen to pursue, begin by getting the relevant education and skills as a foundation.

What's the difference between recruiter skills and competencies? A skill is a specific ability or something you do well, such as writing really compelling job postings. Competencies are a bigger concept that combines your skills, knowledge, behaviors and abilities to do something, such as problem-solving.

We explore the 16 core recruiting skills you should look for when hiring a recruiter (or aim to develop if you're one!), ranging from sales and marketing skills to having a data-driven mentality and excellent relationship-building skills.

Finally, if your team needs to hunt down a recruiter, try a skills-first approach with Toggl Hire's role-specific skills assessments and spot the top recruiting talent with the real skills to make a difference.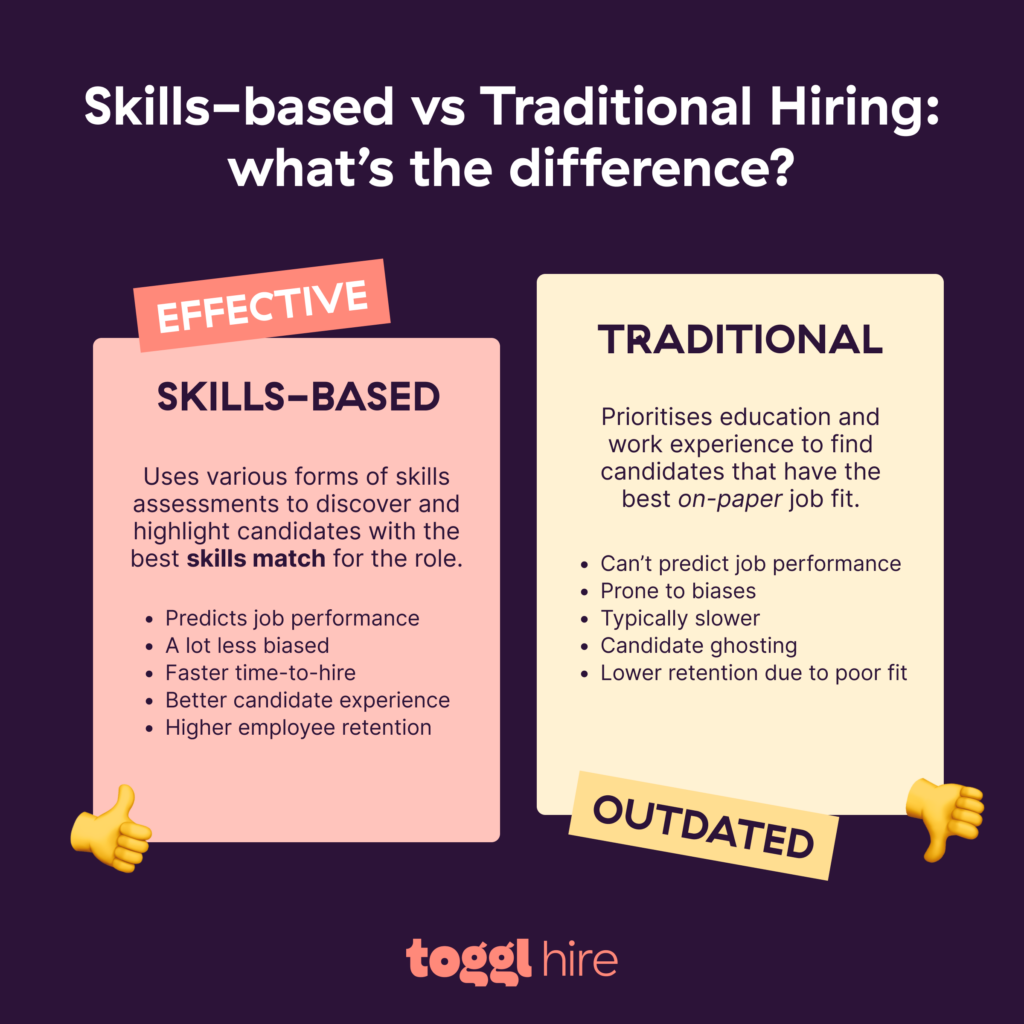 What does a recruiter do?
The role of a recruiter entails finding and matching qualified candidates with open positions in a business. Their work forms an essential part of the hiring strategy or talent pipeline as they are responsible for tasks such as:
Recruitment admin — such as creating job ads and managing the recruitment funnel.
Recruitment marketing — from advertising open roles on social media to running employer branding campaigns.
Candidate sourcing – to find suitable candidates, recruiters need to explore traditional candidate sourcing strategies like posting on job boards or employee referrals as well as proactively reaching out to passive candidates.
Candidate screening — to filter out top talent by checking their qualifications and assessing their skills.
Performing interviews — with screened candidates that have the right recruitment skills.
Candidate experience — Maintaining the best possible candidate experience throughout the recruitment process (along with the hiring manager), including negotiating offers.
How much do recruiters earn?
According to Glassdoor, the average salary for a mid-level recruiter in the USA is around $51,000 per year but can go up to 80,000 annually for senior recruiters. In Europe, salaries for recruiters vary from country to country, but the average annual salary is approximately €55,000.
Average Recruiter salaries in major North American cities in 2023
The average annual income of a US technical recruiter in 2023 is typically higher than a generalist recruiter's salary.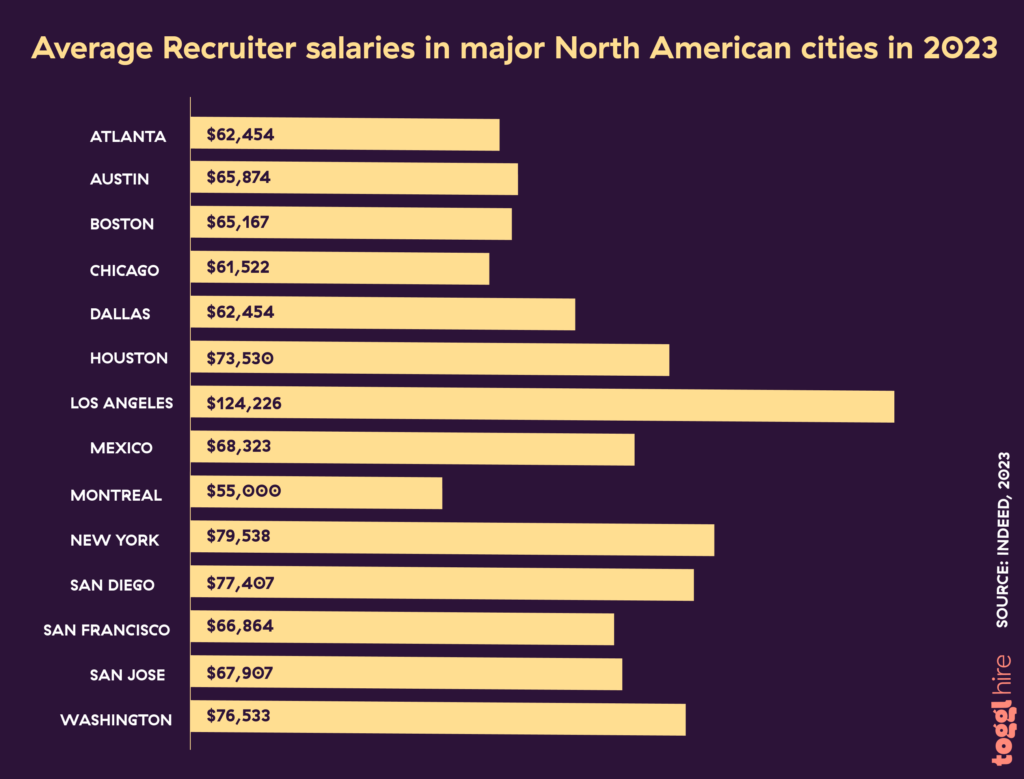 How do you become a recruiter?
For someone that wants to pursue a career in recruiting, there are a few basic steps they can take to start on the road towards becoming a successful recruiter, including:
Get the relevant qualifications. Most employers require a bachelor's degree, preferably in human resources. But a degree in a related or complementary field, such as marketing, business or psychology, can work equally well.
Tip: A recruiter that doesn't have a typical HR background can complement the hiring team's skills with their specialist experience and expertise, such as someone that's worked as a social media manager.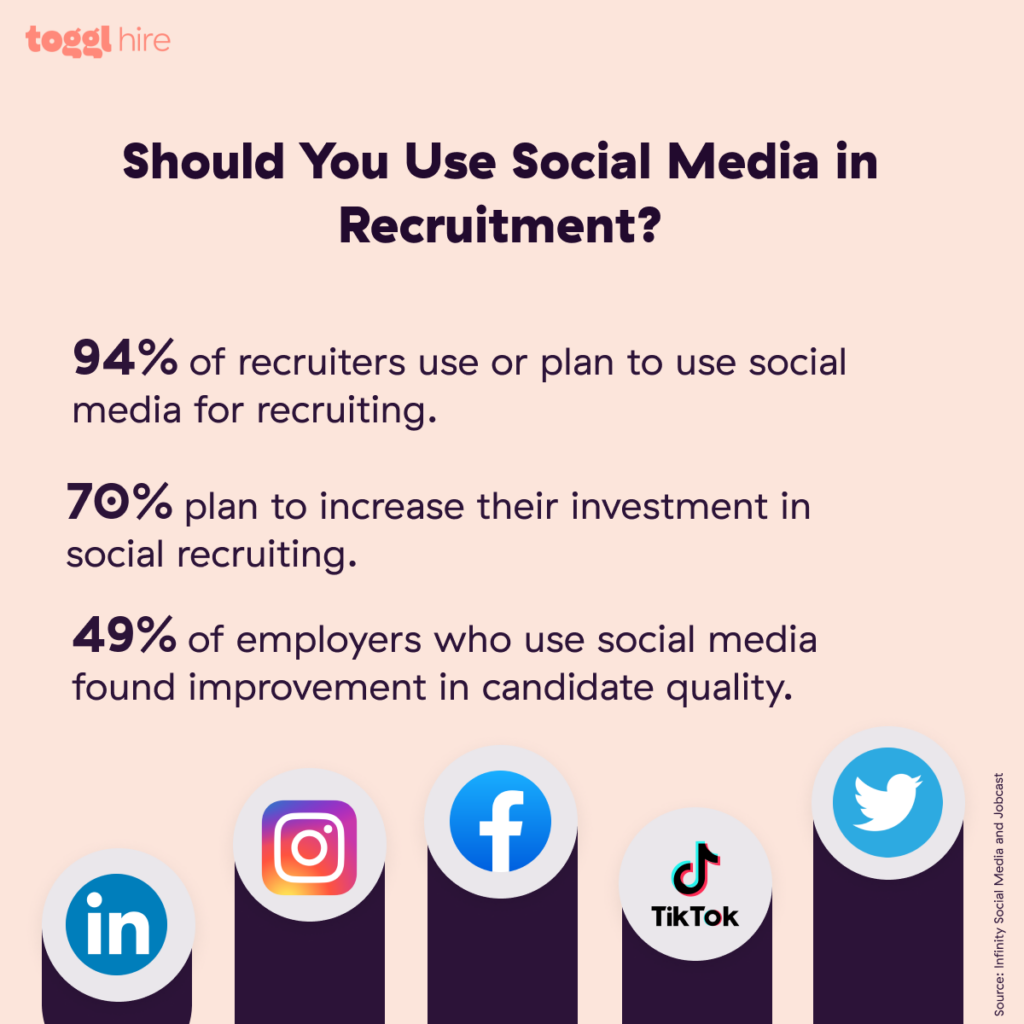 Make sure you've got the right skills, such as active listening and relationship building skills. We'll discuss these and other recruiting skills in more detail below.

Gain relevant work experience. Once you've worked on your recruitment skills, you can start applying for relevant positions and begin building your recruiter career.
What's the difference between recruiter skills & competencies?
Although similar, skills and competencies are not the same thing. A skill is a specific ability that can be taught and is measurable, like good writing, research or coding skills. In comparison, competencies are a collection of knowledge, experience, and skills that are built up over time.
What's great about skills is that they're:
Measurable — with skills assessments (like Toggl Hire's multi-level assessments)
Can be developed further— such as improving a recruiter's interview skills through training or mentoring
Transferable — between different roles and functions, such as reusing their sales skills when moving from a sales to a recruiter role to "sell" the job to candidates
A person's competency in something can be harder to measure. For example, relationship building, effective leadership and active listening are all competencies.
Simply put, skills are the building blocks that enable a person to perform specific tasks, while competencies are the capabilities that ensure an effective job or role-level performance.
Different types of skills recruiters need
There is a common set of recruitment skills that every good recruiter (external or internal) requires for success, such as good listening skills, strong communication skills, marketing and sales skills, and negotiating skills.
In the table below, we explore all the core skills needed to be a recruiter and how to assess them.
Job-specific hard skills for recruitment
Some skills are essential for a recruiter to have in their skillset if they're on the lookout for an intermediate or senior human resources role. These hard skills help them hit the ground running when they start a new position.
| Skill | Importance | How to assess |
| --- | --- | --- |
| 1. Core HR knowledge | Ensure legal and ethical HR practices throughout the recruitment process that are also fair and non-discriminatory | Assess this recruitment skill with a knowledge-based test |
| 2. Marketing skills | Marketing skills (and sales skills) are crucial for attracting the right talent, selling the position and the company's employer brand | A skills test of their basic digital marketing or social media abilities |
| 3. Digital skills | Recruiters need general digital or IT skills plus experience with recruitment software, such as applicant tracking systems | A homework test, such as a simple job task using the required software |
| 4. Analytical skills | Successfully managing the recruitment funnel requires someone that uses data to continually improve how they work | An analytical thinking skills test or scenario-based questions in a job interview |
Hard, technical skills recruiters need to be successful in their job
Soft skills needed to be a recruiter
Along with technical abilities or hard skills, successful recruiters also need specific soft skills that help them understand, communicate and work well with all stakeholders.
| Skill | Importance | How to assess |
| --- | --- | --- |
| 5. Communication skills | Need to have strong communication skills in order to guide, reject, and negotiate with multiple candidates for each open role | A communication skills test |
| 6. Time management skills | Vital to fill positions fast, balance tasks and priorities to keep in continual contact with the talent pool, and scheduling interviews, to name a few | A time-management skills test |
| 7. Active Listening skills | Need to listen and fully understand all stakeholders from applicants to companies and hiring managers | An active listening and communication skills test |
| 8. Understanding Body language | Being aware of a candidate's body language and portraying positive body language will help a recruiter notice and signal non-verbal cues | Scenario-based questions in an interview |
| 9. Teamwork skills | To meet tough hiring targets, recruiters must work well within a team, and with external teams | A teamwork skills test |
Soft skills recruiters need to be successful in their job
Personality traits great recruiters have
Here are a few core personality traits that many top recruiters have mastered, enabling them to deliver professional recruiting services.
| Skill | Importance | How to assess |
| --- | --- | --- |
| 10. Patience | Without patience, a recruiter could upset potential candidates and put them off the company | Scenario-based questions in an interview |
| 11. Confidence | A skilled recruiter needs to be confident in interview situations as they represent the business | Observe the candidates' confidence levels during an interview |
| 12. Reliability | Recruiting is a high responsibility position which has a big impact on the business | A candidate's employment history and references |
| 13. Attention to detail | A recruiter role is fast-paced and deals with a lot of personal information. Error-free candidate communication is essential. | Ask specific 'attention to detail' related interview questions or give candidates a test that assesses their attention to detail |
| 14. Goal-driven | Meeting hefty recruitment targets is the core of this role | Past performance track record and scenario-based questions in an interview |
Character attributes recruiters need to be successful in their job
Must-have competencies for recruiters
Finally, recruiters that also demonstrate competencies, such as building strong relationships between all stakeholders, will stand out in the candidate pool.
| Skill | Importance | How to assess |
| --- | --- | --- |
| 15. Relationship building skills | Builds and nurtures the relationship between candidates and a company | Scenario-based questions in an interview and peer interviews |
| 16. Multitasking skills | The hiring process has many parts. A successful recruiter can juggle between different activities. | A job simulation or scenario-based questions in an interview |
Now you know the core hard and soft skills hiring managers are on the lookout for in a successful recruiter. To make it even simpler, here's how you can quickly spot the top talent in the recruiting world.
4 telltale signs that help you separate good recruiters from great recruiters
How do you differentiate between a good and a great recruiter? What makes a successful recruiter? Here are a few attributes common to the best candidates.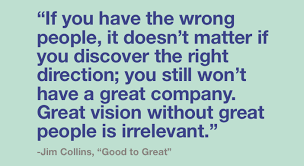 1. They're tenacious and confident communicators
A great recruiter needs to talk the talk. In other words, their great communication skills help to sell potential candidates on a company, and manage and execute internal stakeholder expectations . And they must be tenacious to follow through with all the recruitment process steps and reel that fish all the way in!
And since the average hiring process can take up to 36 days (or even longer), recruiters have to keep their prospects hot throughout!
If they've got this essential skill combo waxed, you'll spot it in their ability to answer questions in a clear, logical and persuasive way.
You can test this strength with a recruiter skills test from Toggl Hire.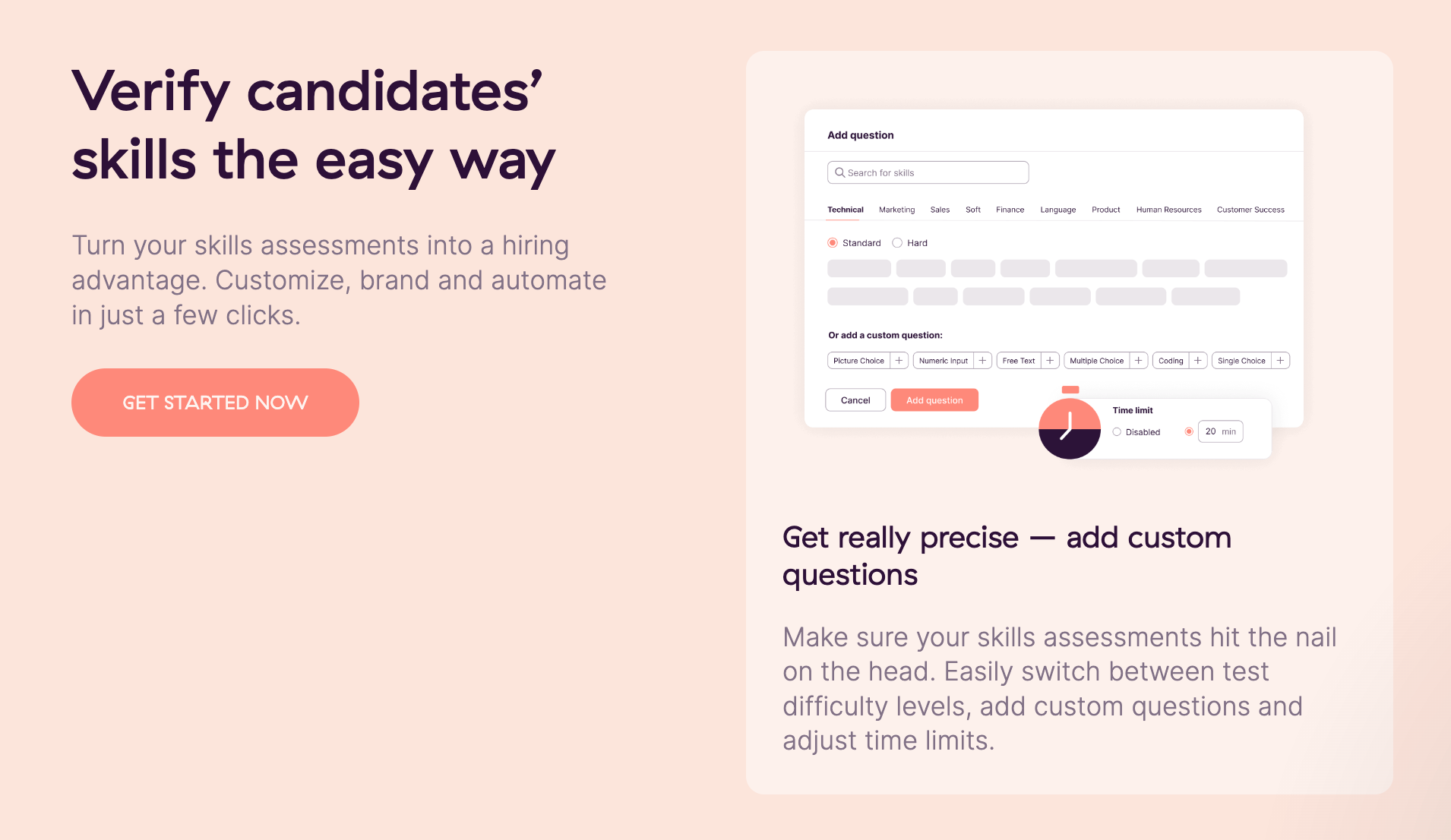 2. They're goal-fixated and always think ahead
Recruiters that are worth their salt, are always thinking five steps ahead. Not only do they plan and manage the recruiting process, but also ensure recruiting goals continually align with the goals of the business and broader market trends.
For instance, by 2025, millennials will make up 75% of the workforce, and good recruiters will already have a strategy in place to engage effectively with them and attract them to their employer brand.
A great way to test their goal-setting (along with task and time management skills) is with our pre-build Time Management skills test.
3. They're open minded lateral thinkers
With rapidly changing workforce and recruiting industry trends, recruiters have to continually manage expectations and negotiate between keeping new employees (and hiring managers) happy and meeting the business' needs.
For instance, since 65% of workers would prefer to work remotely these days, recruiters need to work with hiring managers to think of innovative solutions that will convince business leaders to shift their thinking.
To test recruiters on their level of innovative thinking, try out our automated Problem Solving skills test.
4. They're already a brand champion
Since recruiters become the main representative or ambassador for a company, they may already know plenty about your company before they're even on board. If that's the case, you can see they take pride in their responsibilities and will get candidates hooked on your company too.
Nearly 75% of recruiters have experienced candidates changing their mind after signing a job offer. The early steps the recruiter takes with applicants are crucial for demonstrating the company culture and forming a sincere connection with top talent.
Fire up your recruitment process with skills assessments
The easiest way to spot a highly experienced recruiter is by implementing a skills-first approach in your recruitment process. Especially when it comes to filling specialized roles or job openings like a technical recruiter — you need to know they've actually got what it takes to succeed rather than rely solely on CV info as proof of their abilities.
With Toggl Hire, you can easily assess a technical recruiter's core skills, including understanding the specs for a technical role, conducting technical interviews and stakeholder collaboration.
Plus, since subject matter experts create all our test questions, you can be confident you'll make the best choice! And start improving your hiring decisions today.
Juste loves investigating through writing. A copywriter by trade, she spent the last ten years in startups, telling stories and building marketing teams. She works at Toggl Hire and writes about how businesses can recruit really great people.