With over 10,000 published titles, finding the right books about recruitment can be a challenge. So it helps to be pointed in the right direction!
After all, the industry is constantly evolving. From integrating artificial intelligence into the process to courting passive candidates as a core recruitment strategy – keeping up with the latest literature is essential for today's recruiters and hiring managers.
What used to be simple: placing an ad and hiring the best candidate, is now a whole new world of complexity—shaped by new and emerging technologies, strategies, and candidate needs.
So let's jump to it! Looking at recruitment books published in recent years, we've handpicked the best from the rest to meet every recruiter's need.
TL;DR — key takeaways
Reading newer titles helps recruiters to keep up with the latest issues and topics relating to their field, which is important when working with humans.

The field is fast evolving – with today's recruiters looking to fill more specialized roles and leverage modern strategies and technology to attract more qualified applicants.

To deep-dive into specific topics, such as hiring for company culture or diversity, recruitment books combine the latest research, studies, experiences and opinions to enrich your understanding.

Recruiting books also offer up practical advice for recruiting success and guidance on the best software and services to streamline the hiring process, like Toggl Hire.
For diversity recruiting efforts
🌟 Goodreads rating: 4.09
Tackling the difficult yet hot topic of hiring a diverse workforce, this book provides actionable ideas to reduce bias and improve hiring accessibility. It looks at how to make new hires, assess existing policies and create a recruitment and inclusion strategy beforehand, in addition to strategies for modifying mindsets and behaviours and measuring impactful diversity efforts.
Diversity is personal, perhaps more so than any other topic or decision we make during the workday. It reflects our values and our viewpoints, and it can trigger a surprising array of emotions. Advancing diversity isn't just about facilitating organizational change. It's about reaching the hearts and minds of our people.
🌟 Goodreads rating: 4.36
The book is the perfect guide for employers looking to find diverse talent online through a combination of new strategies, technology, and scientific research. It contains a wealth of information, from Boolean string examples to suggested Talent Sourcing tools, to help employers create a successful Diversity Talent Sourcing strategy.
A gold mine of boolean strings and resources for sourcing. A must have book for any recruiters and sourcers!

Blair (Goodreads)
For removing unconscious bias when recruiting talent
🌟 Goodreads rating: 4.34
Jennifer L. Eberhardt, an expert on unconscious racial bias, examines this controversial and powerful issue in her book. It offers practical reform suggestions and combines interviews, personal stories and accounts of police departments implementing her recommendations.
I would recommend this to any organization or person or group who wants to understand how bias works and how it's ok–it's not your fault.

Mehrsa (Goodreads)
For understanding remote working in recruitment
🌟 Goodreads rating: 3.91
Remember, remote working existed well before the global pandemic. So when everything kicked off, this read became the bible for many recruiters tackling new recruiting problems relating to hiring and managing remote teams.
This book contains my own (often humorous) stories from 20 years of remote work, tips for setting up a quality workspace, and behaviors and practices that contribute to success outside the walls of a traditional office setting.
For entry-level recruiters
🌟 Goodreads rating: 3.60
The content of this book can be immensely valuable as it is geared towards entry-level recruiters seeking to enhance their skills in crafting effective messages throughout the hiring process to candidates across diverse industries. Applicable to all recruitment and sourcing professionals involved in outreach to attract talented candidates.
In the following pages, you'll discover techniques for engaging qualified candidates, building recruiter-candidate relationships and repeatedly matching the perfect candidate to the perfect position.
For improving the hiring process
🌟 Goodreads rating: 4.33
This is the essential read for HR professionals, team leaders, and the chief talent strategist in any size company. Mark Horstman lays out a step-by-step approach to help readers analyze lean, effective talent strategies for a high-quality workforce and ensure long-term success in today's talent war.
I like this book and think it's a great read for any hiring manager. If you are not a people manager and want to understand the recruitment process better, this will get you inside the head of hiring managers.

K (Goodreads)
For getting better at recruiting women
🌟 Goodreads rating: 4.25
Debbie Madden shares her framework for increasing the number of women in tech, based on her own experience as CEO of Stride Consulting. It focuses on creating a safe and equal work environment and using effective hiring methods to help tech teams benefit from the great talent and the increased productivity of diverse teams.
Our agile, iterative approach to hiring and retaining women in technology is the result of years of continuous iteration and mountains of learning from failure. In fact, I'm embarrassed to say that many of the tactics I share in this book were ones that I personally messed up for years.
For staying ahead of the curve
🌟 Goodreads rating: 4.36
The Robot-Proof Recruiter provides practical tips and expert guidance on recruiting in the tech-dominated landscape. It reveals effective recruiting strategies used, what works and what doesn't to help avoid the average hiring mistake, and how to successfully capture potential candidates' attention in the midst of information overload.
Do you work in talent acquisition? YOU NEED THIS BOOK. There's something in it for everyone, promise. Katrina brings real world scenarios and solutions you can act on immediately.

Amy Miller (Goodreads)
For learning about talent acquisition tools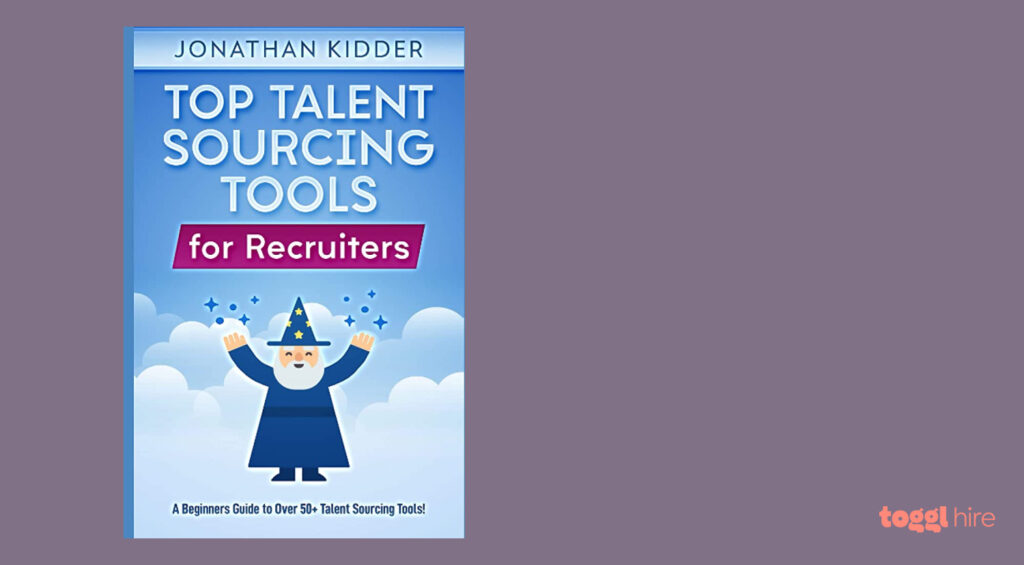 🌟 Goodreads rating: 3.93
This book assists new recruiters and talent sources in optimizing their recruitment process, with an in-depth exploration of recruitment tools and topics like contact information collection, outreach automation, lead-tracking, and ATS database creation.
Sourcers are becoming an integral part of the job search market, as companies are looking for more specialized roles with fewer qualified applicants. Gone are the days when a company could post a role and easily find candidates that have exactly what they are looking for.
For learning more about the technical recruiting process
🌟 Goodreads rating: 4.38
This book transforms generalist recruiters into IT technical recruiters by defining the top technical roles and skills requirements in the industry. It explains search terms and how to improve job descriptions, master the interview process, and gain confidence in your recruitment abilities.
With so many potential career paths available in the field, it can be daunting for recruiters to consider taking on a job in the tech industry. Fortunately, all it takes is a little research (and studying) to expand your IT knowledge.
To pick up new ideas on how to improve employee engagement
🌟 Goodreads rating: 4.35
Build It provides a comprehensive and practical approach to improving employee engagement, with case studies, research and actionable tips. The book draws on Gateway's experiences, but also includes information from academics and HR practitioners who have excelled in employee engagement.
This is a very clear guide to boosting engagement in your company. It spells out how engagement is not the same as staff happiness, why companies have such a gap between the level of engagement they have, and the level they would want to have, and all the benefits that flow from an engaged work force.

Ben Fletcher (Goodreads)
🌟 Goodreads rating: 4.13
A highly-praised book that sets out to redefine the experience of work in modern organizations. With 15,000 reviews on Goodreads, Work Rules! is a must-read for recruiters and hiring managers who want to build high-performing teams that come to work happy. The author takes readers inside one of history's most successful businesses, revealing why Google is consistently among the top-rated places of work as well as less-known but super-successful companies.
This is a superb book about making work happier, better, and more productive that should be read by…well, everyone who works in an organization of any size.

L.A. Starks (Goodreads)
To improve employee motivation
13. Humanocracy by Gary Hamel and Michele Zanini, 2020
🌟 Goodreads rating: 4.14
Humanocracy is a must-read for those determined to move past bureaucratic obstacles and create a company culture designed an agile organization that fosters growth and learning for all team members. It provides a blueprint for an individual-empowering, human-centred organization, applicable to all job titles and positions.
He chronicles some interesting experiments being done worldwide with different management philosophies and based on them, posits some principles which when put in use can lead organisations to become a lot more human centric and can address the shackles that bureaucracy has on most organisations.

Mukesh Gupta (Goodreads)
For talent acquisition
🌟 Goodreads rating: 4.03
The talent acquisition essentials guidebook, the Talent Fix presents a practical and scalable recruiting model, complete with real-world examples and hiring success stories, to help talent acquisition leaders and practitioners build and sustain effective recruitment strategies and functions.
I've worked in retail, dining, healthcare, and technical, and every single industry is exactly the same. There are challenges. There are buzzwords. There are bad hiring managers. There are good hiring managers. And if I could find talent that was interested in our organization and the positions we had open, then that was what truly mattered.
For learning how to build a corporate culture
🌟 Goodreads rating: 4.28
Coyle unveils the secrets of successful organizations like Pixar and Google, highlighting factors that promote team cohesion and trust-building. The book also includes examples of culture driven recruiting, how to avoid a toxic company culture, and showcases how effective cooperation can unlock remarkable achievements.
Although all the examples are from in-person work environments, broad lessons can be learned from the many high-profile organizations Coyle found during his research. This includes military, creative, hospitality and just about everything in between.

Justin Tate (Goodreads)
For team responsibility
🌟 Goodreads rating: 4.08
Patty McCord, former chief talent officer at Netflix, challenges conventional wisdom and advocates for radical new ideas about honesty in the workplace, creating teams through challenging work, and removing employees who don't fit. An interesting example of recruiting differently.
Excuse my language but I tabbed the $—- out of this book. I'm still trying to write down my notes and digest everything. I can't wait to share it with my colleagues so we can talk about our thoughts and draw up some ideas.

Bella (Goodreads)
For recruiting top talent
🌟 Goodreads rating: 3.82
Talent Magnet shares insights from extensive research on what top performers look for when considering employment. Using a business fable, Miller provides actionable advice on how leaders can find and retain the best talent – or in start-up speak, "recruit rockstars".
I enjoyed Miller's approach to communicating key truths in attracting and keeping top talent. Quick read with great principles on developing a great staff culture.

Brian Heckber (Goodreads)
For leadership roles
🌟 Goodreads rating: no ratings yet
In Leadership Recruiting, hiring managers and HR executives can learn the ins and outs of hiring practices from the perspective of a hiring organization. This concise book provides guidance on when and how to do traditional recruiting, engage external consultants, and build an in-house hiring behemoth.
The process we describe here is scalable. You may be a startup fazed (or not) by new realities, reevaluating plans and the people needed to carry them out. Or you may be a Global 100 and dealing with these issues by the boatload. But the same questions matter: What is the right track for recruiting key people for your organization at a critical time?
Books for social media recruitment marketing
🌟 Goodreads rating: 5.00
Looking for guidance on how to successfully integrate social media into your hiring strategy? This book equips recruiters with the necessary tools for successful hiring via social media channels, and how to generate applicants and attract passive candidates via advertising, networking, and more.
Some companies excel at marketing while others don't. I've come across engaging, distinctive and compelling content that has been shared widely on the internet. We can all learn from these examples and apply them to job postings, careers websites, and employer branding campaigns.
Books for hiring graduates
🌟 Goodreads rating: 5.00
This is an authoritative source for market researchers and employers seeking insight into the lives of Generation Z. It is a valuable resource for recruitment and human resources professionals; and a fascinating read for anyone interested in the sociology of generations.
Generation Z: A Century in the Making is an authoritative source for market researchers, consumer behaviour specialists, and employers seeking insight into the lives of Generation Z. It is a valuable resource for professionals and a fascinating read for anyone interested in the sociology of generations.

Dan (Amazon)
Books for the employee lifecycle
🌟 Goodreads rating: 4.00
Hewertson presents decision-makers of any level with the necessary insights to hire, develop, and fire correctly. Given that average hiring mistake costs easily run into the tens of thousands, nailing both the hiring and firing process is an effective way to boost your bottom line.
I really wish I had been able to have this book available when I was appointed manager of my department- 1988 ish… it would have made some very hard decisions over my 40 year career much less dramatic!

Barbara W Kathan (Amazon)
Books for team performance
🌟 Goodreads rating: 3.71
Teams Unleashed provides a roadmap for improved team performance through five core competencies. This book has actionable advice for anyone who works with and leads teams, from team leaders to internal HR professionals.
A great book that really gets to the heart of coaching, at both a team, and an individual level. Well researched, and back up with data, every coach, aspiring, and experienced will learn a lot from this book.

Fran Cormack (Amazon)
Books for modern hiring blueprint
🌟 Goodreads rating: 4.29
This practical guide to HR covers key practices and provides global case studies, making it invaluable for HR practitioners, people leaders, recruiting professionals, and business executives looking to improve people management and gain business success.
I would recommend this book to those new to, or wanting to consider, HR as a career. Also for those who are in a HR role which is not adding value and they need some inspiration on what is possible.

Karen (Goodreads)
Recruitment books first, Toggl Hire next
It's no surprise that many strategies behind modern recruiting involve putting technology to work for hiring success. And in addition to the best books, top recruiters are equipped with the best software and services, like Toggl Hire.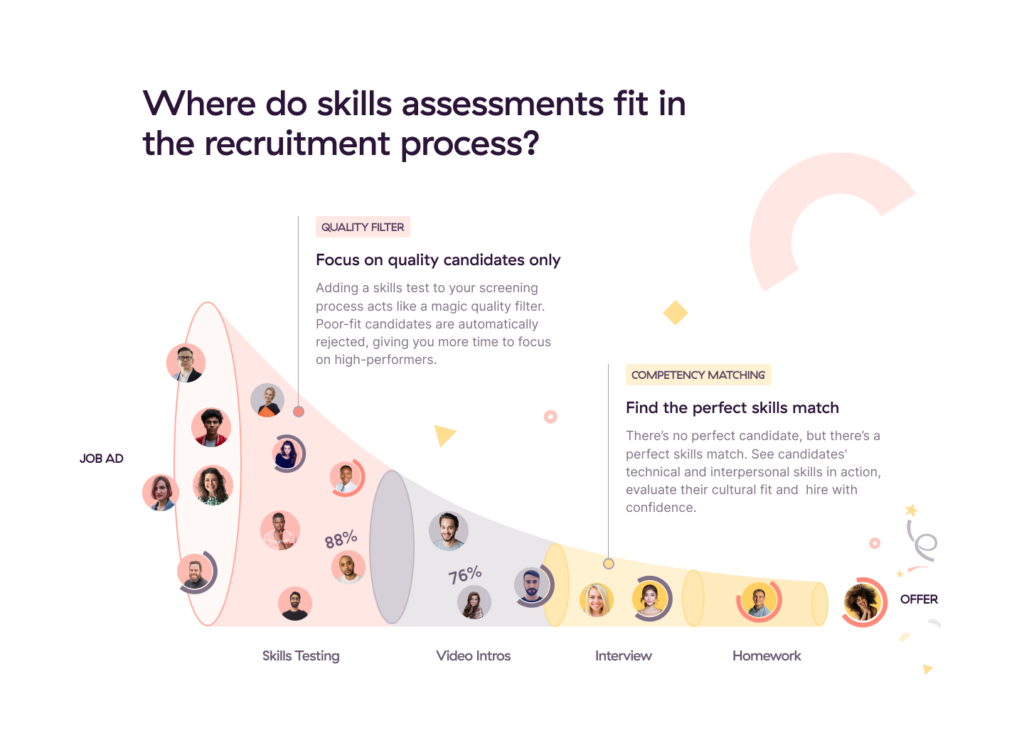 Toggl Hire's shortlisting capabilities provide recruiters with an effective tool for performance-based hiring. It allows recruiters to pre-qualify candidates based on practical skills, quickly filter out unqualified applicants, and identify the best candidates for the job.
So whether you're looking to learn more about a streamlined recruiting process or hope to pick up new hiring practices, you're bound to find something illuminating in this recruiter-approved list of best recruitment books for recruiters!
Happy reading!