Humans and technology make a fab team. That's why clever recruiters dream about their ideal recruitment technology tools or 'HR tech stack' – and how it'll help them deliver a slick hiring process.
New digital hiring tools, especially those augmented by AI,are speeding up hiring, streamlining the recruitment process, and helping talent acquisition teams snatch up the best candidates.
So, if budget wasn't an issue, what would your ideal HR tech stack look like?
In this article, we uncover the tech tools essential to recruiters today, and answer:
What is recruitment technology?
The top 10 recruitment technologies your team needs
Our pick of the 10 best software solutions right now
What is recruitment technology?
Recruitment technology is the collection of tools that the talent acquisition team uses to make hiring fast and simple, such as skills assessment tests, applicant tracking systems, and recruitment marketing software.
So how exactly does recruiting technology come to the rescue of talent teams?
Well, we know you've got a lot on your plate. Continually keeping the talent pool full of quality candidates requires time and effort spent on job descriptions, screening, and scheduling, managing your employer brand, and keeping candidates on the hook throughout the hiring process, among other things.
Luckily, technology is always changing to help lend a hand (or three) to your everyday HR tasks.
How technology supports the modern recruitment process
Early solutions like Indeed and Glassdoor led the way with basic assistance with sourcing candidates in one place. Now, recruiters have access to more niche and high-tech solutions like Freshdesk and Toggl that help the team perform sophisticated functions in talent acquisition that go far beyond mere job boards.
By implementing recruiting technology in human resources management, especially emerging technologies like AI and machine learning, you can connect with good candidates quicker, assess whether they're really a good match, and streamline your recruiting processes – all with the help of a few little digital friends, aka recruitment software.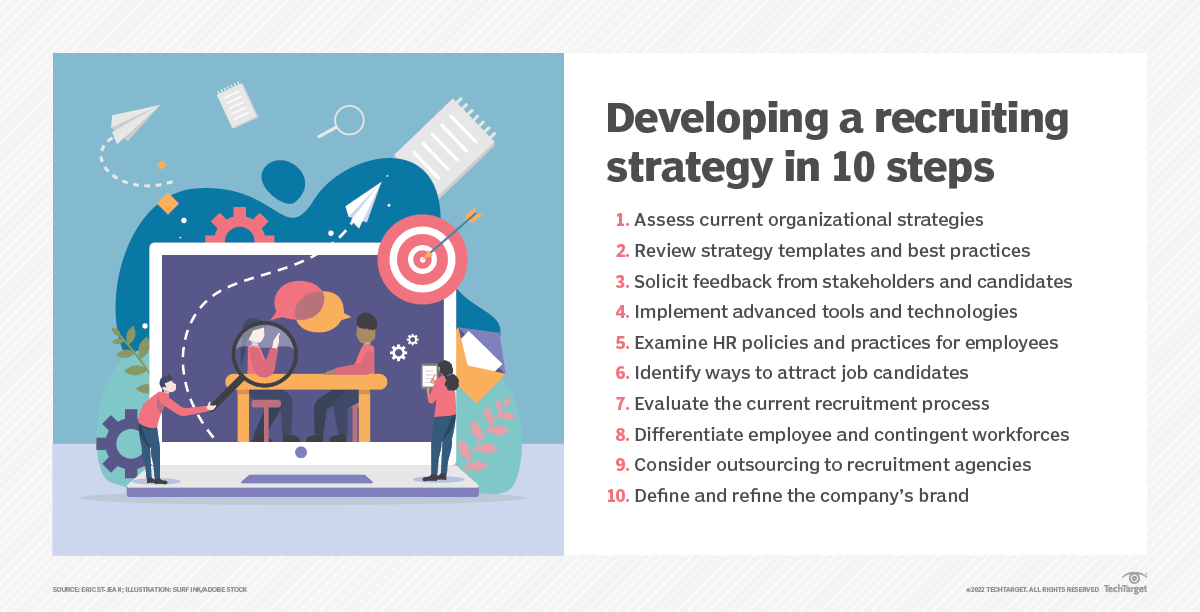 Since 49% of job applicants are willing to turn down an offer due to a poor recruiting experience, it's essential that talent teams have all their ducks in a row, and augment their skills with software to meet modern applicants' expectations.
So, which recruiting technologies do successful talent acquisition teams use? You've come to the right place for a walk-through of the 10 most important tools for hiring teams today.
Video Intros and Interviews
Video intros and interviews are a modern way for the recruiting team to get to know candidates and for candidates to learn more about the company, which is especially useful in the earlier selection stages.
Asynchronous video interviews are usually pre-recorded videos that candidates can create at home, responding to interview questions they receive from the HR team, usually replacing an early-stage telephone interview.

Video intros are a bit more dynamic. In this instance, the recruiter will also create and share a video with candidates that introduces the company's story along with intro questions for the candidate to respond to via video.
Not only do these video solutions save time for the hiring team, but they also work out a lot cheaper than traditional in-person interviews. The majority of the talent pool prefers using technology to speed up what can otherwise be a complicated, drawn-out hiring journey. And this is clear from today's trends in video recruiting, such as the rise of video adoption over text and video intros replacing cover letters.
Toggl Hire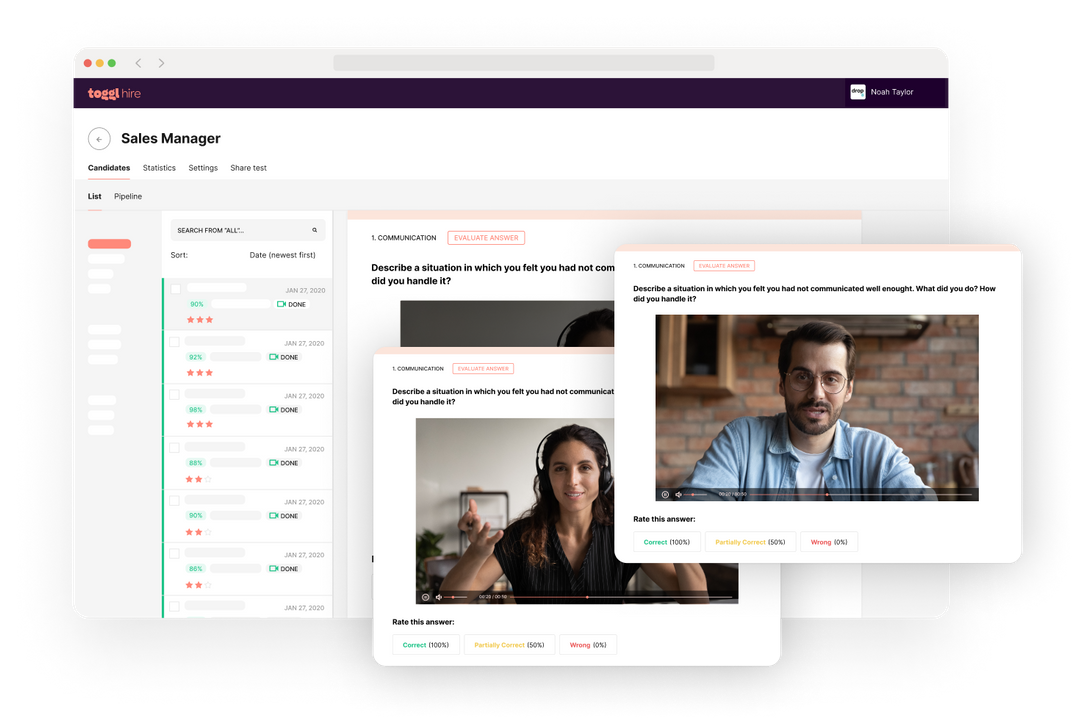 At Toggl Hire, we're always looking for innovative ways to help hirers connect with the right talent, fast. We offer video intro and video interview solutions that enable an instant connection and make the screening process way more efficient.
What customers say
We've been using Toggl Hire for 2+ years. It's easy and helps us perform a quick and effective top-of-the-funnel filtering while keeping a great Candidate Experience.

Gilad Bornstein, Co-founder & CEO, Flatworld
With our subscription-based model, your team can choose a monthly (or annual) package that suits your business needs – from $17/month for the basic plan to $399/month for all the bells and whistles that enterprise companies need.
Chatbots and Live Chat Assistants
Chatbots and live chat assistants provide online customer or user support via a live chat program. There is one small difference between the two though — one's a human, and one's an AI. And when it comes to chat support for hiring, solutions like Paradox get this right by automating the manual hiring tasks that otherwise consume too much of a recruiter's time.
Paradox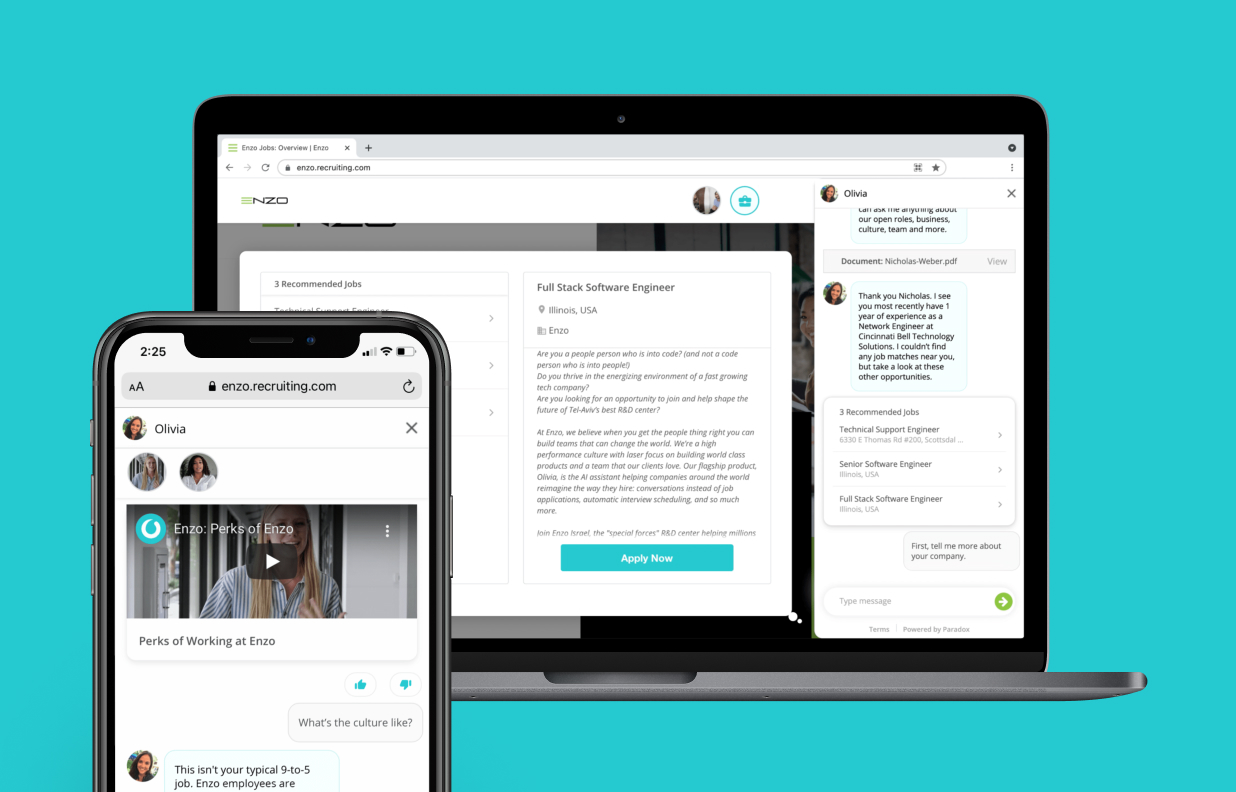 Paradox provides support to recruitment teams by automating manual processes like screening, interview scheduling, and sending offers through their helpful AI assistant, Olivia. Olivia also helps prospective candidates find jobs that suit their skills and experience in a fun, conversational style chat, enabling candidates to find a new job quickly using their mobile phones.
What customers say
Paradox removes time stealers from our HR and Ops teams. It's our best recruiting investment of the last 2 years.

Rachel O'Connell, VP of Talent, Great Wolf Lodge
Candidate sourcing with artificial intelligence
Candidate sourcing is another way AI technology supports the hunt for quality talent. AI-powered sourcing tools can scan through massive databases of talent in an instant, saving hiring managers truckloads of time.
Fetcher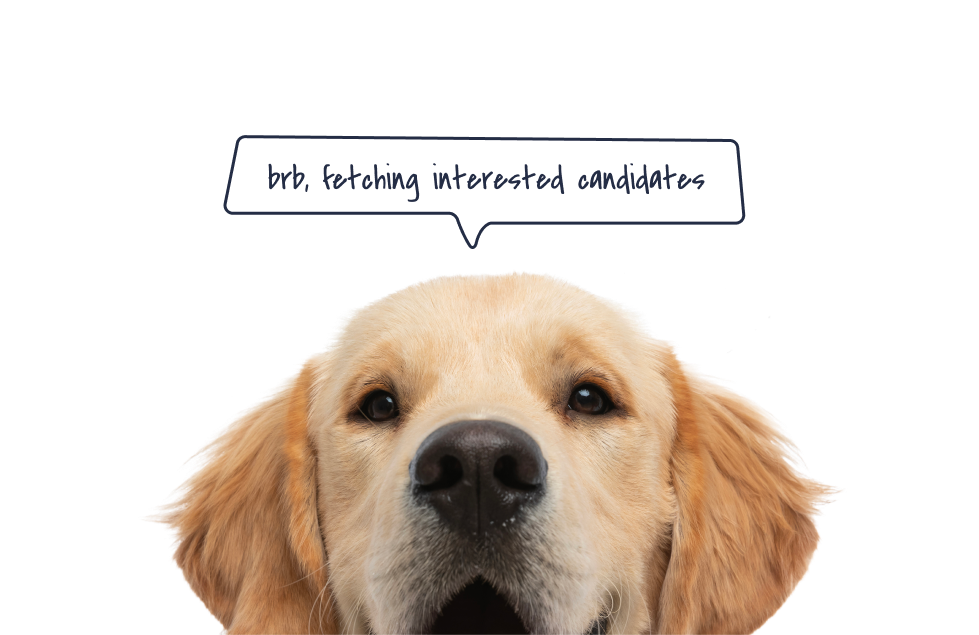 Fetcher demonstrates the rewards of humans and artificial intelligence working together. The program combines human and machine learning insights to continually feed your candidate pipeline with the right kind of candidates for your job openings.
What customers say
Fetcher has freed up time and given us the capacity to diversify our pipeline more organically. This has allowed us to make some incredible hires, mostly from underrepresented groups, over the last year.

Anna Chalon, Sr. Director of Talent and DE&I at Frame.io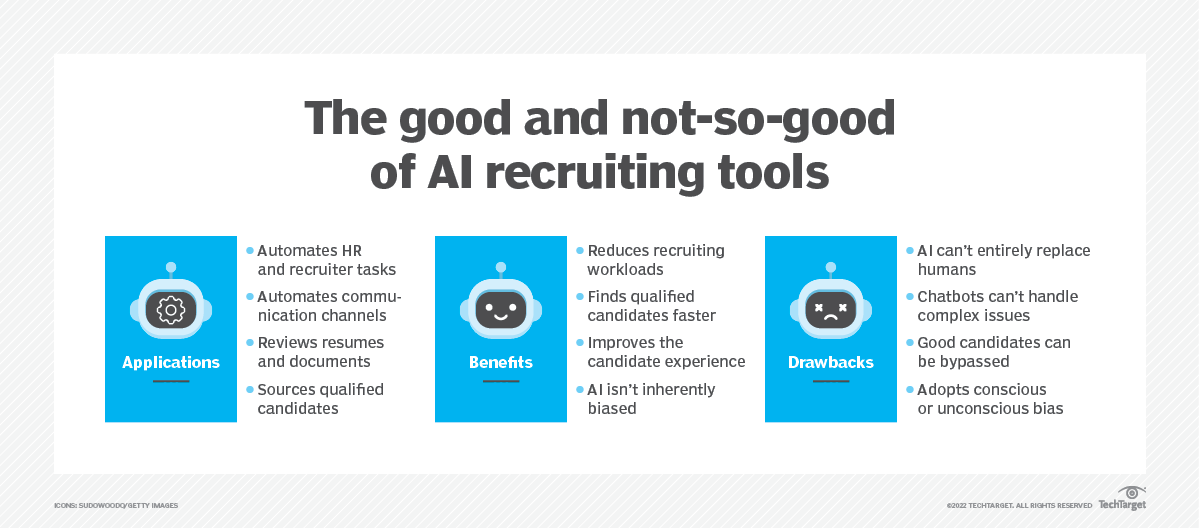 Virtual Reality tours for job seekers
There's no better way to make prospective candidates feel at home than with a virtual tour of your organization. An immersive virtual tour of your office (or offices!) can give them a real feel for your company culture and get them excited to get on board with your tech-savvy approach.
Microsoft Mesh
Microsoft Mesh is a mixed-reality platform that enables you to interact with candidates as though you're in the same room with them. Along with taking prospective candidates on a virtual tour, the platform also has great potential for virtual on-boarding, training, collaboration, events, and meetings.
Since launching in March 2021, a range of tech-savvy users, from corporate customers to tech magazines, are discovering the possibilities of metaverse technology. Requiring a mixed-reality headset to operate, it's probably out of reach for smaller companies for now.
What people are saying
Whether you're looking for a better way for your team member to work together on creative ideas, or you just want to reduce the need for cross-country and global travel, Microsoft Mesh has a lot to offer. The Mesh space is constantly evolving too, with countless new apps and features to explore all the time.

XRtoday.com
Online Assessments
Online assessments are the fuel that keeps the modern recruiting engine turning. Basically, today's recruiting technology tech stack is incomplete without this essential screening component. Being able to select the top talent for your organization objectively will help your business grow and be resilient during tough times.
Some companies offer a broad range of skills assessments, like TestGorrilla, eSkill, and Toggl Hire, while others have a particular testing focus, such as Codility (for testing coding skills).
Toggl Hire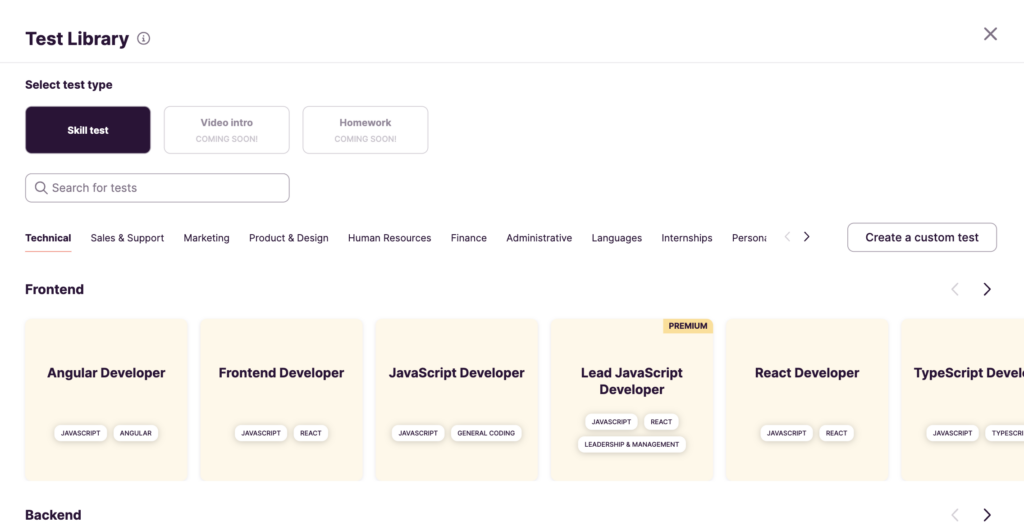 Toggl Hire offers a massive library of role-specific assessment templates created by subject matter experts. Anyone on the team can easily create a test in a few clicks with simple drag-and-drop functionality.
Not only is the platform user-friendly for recruiters but also for the candidates performing the tests. Plus, Toggl Hire believes in respecting candidates' time and privacy during the screening process.
What customers say
Toggl Hire's quality exceeds the quality of other tools on the market at a very competitive and attractive price point. We highly recommend the solution to tech recruiters.

Alexis Komarov, Head of Talent Acquisition, Proxify
Writing Software
No matter the team or business, all employees need to be able to create professional communication, which includes error-free grammar and spelling, especially for external purposes like new job listings.
Grammarly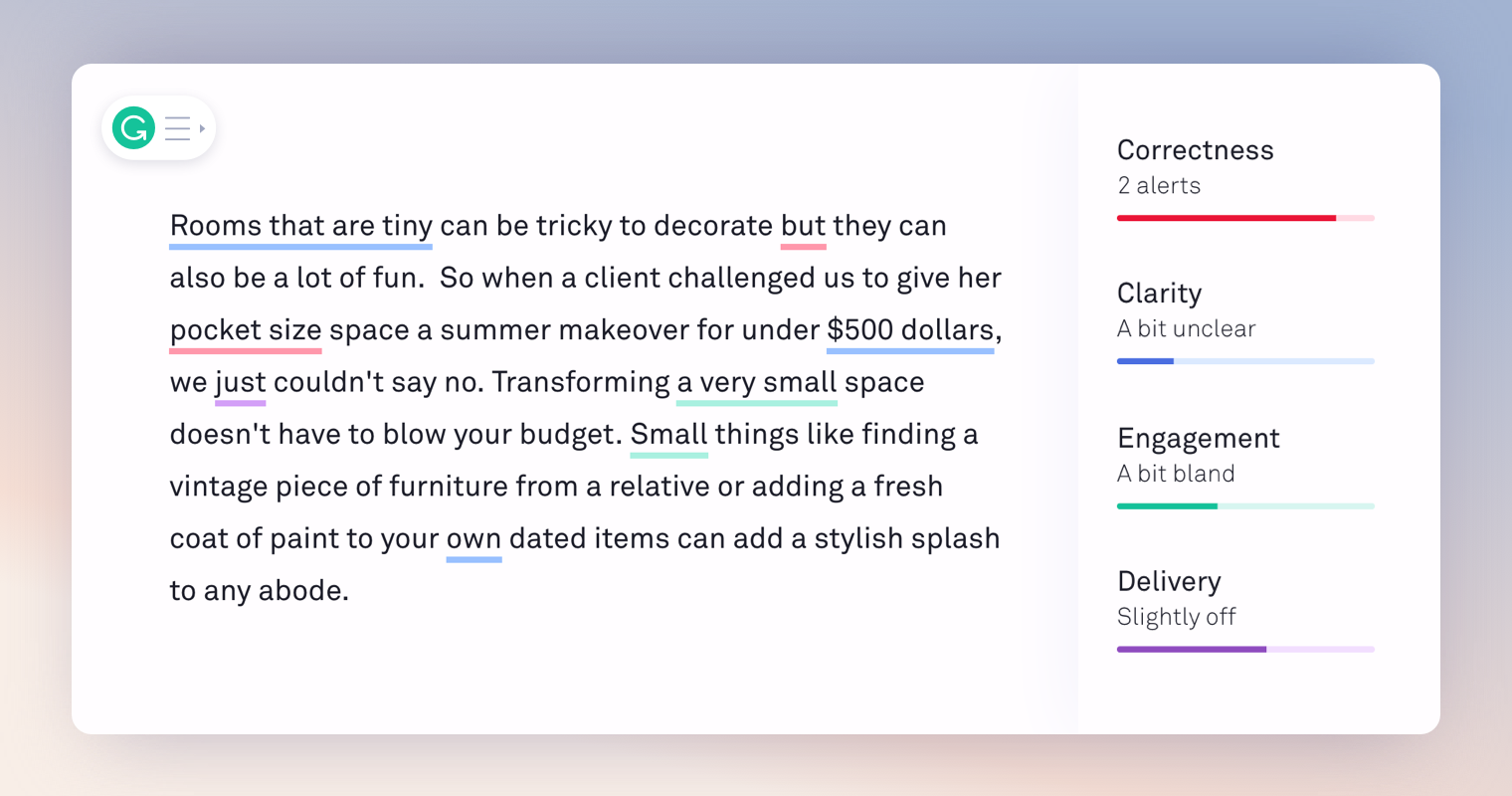 Grammarly helps you create error-free content as well as improve the quality of your writing. It's easy to use and even provides explanations of its suggestions so you can learn along the way.
What customers say
Grammarly allows me to get those communications out and feel confident that I'm putting my best foot forward. Grammarly is like a little superpower, especially when I need to be at 110%.

Jeanette Stock, Co-founder of Venture Out
Along with the standard freemium package, you can get a premium package for $12/month, and if bigger teams or groups want to utilize the program, the business package costs $15/month/member.
Integrations
HR professionals have a lot of responsibilities. When your recruiting technology integrates smoothly with your other tools, and you're starting to really get the most from your human-technology teams, you will soon notice the increased efficiency in your hiring workflows.
Zapier

Zapier helps HR teams neatly link up different recruiting tasks, from planning to candidate communication, interviews, assessments, making offers, onboarding, and more. This no-code automation tool makes it simple to connect all your apps into automated workflows on a single platform, freeing up your time where it counts.
What customers say
Without Zapier, my team's work would amount to one or two extra workloads every week. Now we can actually focus on adding value through customer care rather than managing day-to-day operations.

Tim Tieu, Global Community Marketing Manager, Asana
Pricing ranges from $19,99/month for the starter package to $799/month for big organizations with more complex systems.
Built-in analytics
Get insights throughout the recruiting process with recruiting technology that includes built-in analytics. The more data you have, the more your team can streamline job postings and improve the talent acquisition process.
LinkedIn Recruiter
Along with being a super job aggregation tool for potential candidates, LinkedIn also caters specifically to hiring managers. LinkedIn Recruiter helps HR professionals both source and track metrics on quality candidates to ensure you reach your goals.
What customers say
We're on an exciting journey connecting market recruiting activities and leveraging our combined strengths.

Ben Clark, Corporate Head of Resourcing, Nestlé
International Hiring Platforms
In today's globally connected business world, the best candidates may not be on your doorstep. Luckily, managing talent that's working remotely is easy with platforms that understand the ins and outs of global teams and the gig economy.
Deel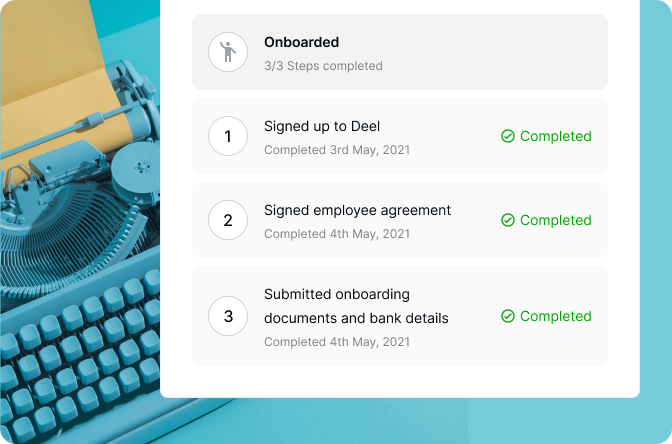 Deel makes hiring and retaining international workers simple. From compliance to payments and all the legalities in between. The platform is super user-friendly for both HR managers and prospective employees.
What customers say
Thanks to Deel, we get to hire local talent in any country where we want to expand long before we set up the entity there. Effectively, this gives us a head start.

Luka Besling, HR Manager at Revolut
Pricing starts with a Contractor package at $49.99/month through to a more robust Employee package, which ties in payroll functions, starting at $599/month.
Candidate relationship management
Candidate relationship management (CRM) technology is used to help manage and improve the candidate experience throughout the recruiting process. A good CRM will not only help to automate communication with current and potential future job candidates but also keep candidates engaged, too.
TeamTailor
TeamTailor is an all-in-one recruitment and employer branding applicant tracking system (ATS), and more. HR Managers also use TeamTailor to create bespoke careers pages in an easy-to-use web service.
What customers say
The ease of use, the playfulness and the personal touch we can give candidates through this system is something we praise all the time. And of course the way we can drive effective recruitment processes globally.

David Lagerblad, Head of Talent Acquisition, Daniel Wellington
While pricing adapts according to the size of your company, it's used both by big and small teams, offering a free trial to help you get started.
Stay up-to-date with the latest HR recruitment tech trends
We get that your team might not have the budget for all of these solutions — just yet. But recruiting technologies are constantly evolving. And that means costs are coming down, and integration with your other tools is getting simpler and easier.
Toggl Hire is a game-changer for recruiters. Enabling your team to screen, assess, and hire all on the same platform. Plus, you ensure that you get quality candidates that have the right demonstrated skills to do the job!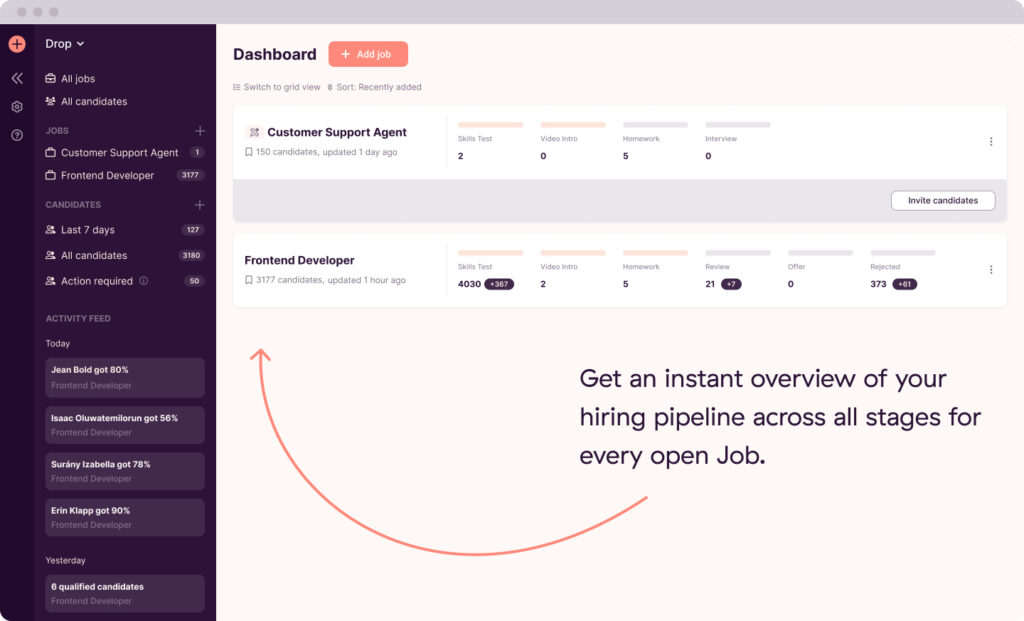 Get started for free with Toggl Hire today. Or explore our affordable monthly plans that cater to businesses of all shapes and sizes.
Unleash the magic with your human + technology HR team. It's definitely the kind of teamwork that makes the dream work!
Juste loves investigating through writing. A copywriter by trade, she spent the last ten years in startups, telling stories and building marketing teams. She works at Toggl Hire and writes about how businesses can recruit really great people.