As the race for top talent and diverse workforces continues to heat up, campus recruitment is quickly becoming a key part of the modern-day recruitment strategy.
With 77% of global employers struggling to fill key job roles, the competition for talent is tougher than ever. So, how can you make sure that brilliant graduates don't slip through the net?
You need a campus recruitment strategy. First, we'll look at what it is and why it's so important, and then we'll run through seven innovative strategies to help you fill those all-important entry-level positions.
Let's go, kappa lambda pi!
TL;DR – Key Takeaways
Campus recruitment is about proactively targeting promising students as they approach graduation rather than waiting for them to come to you once their studies are up.
Having a campus recruiting strategy is important to beat the competition, but also to help guide potential candidates in a sea of choice and competition toward the career path you offer.
Companies can choose between in-person and virtual campus recruiting strategies. Or they could opt for a middle-ground strategy that blends on-campus events with digital solutions.
Virtual solutions, like video introductions, webinars, and online skills tests, work to target more students at a fraction of the time and cost of in-person events.
Adopt technology to boost your recruitment efforts. Video intros, skills tests, social recruiting, and content marketing are just some of the tools available to recruit early talent.
Assess candidates at scale with Toggl Hire skills tests. Identify top talent from thousands of applicants in just a few clicks while also making the recruitment process more enjoyable for the candidates themselves.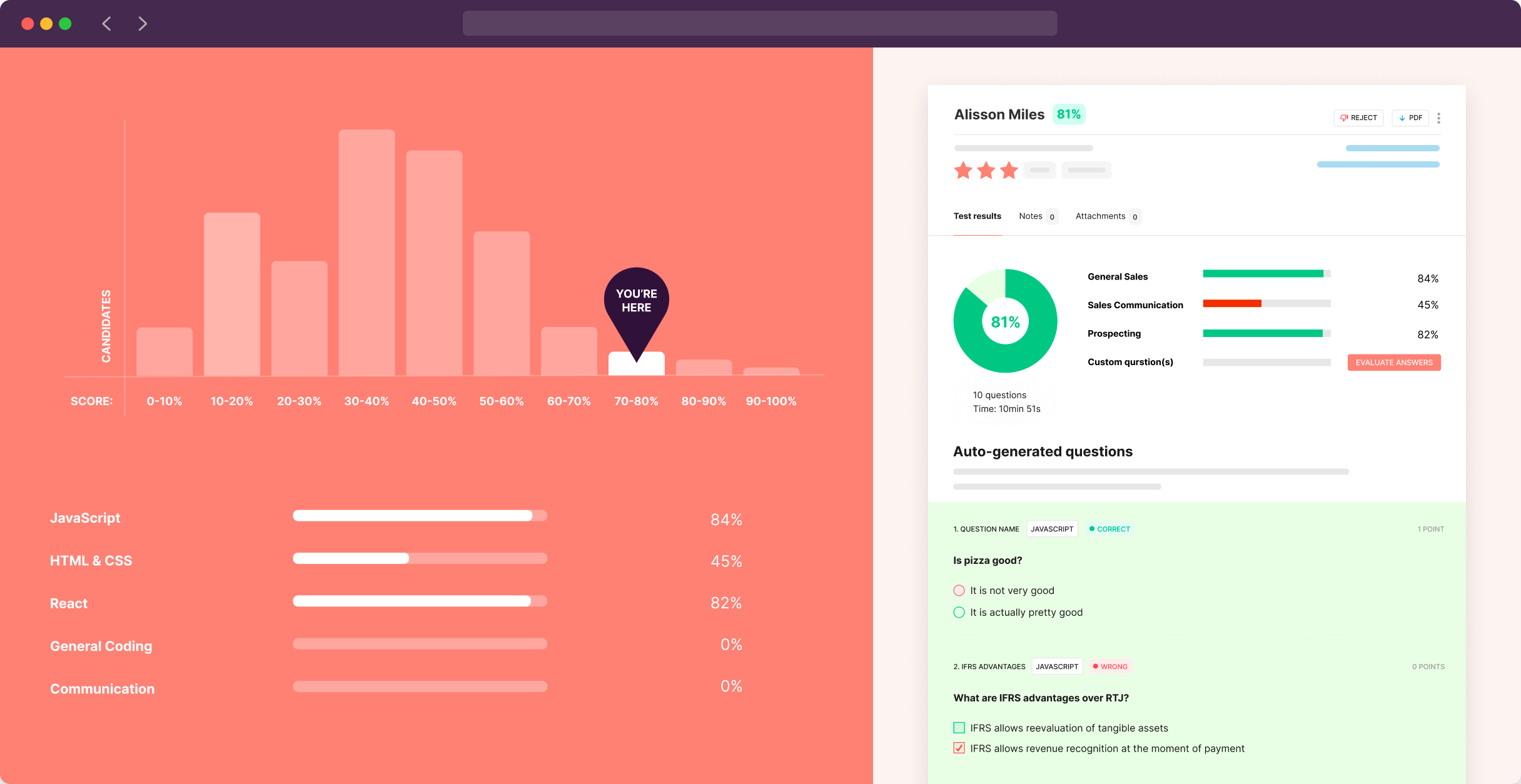 What is campus recruitment?
Campus recruiting involves attracting, engaging, and ultimately recruiting new employees who are currently at college or about to graduate. It's all about being proactive with your talent acquisition, taking your best recruiting strategies to the college campus in your quest to secure the best and brightest students.
Campus recruitment strategies differ in their look and feel. But they always focus on getting organizations and their job roles in front of candidates. Because candidates are just starting out in their careers, campus recruiting typically looks to fill internships, entry-level positions, and graduate jobs.
Many organizations run campus recruitment events to grab the attention of talented students. The most common hosts are large organizations looking to hire high volumes of staff. Other typical examples of campus recruitment include sponsoring university societies, posting jobs on a college job board, or hosting on-campus career events like talks or job fairs.
Why is campus recruiting so important?
Campus recruiting is important because it targets the brightest college graduates at a moment of uncertainty, as students face a huge amount of choices among attractive roles and pathways. You could say that college recruiting is one of if not the most competitive places to recruit.
Campus recruiters have one goal: to grab the attention of talented individuals their competitors would love to hire and entice students to work for them over others. Smart companies know that a campus recruitment strategy pays for itself many times over. And there are plenty of reasons why.
#1 – It helps you beat competition
Campus recruitment is a great way to get an edge when competing for talent.
Companies deploying a campus recruitment strategy get access to a large talent pool that's important for succession planning, especially in the face of an aging workforce.
That may be why businesses are strengthening their links to career centers and student communities.
As UK-based recruitment experts Handshake report, 65% of companies are deepening their links with university career services.
If you don't follow suit, you're bound to lose out on young professionals.
#2 – It generates high exposure
Every year, college campuses host hundreds, if not thousands, of undergraduate and graduate students.
By attending a campus recruiting event, a company can get its brand in front of many sets of eyes in one go.
Making it an excellent and cost-effective opportunity to showcase your company and employer brand in front of the next generation of workers.
#3 – Offers lower cost per hire
Campus recruitment is one of the most cost-effective ways to hire talent for your business.
A single campus recruiting event lets you recruit for multiple roles. There's no need for separate hiring processes. The ROI from campus recruiting is huge when you land the right candidates.
Campus recruitment is a great strategy for those looking to fill entry-level roles at scale. But what if you don't have a campus near you? That's no problem. We have another solution that lets you benefit from campus recruitment without actually being there in person: virtual recruitment.
What is virtual campus recruitment?
Virtual campus recruiting allows students to connect with future employers remotely. Virtual recruiting took a big step forward during the Covid lockdown, allowing companies to reach college students despite geographic restrictions.
In the aftermath of the pandemic, virtual recruiting hasn't gone away. In fact, companies have found that many traditional campus recruitment events translate very well to a virtual environment.
For example, recruiters are moving in-person talks to webinars. Physical job boards are migrating to online career centers, and candidate assessment days are transitioning to skills testing platforms.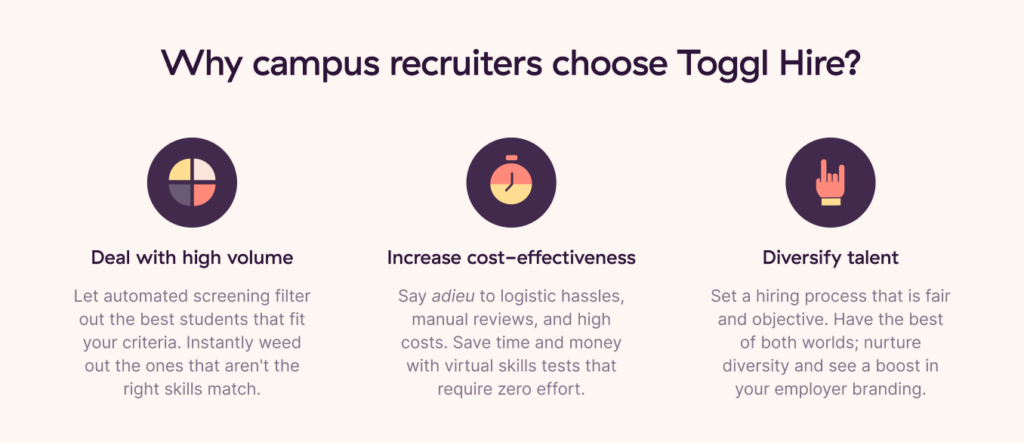 It's easy to see why virtual solutions to job fairs are becoming mainstream. Going online reduces the cost of traveling and logistics costs associated with career fairs.
It also widens the talent pool, significantly. Companies can identify and target schools without needing to attend career fairs, and appeal to talented students regardless of where they happen to study.
We think it's safe to say that virtual campus recruitment events are here to stay. In fact, in a recent survey by Yello, 96% of recruiters agreed that even though colleges were beginning to run in-person events again, they still preferred a hybrid approach. Balancing digital and physical events is the smart move for today's campus recruiters.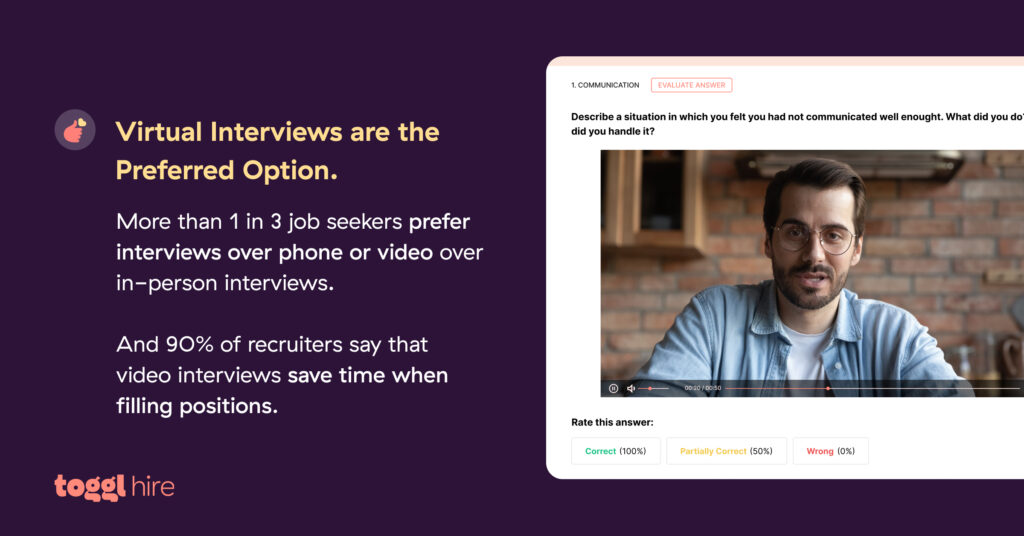 Campus Recruitment vs. Virtual Campus Recruiting
Finding the right recruitment strategy is crucial. But when should you opt for in-person or virtual campus recruitment? The table below summarizes some of the key differences between the two campus recruiting approaches to help you make your choice.
As you can see, both have their plus points. Traditional campus recruitment helps to forge connections with prospective candidates. Career fairs let you sell your brand and learn about applicants in depth. And in-person talks create face-to-face bonds that can lead to permanent employment.
However, a virtual recruiting process comes with lower costs and a broader reach. You can target universities across a country or even a continent. Students can attend wherever they are, handy when they have busy academic or social lives.
Whether you go for an in-person or virtual campus recruitment event can depend on many factors. If you want to maximize engagement and your team is local to the college/university, it probably pays to go in person.

But if the event is further away, has a huge talent pool, or you're on a reduced budget, going for a virtual campus recruitment event may be best.
PROS
CONS
Traditional Campus Recruitment
– Helps you target young talent to nurture.
– Large, high-volume talent pool to tap into.
– Employees from college/graduate settings are easier to retain in the long term.
– In-person events allow you to run collaborative events such as team building or group exercises.
– In-person events can be more expensive than virtual.
– Limited by geography – you may not attend events hundreds of miles away.
– It can be difficult to process large volumes of applicants in person. 

Virtual Campus Recruitment

– Virtual events don't require high travel/logistics costs.
– Virtual events can be attended from anywhere.
– Virtual events don't limit you by location – you can attend events for colleges across the globe.
– Harder to generate engagement and candidate connection remotely.
– Virtual events risk being ruined by technology glitches. 
Traditional campus recruitment vs Virtual campus recruitment: pros & cons

Modern recruitment tools also allow employers to get to know potential candidates like never before. Skills tests assess candidate abilities. Video interviews let you chat and assess the character of applicants. And you can use digital materials to promote your employer brand without a consistent campus presence.
Having said that, every campus recruiting campaign is different. However, companies need to be aware that going virtual is not just a cheaper option; it is usually just as thorough and effective.
7 Innovative recruiting strategies to help you hire young talent
When it comes to recruiting college graduates, the way you use technology is all-important.
Let's take a look at 7 strategies to follow when designing a successful campus recruitment strategy.
#1 – Get involved in college life
Many organizations focus on career fairs and events when designing campus recruiting efforts.
Traditional events are fine, but they only go so far. The truth is that while recruiting events are interesting, students aren't always that engaged with them.
A better way is to build your brand on campuses by sponsoring events, clubs, and societies that future candidates actually want to attend. This way, you're likely to get much more engagement from students while also creating some positive PR around your brand.
Smart companies already promote their brand to student communities. And this makes perfect sense.
Tech giant Adobe surveyed US students and found that 92 percent see brand reputation as a key driver for job applications. This suits Adobe's strategy of offering campus work placements. But other companies can also capitalize on employer branding to land the best hires.
Ideas to implement this strategy:
If you're a tech company, why not organize a hackathon or donate some innovative hardware to the college? If you're in the sports sector, arrange for a sports star to deliver a masterclass or sponsor free drinks at a college football game.
Think outside the box. Engage students early by associating your brand with the vibrant life of college campuses. The earlier you start your recruiting efforts, the more chance you have of finding the best talent.
#2 – Get creative with your recruitment campaigns
When you hire college graduates, creativity is everything. That's especially true with virtual recruitment, where you can't rely on the charisma of your officers at campus recruiting events or career fairs.
Instead, you need to impress potential candidates with creative recruitment campaign ideas that stand out from the crowd.
The best campaigns generate enthusiasm, laughter, and curiosity. IKEA's "virtual meatball" concept is a great example. The Swedish furniture giant used modeling experts to create a 3D-rendered meatball supper. They invited candidates to chat over digital dinner, with IKEA furnishings all around.
Ideas to implement this strategy:
Companies hiring college students can take a similar approach. Graduates want to be wowed by imaginative digital experiences. So explore 3D videos, mobile apps, or even Metaverse locations. Deliver your recruitment pitch wherever the audience hangs out.
Personalize the experience to achieve even better results. For instance, if you are targeting U. Texas students, why not work a Longhorns reference into your material? Touches like that can make a huge difference to time-pressed students who are skimming through their options.
#3 – Gamify your career events
Recruitment isn't a game, but using games to make the application process fun is a no-brainer.
Bored candidates drift away to alternative career destinations. And they won't be as relaxed and enthusiastic as they follow the application pipeline.
That's why we love skills tests. Not only do they make processing high volumes of candidates a breeze, but they're also interactive and fun for applicants to complete.
Whether you're a tech company looking to hire a developer, an agency on the lookout for a marketer, or a consultancy looking to build out your HR team, there's a skills test ready and waiting for you. 
Case study example: Telia, a Telecommunications Company
Telia is one of the largest telecommunications companies in the Baltics and Nordics. But even with a thriving IT department, applicants didn't see them as an IT destination. The company struggled to hire high-quality entry-level employees.
Fortunately, Telia's recruitment team knew exactly how to fix this – with innovative campus recruiting.
Telia hosted recruitment events at target schools, and they came up with a clever way to gamify the student experience. The team used a QR code embedded into the wall of their booth to connect students with Toggl Hire Smart Tests. Our tests engaged booth visitors and made it easier to source qualified, motivated candidates for Telia's open SQL and JavaScript positions.
From just one event, Telia managed to:
Receive over 35 candidate applications for one role 📈
Cut their end-to-end time-to-hire by 50% ⏳
Boost their image to young talent in the tech space 🚀
We were thinking about what we could offer. How could we attract students to our booth? We didn't want to hand out free merchandise like pens or keyrings. So when we discovered Toggl Hire, we were really curious. Could this be the icebreaker to engage students in a conversation? And we quickly saw it was an effective way to start conversations and gather contacts."

Kadri Remmelgas, Talent Acquisition Partner at Telia.
Don't just take our word for it. Take a look at how Telia used Toggl Hire to revolutionize their hiring process.
#4 – Use video for face-to-face introductions
Virtual campus recruiting can be tough. Given that most graduates don't have much work experience, you rely on their character and soft skills to determine whether they'll be a good fit. But assessing candidates for these attributes isn't easy.
Skills tests can only go so far when it comes to soft skills. Fortunately, you can get a much fuller picture of who candidates are by coupling skills tests with 'face-to-face' video introductions. 
Video intros allow you to create real human interaction at scale with short, pre-recorded video messages. That's great for busy recruiters who need insights into many candidates in a short space of time.
It's also great for college students. Video intros allow candidates to apply for roles in their own time. They can create videos in an environment that's relaxing, supportive, and enables them to put their best foot forward.
#5 – Take advantage of social proof
No matter where you are with your campus recruitment strategy, it pays to involve your own post-college employees.
The experiences of your own team show students why you're the best place to be post-campus. Recent graduates speak the same language as candidates. They know their needs, dreams, and even their anxieties.
Stepping into the world of work can be daunting for students. There are so many employers to choose from, and ambitious students worry about making the wrong decision.
What's worse is that the most talented candidates on college campuses often have the most options. So it really helps to reassure them and communicate on their level.
Ideas to implement this strategy:
Social proof works. Recruiters need to tell stories about how graduates have moved from studying to the workplace. These stories inspire young people to expand their horizons and aim for posts that they might otherwise view as out of reach. And most companies have talented employees who can make videos or feature on their recruitment websites, like this very innovative example from Dropbox.
Testimonies from recent graduates make students relaxed and more comfortable. They also position you as an employer of choice among young people. Potential candidates will start to see your workplace as an attractive place to be – and grow. And your talent pool will grow as a result.
#6 – Spread your message with student-focused content marketing
Companies need ways to attract prospective students on whatever channels they use.
The first step on the road to employment is often a blog post, a tweet, or a TikTok video. And if a campus recruiter doesn't deliver that content, they will probably miss out on the best college students.
Integrating smart content and social media marketing into your recruiting strategy is one way to get the job done. Smart content provides useful information that answers the questions of graduate students, and acts like a magnet to draw in visitors interested in your company.
Ideas to implement this strategy:
Blogs or social media posts could document the varied working days of recently hired employees or the charity work your company does
Links to skills tests or application forms make it easy for readers to take their interest further
Add SEO optimization to turn your content into a talent pipeline
Remember, the most successful recruiters don't rely on text-based content. They use short-form content to reach the people that matter.
Gen Z candidates won't spend minutes reading text content. But they will watch TikToks. That's where your recruiting strategy needs to be.
Chipotle is a great example of how this works. The Mexican food chain relies on TikTok to reach potential workers, using entertaining videos and giving followers the chance to submit resumes via the social media app. Chipotle also runs virtual career fairs on the gaming hangout Discord. With thousands of posts to fill every year, the company doesn't have a choice. And it sees stellar results.
Any company can replicate that success. Even if you aren't ready to build a TikTok audience, you could reach out to influencers to host or promote on-campus events. Sending current employees onto campus to talk to students is also a great way to directly reach undecided job-seekers.
#7 – Leverage campus recruiting software
You don't need to choose between virtual and physical recruiting events in your campus recruiting strategy.
Software tools let you manage a hybrid recruitment process that casts your net as widely as possible.
Recruiting software also makes it easier to assess candidates and find the perfect fit for your roles. In fact, skills tests could be your best friend during the campus recruitment process.
They're fast to complete. Online tests require very little time commitment from applicants. Students can complete tests in 15-20 minutes. If the tests are well-constructed, students don't need to submit in-depth resumes or attend virtual interviews. It's a huge time saver.

They level the playing field. Applicants don't need to complete internships that are financially impossible for many poorer students, for example. Tests assess every candidate based on their real-world skills – a much fairer system.

They're customizable. There is a test for every role and skill. Communications tests assess how well candidates articulate their ideas and relate to others. Technical testing assesses functional skills for specific roles. Aptitude tests detect lateral thinkers and problem solvers, and so on.

Makes life easier for recruiters. Filtering resumes and managing interviews is time-consuming. Even then, they don't even focus on what really matters – job-specific skills. Tests provide an accurate picture of candidate skills. So you know they have the required abilities.

And can help nurture your pipeline. You can assume that everyone who takes an online skills test has some interest in what you do. Recruiters can nurture that audience. They can use it when promoting events or creating personalized communications.
Recruiting software doesn't source leads or build corporate brands on campus. But it makes talent acquisition more efficient. Your recruiting team can work more accurately, and they will have more time to concentrate on other parts of their campus recruiting and talent strategy too.
Ace campus recruiting with Toggl Hire
If you are struggling to land top-tier talent, building a campus recruiting strategy is a great idea. College recruitment strategies unlock a massive talent pool of skilled and motivated candidates ready to jump into entry-level roles.
And with the rise of digital technology and social media, it's never been easier to get involved with virtual campus events, widening your talent pool even further.
Just remember that a large talent pool brings a large amount of work. As such, we'd always recommend employing innovative recruitment tools, such as Toggl Hire, to assess candidates at scale without losing a human connection! Browse our Test Library and start innovating your recruiting strategy!
Juste loves investigating through writing. A copywriter by trade, she spent the last ten years in startups, telling stories and building marketing teams. She works at Toggl Hire and writes about how businesses can recruit really great people.