As the race for top talent continues to heat up, campus recruitment is quickly becoming a key part of the modern-day recruitment strategy. And with 90% of recruiters currently reviewing their campus recruiting strategy, it's time you got on board too!
In this article, we'll look at all things campus recruitment. After we've confirmed what it is and why it's so important, we'll look at the rise of virtual campus recruiting alongside five other innovative strategies to help you hire for entry-level positions.
Let's go!
Quick Links:
What is Campus Recruitment & Why Is It So Important?
Campus recruiting is the strategy of attracting, sourcing, and ultimately recruiting new employees who are currently at or about to leave college. Where it differs from terms such as graduate recruitment is that organizations actually go onto a college campus to undertake their recruitment activity.
Many different organizations get involved with campus recruitment events, but it's most commonly done by large organizations looking to hire high volumes of staff. Because candidates are just starting out in their careers, campus recruitment looks to fill internship, entry-level, and graduate positions.
Campus recruitment strategies differ in their look and feel, but it's all about getting organizations, and their job roles, in front of candidates. Campus recruiters might sponsor university societies, post jobs on a college job board, or host on-campus career events like talks or job fairs.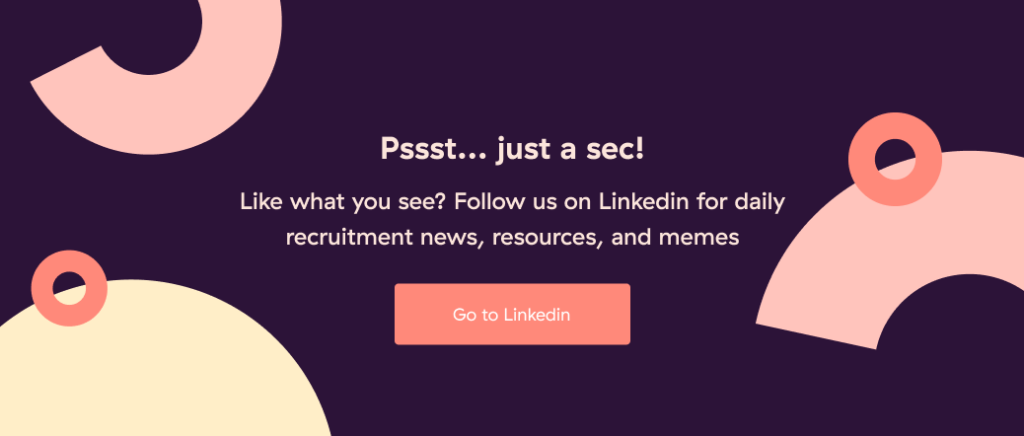 But why is campus recruitment so important for recruiters? Here are three reasons:
It Helps You Beat Competition. Campus recruitment is a great way to get an edge in the competitive people market. Those that deploy campus recruitment strategies get access to an entire talent pool that most people ignore, allowing them to get ahead of the competition.

It Generates High Exposure. Most campuses have hundreds or even thousands of students each year. That's a huge audience to tap into, allowing companies to get their brand in front of many sets of eyes in one go.

Improved Cost Per Hire vs. Other Strategies. Campus recruitment is one of the most cost-effective ways to hire talent for your business. Especially if you're recruiting for multiple roles (which could be filled by just one event) the ROI from campus recruiting can be great if you land the right candidates.
So, as you can see, campus recruitment can be a great strategy for those looking to fill entry-level roles at scale. Not got a college/university campus near you? No problem, here's another solution.
What is Virtual Campus Recruitment?
Covid-19 has created a shift in many different industries, and recruitment is no different. Many colleges and universities took their student events online, creating virtual campus recruitment events to students could still connect with future employers.
Many of the traditional campus recruitment events translate well to a virtual environment too. Examples include in-person talks moving to webinars, physical job boards moving online, or candidate assessment days transitioning to skills testing platforms.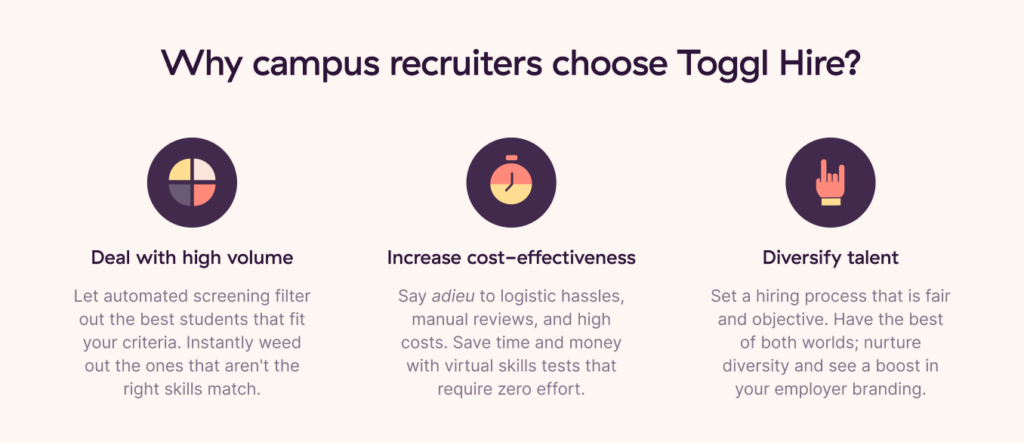 Virtual campus recruitment events drive a whole host of benefits too. Going online reduces travel/setup logistics, drives cost-efficiencies, and widens the talent pool to universities and colleges further afield.
And the good news is that virtual campus recruitment events are here to stay. In fact, in a recent survey by Yello, 96% of recruiters agreed that even though colleges were beginning to run in-person events again, they still plan to take a hybrid approach.
Campus Recruitment vs. Virtual Campus Recruiting – Which One's Better + Pros & Cons?
So, now we know all about campus recruitment and virtual campus recruitment, you're probably wondering which one is best for you.

As we saw from the data, the truth is that a mix of both is probably the best way to go, but let's look at the pros and cons so that you can decide on an event-by-event basis.

Traditional Campus Recruitment
Virtual Campus Recruitment
Pros
– Helps you target young talent to nurture.

– Large, high-volume talent pool to tap into.

– Employees from college/graduate settings are easier to retain in the long term.

– In-person events allow you to create a strong connection with candidates.

– In-person events allow you to run collaborative events such as team building or group exercises.
– Helps you target young talent to nurture.

– Large, high-volume talent pool to tap into.

– Employees from college/graduate settings are easier to retain in the long term.

– Virtual events don't require high travel/logistics costs.

– Virtual events can be attended from anywhere.

– Virtual events don't limit you by location – you can attend events for colleges across the globe.
Cons
– In-person events can be more expensive than virtual

– Limited by geography – you may not attend events hundreds of miles away.

– It can be difficult to process large volumes of applicants in person.
– Harder to generate engagement and candidate connection remotely.

– Virtual events risk being ruined by technology glitches.
Whether you go for an in-person or virtual campus recruitment event can depend on many factors. If you want to maximize engagement and your team is local to the college/university, it probably pays to go in person.

But if instead, the event is further away, has a huge talent pool, or you're on a reduced budget, going for a virtual campus recruitment event may be best.
5 Innovative Recruiting Strategies to Help You Hire Young Talent
Of course, when it comes to virtual events, there are several ways you can leverage technology to innovate the process – let's take a look at 5 of the best to hire amazing young candidates.
#1 – Get Involved in College Life
Many organizations focus only on career events when building their campus recruitment strategy. The truth is that while career events are interesting, students aren't always that engaged with them.

A better way to plant the seed early with future candidates is to sponsor events, clubs, and societies they actually want to go to. This way, you're likely to get much more engagement from students while also creating some positive PR around your brand.
For example, if you're a tech company, why not organize a hackathon or donate some innovative hardware to the college? If you're in the sports sector, arrange for a sports star to deliver a masterclass or sponsor free drinks at a college football game.
Think outside the box to start engaging students early.
#2 – Mix Up Your Job Types
Now, onto the recruitment itself. Add some variety to the opportunities you're presenting to candidates to enable them to enter the world of work in different ways.
Don't just focus on entry-level or graduate roles, but also throw in some short-term co-op or internship opportunities. These could even be roles that students complete over the summer or Christmas holidays, giving them an insight into your company before committing to a full-time role.

It's also a 'try before you buy' for recruiters, getting the opportunity to test how a candidate performs on the job.
#3 – Make Job Applications Fun
You want to make the application process as simple, easy, and enjoyable as you can for your candidates – that's why we love skills tests. Not only do they make processing high volumes of candidates a breeze, but they're also fun and interactive for applicants to complete.
Whether you're a tech company looking to hire a developer, an agency on the lookout for a marketer, or a consultancy looking to build out your HR team, there's a skills test ready and waiting for you.
Don't just take our word for it, here's how Telia used Toggl Hire to revolutionize their hiring process…
Telia is one of the largest telecommunications companies in the Baltics and Nordics. But even with a thriving IT department, they weren't perceived as an IT destination and struggled to hire new entry-level employees.
Fortunately, when it came to attracting young IT talent, Telia's recruitment team knew exactly how to fix this – campus recruiting. They used Toggl Hire Smart Tests (embedded into a QR code on a wall of their campus booth) to gamify the recruitment process, creating a brand new avenue to source qualified, motivated candidates for their open SQL and JavaScript positions.
From just one event, Telia managed to:
Receive over 35 candidate applications for one role 📈
Cut their end-to-end time-to-hire by 50% ⏳
Boost their image to young talent in the tech space 🚀
We were thinking about what we could offer. How could we attract students to our booth? We didn't want to hand out free merchandise like pens or keyrings. So when we discovered Toggl Hire, we were really curious. Could this be the icebreaker to engage students in a conversation? And we quickly saw it was an effective way to start conversations and gather contacts."

Kadri Remmelgas, Talent Acquisition Partner at Telia.
#4 – Get to Know Candidates 'Face-to-Face'
Virtual recruiting can be hard, especially for graduates. Given that most graduates don't have much work experience, you rely on their character and soft skills to determine whether they'll be a good fit.
Skills tests can only go so far when it comes to soft skills, that's why you need to assess candidates 'facto-to-face' using async video interviews.
Video Intros allow you to create real human interaction at scale with short, pre-recorded video messages. That's great for busy recruiters who need to get an insight into loads of candidates in a short space of time.

It's also great for candidates, allowing them to apply for your roles in their own time, in an environment that's relaxing, supported, and enables them to put their best foot forward.

#5 – Take Advantage of Social Proof
No matter where you are with your campus recruitment strategy, it pays to get your very own post-college employees involved to speak a candidate's language.
Stepping into the world of work can be daunting for students, with so many options to choose from. Harness the experiences of your own team to show students why you're the best place to be post-campus.
Not only will it help students relax and feel more comfortable, but it will also position you as the employer of choice, helping you to boost your engagement, whether you go for an in-person or virtual campus recruitment event.
Summary
If you're struggling to land top-tier talent, campus recruitment could be a great strategy for you. Especially in a post-pandemic world, campus recruitment strategies unlock a massive talent pool of skilled and motivated candidates ready to jump into entry-level roles.
And with the rise of digital technology, it's never been easier to get involved with virtual campus events, widening your talent pool even further.
Just remember that a large talent pool creates a large amount of work. As such, we'd always recommend employing innovative recruitment tools, such as Toggl Hire, to assess candidates at scale without losing a human connection!
James Elliott is a Strategy Manager and Writer from London, UK. When not working on the day job, James writes on a variety of business and project management topics with a focus on content that enables readers to take action and improve their ways of working. You can check out James' work on his website or by connecting on LinkedIn.