If you were to ask the average hiring manager or recruiter today, they would say that diversity and inclusion are pretty important to them. Businesses with diverse boards are 43% more likely to have higher profits, yet 57% of employees think that their companies should be more diverse. The cause of this disparity could be found in adverse impact.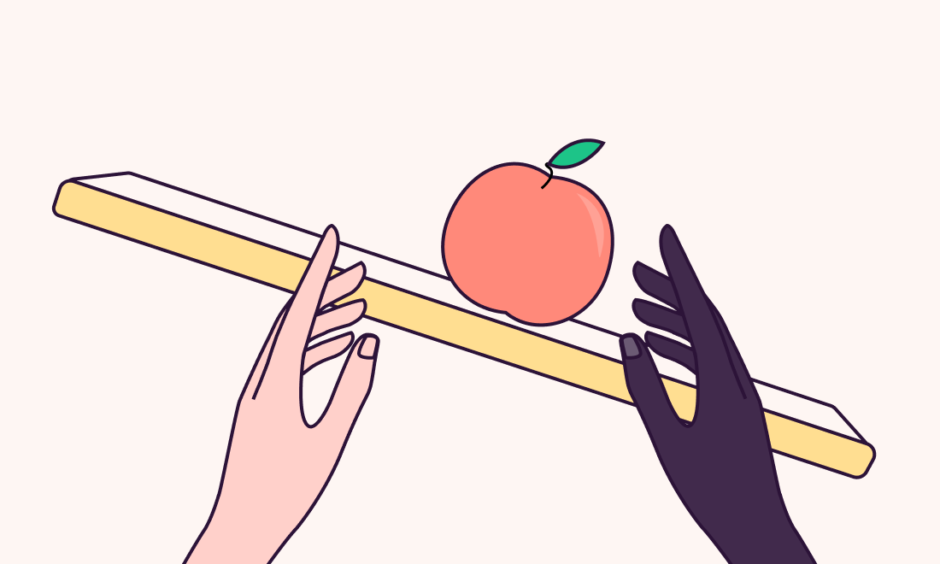 Even though all of us think that our hiring practices are fair, adverse impact is something that happens in quite a few companies without anyone being aware. Here is how to recognize this hidden foe and stop it in its tracks.
What is adverse impact?
Adverse impact (also known as disparate impact) refers to hiring practices that may seem neutral but are actually discriminatory toward a protected group. It can happen at any stage of the hiring process to sourcing all the way to onboarding.
Depending on where you're located, you will have different protected groups. These could be based on age, race, ethnicity, gender, sexual orientation, religion, to name a few.
You can measure adverse impact in just one stage of the hiring process or throughout it, depending on how granular you want to go. In any case, it's important to acknowledge, measure, and work on minimizing adverse impact in your organization.
How can I measure it?
In 1978, the Uniform Guidelines on Employee Selection Procedures were created, following a landmark case Griggs v. Duke Power. Willie Griggs sued his employer Duke Power claiming that the selection test was implicitly biased against African-Americans. This document gave birth to the famous ⅘ rule for measuring adverse impact. It hinges on comparing the selection rates of candidates from different groups to each other.
Here's an example:

Say 100 men and 200 women applied for 24 roles in an organization. From this candidate pool, 9 men are hired, and 15 women were hired. This gives men a selection rate of 9%, and the women a selection rate of 7.5%. If we divide the lower selection rate by the higher selection rate, the number we get should be equal to or larger than ⅘ (80%) to pass the adverse impact test.
7.5/9 = 83.3%

In this case, there was no adverse impact, as the group with the lower selection rate (women) were selected at a rate higher than 4/5ths that of the group with the highest selection rate (men).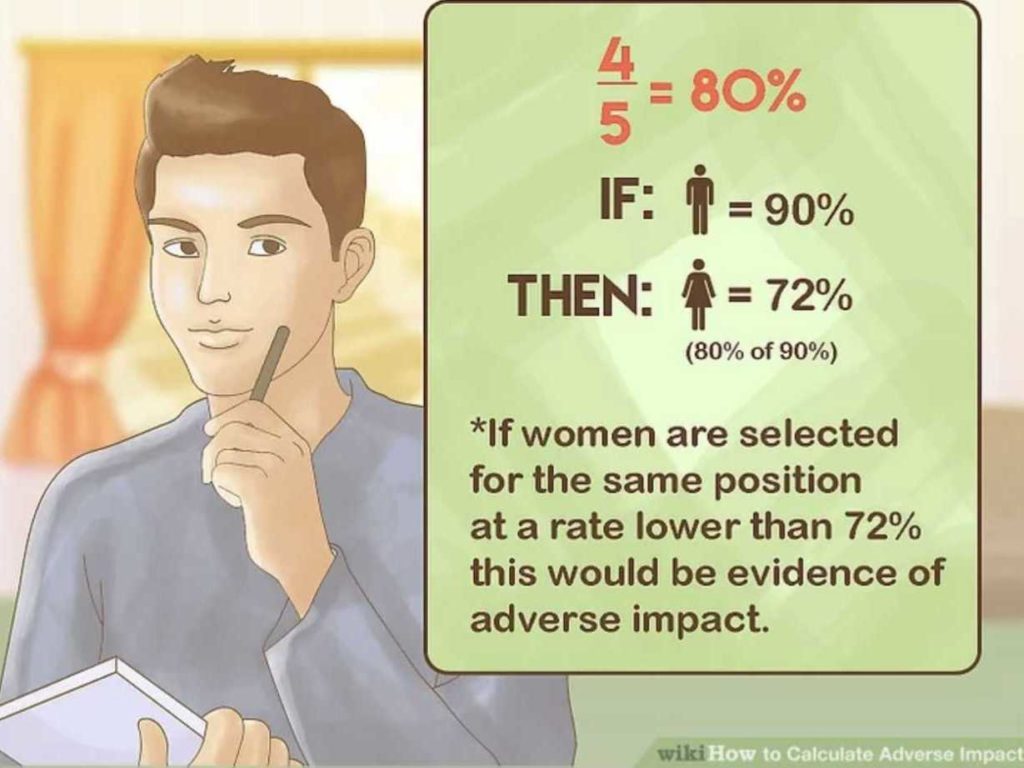 Ok, but why should I measure it
If you do quite a lot of hiring, you may be thinking that doing math for every single position is a lot of work, and I can't blame you. However, you should frequently measure for adverse impact, for every step of the hiring process.
Simply put, you'll be able to see if there are any discriminatory practices in your hiring efforts. This is important from a legal standpoint because you don't want to be sued for favoring a certain demographic. Even more importantly, you want to make sure that there is no unconscious bias and that you're hiring the right person for the job.
Moreover, it's highly important to measure for adverse impact in each step of the hiring process. For example, if there is an adverse impact in only the first step of the hiring process, it will affect every subsequent step. In practice, that means that if your initial screening is skewed, your entire hiring process is biased, all the way to the final interviews.
7 ways to minimize adverse impact
If you want to minimize the occurrence of adverse impact, there are a few things you can start doing immediately.
Make sure that the skills and competencies in your job requirements are actually relevant for the job performance. In other words, don't ask for X years of experience or a certain background if it has nothing to do with how the candidate will perform in a certain role.

Try to have pre-employment assessment tests rather than standard resume/cover letter applications. Once you have a list of all the necessary qualifications, you can test for them. For example, using Toggl Hire, you can create a hiring test for different positions which will greatly lower the chances of having an adverse impact. As the employer, you only get to see the candidates' test performance first and you can decide to ask for their resume or LinkedIn profile later on. That way, you are truly hiring for skill and nothing but skill. 

Make sure that you're looking for candidates in different places. If you only put your job ads on job boards, you're certain to get only one type of applicant. Expand your network to social media ads, LinkedIn job posts, Slack communities, GitHub, Stack Overflow, and other platforms so that you can attract a variety of candidates at once.

Standardize your hiring practices. This means that every candidate does the same pre-employment test and answers the same interview questions. As always, we recommend making a script for interviews and sticking to it as much as possible. Follow-up questions are inevitable, but make sure that they are related to job performance and not the candidates' personalities.

Be careful about the way you take notes. Subconsciously, we all write down the most notable characteristics of a candidate. This is an example of an adverse impact and it can be easily prevented. Instead of taking notes, make sure to create scoring cards in advance and grade candidates based on how they performed, rather than taking notes that could guide you the wrong way.

Try to avoid questions that could steer you in the wrong direction. While it is okay to ask about a candidate's work experience, it is not okay to ask about their marital status and whether they have any children, for example. Certain countries like the USA have laws against this type of discrimination.
 
Always aim to improve. The problem with adverse impact is that just like unconscious bias, it happens without us knowing it. With each new position you hire for, try to get better at hiring the right person for the job instead of the ideal person you imagined as you wrote the job ad.
Wrapping up
The biggest problem with adverse impact is that if you don't actively look for this practice in hiring processes, you won't be able to find it. Once you identify the occurrence of adverse impact, you'll be able to hire more fairly and efficiently and most importantly, get the best people for the job.