As a marketer, I've been involved in tons of teams and projects over the years. Small and big; as a team member, or a team leader. Sometimes I coordinated just one project, but many times I was involved in several projects simultaneously. I remember the endless weekly meetings and the continuous running from one meeting to another, just to organize people, assign tasks, see what has been fulfilled or not, reassign some other tasks and so on.
The situation was even worse when, for different projects, some of my team members were freelancers and they had hourly fees. Of course, one of the biggest challenges was to find a solution for tracking their time spent on different projects that they were involved in.  No need to mention that many tasks were assigned through slack or email, without a real transparency and many of the important messages got buried in the overstuffed inbox.
This might sound familiar to you as well, especially if you have worked in a time where project management tools weren't as plentiful.  
Fortunately, the nature of this work has evolved rapidly during the last few years. Regardless if you lead a team that works in an office, or a remote one, there is a lot of different project management software out there that makes your work much easier.
All of us know that in order to deliver projects on time and within a budget, information needs to be written down, deadlines plotted, and documents shared.
Transparency should be the hallmark of your communication.
There are literally hundreds of management tools out there but it's hard to find tools that actually work for your team. If you have a lot of moving parts, multiple teams and you need to create a complex structure, a more complex tool might work for you. However, if you are just one team, a design studio or maybe a tech company, then using simple tools focusing on a single main feature might be better for you.
I tried out several team management tools and I quickly realised that some of them simply weren't good for what I needed. I also tried to avoid the tools whose interfaces I didn't find immediately user-friendly enough.
Finally, I narrowed it down and have chosen three project management, collaborative and time tracking software that fit me the best: Toggl Track – for time tracking, Toggl Plan – for project management and visual project timelines, and Trello – for sharing ideas.
But let's take them one by one:
1. Toggl Plan – for getting the bigger picture.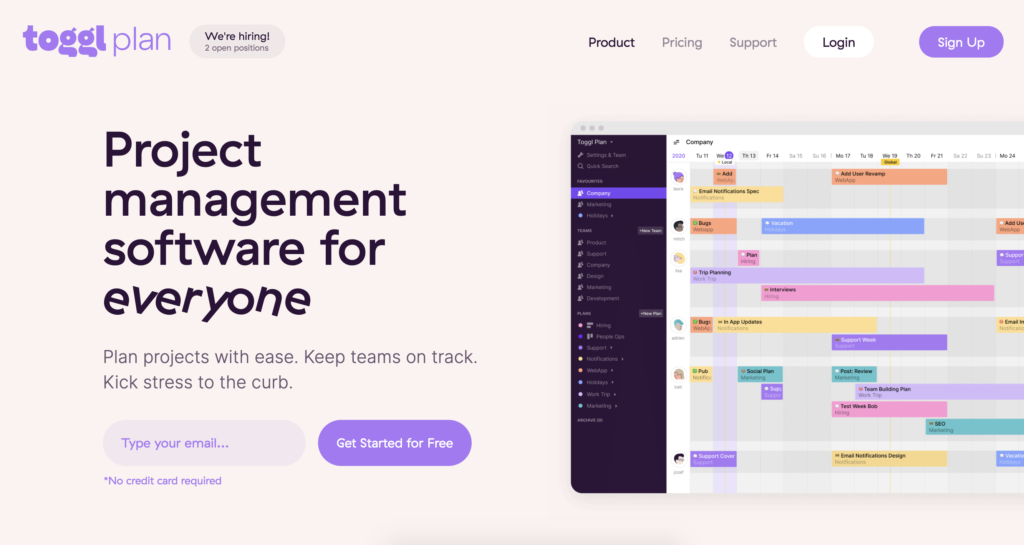 When you want to get a bird's eye view of your project and see who's working on what and for how long, Toggl Plan is the perfect tool. I use it as a team calendar and project management software and I usually check it weekly to see the stage of every project my team is involved on. I like this software because it gives me the possibility to plan my projects both on short and long time, and I usually use it for setting the quarterly plans.
As project management software, Toggl Plan allows you to set the timelines for your projects, see which tasks are completed or not, see who's working on what and who's available for assigning new tasks to. From my point of view (and yes, I might be a bit biased) it's one of the easiest and most user-friendly apps that allows you to have a Gantt chart. Whether you work on small or big projects, I recommend having a visual team timeline that you can share with your team. This way, everyone is on board with the length of the project, what your start and finish dates and what are your milestones.
An efficient way to manage your project is to break it down into multiple project views. This way, you can see directly who is working on, for example, the blog content, and what do they have planned for the following weeks.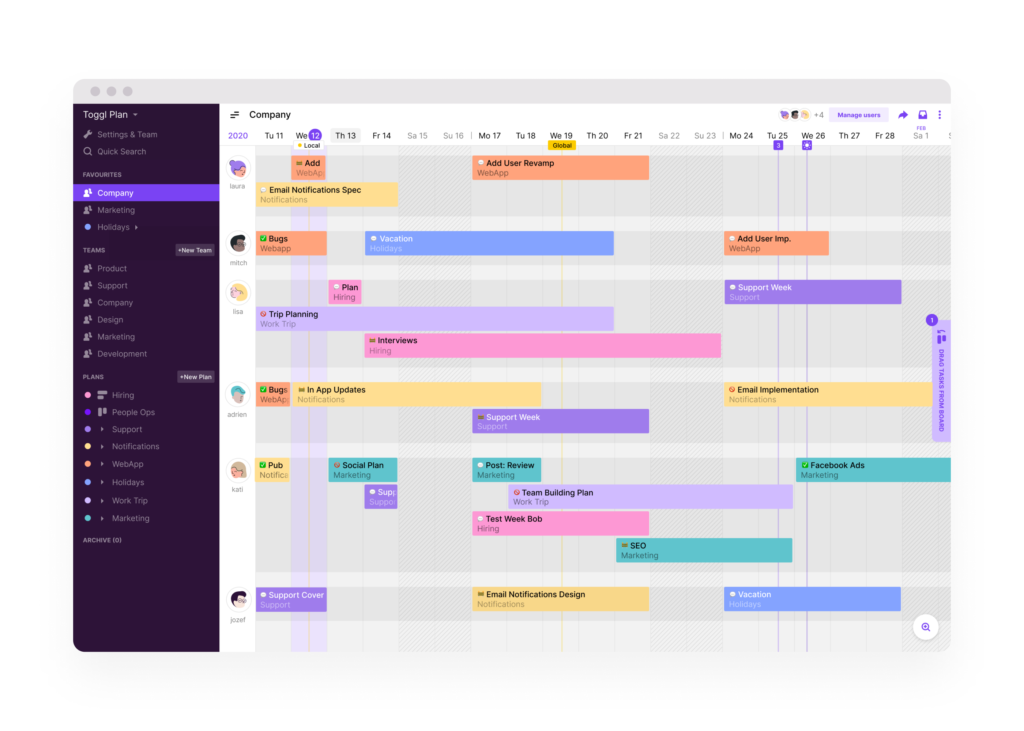 "I'm a huge fan of Toggl Plan. We run all of our team planning at Bannerboy with the Toggl Plan website – it's terrific. It's the perfect balance of simple and detailed that matches our workflow exactly. We seriously hunted for months trying to find the right scheduling service and once we saw Toggl Plan we knew. I recommend it all the time. Keep doing what you're doing. It's great."
Abel Buko – BannerBoy
2. Trello – for sharing ideas.
For me, Trello is an amazing visual tool that can do a lot and I check it every single day! The app is eye-catching and fun, and it's a very smart collaboration solution. It works fairly simply, with drag-and-drop capabilities and an intuitive interface. I use the lists labeled To Do, Doing and Done for most of my projects, dividing my work week by week. The labels help me to have a colored overview for my weekly tasks.
On the flip side, Trello does not come with a planning or a team management tool. And there are other alternatives to Trello, that offer more features for a lot less.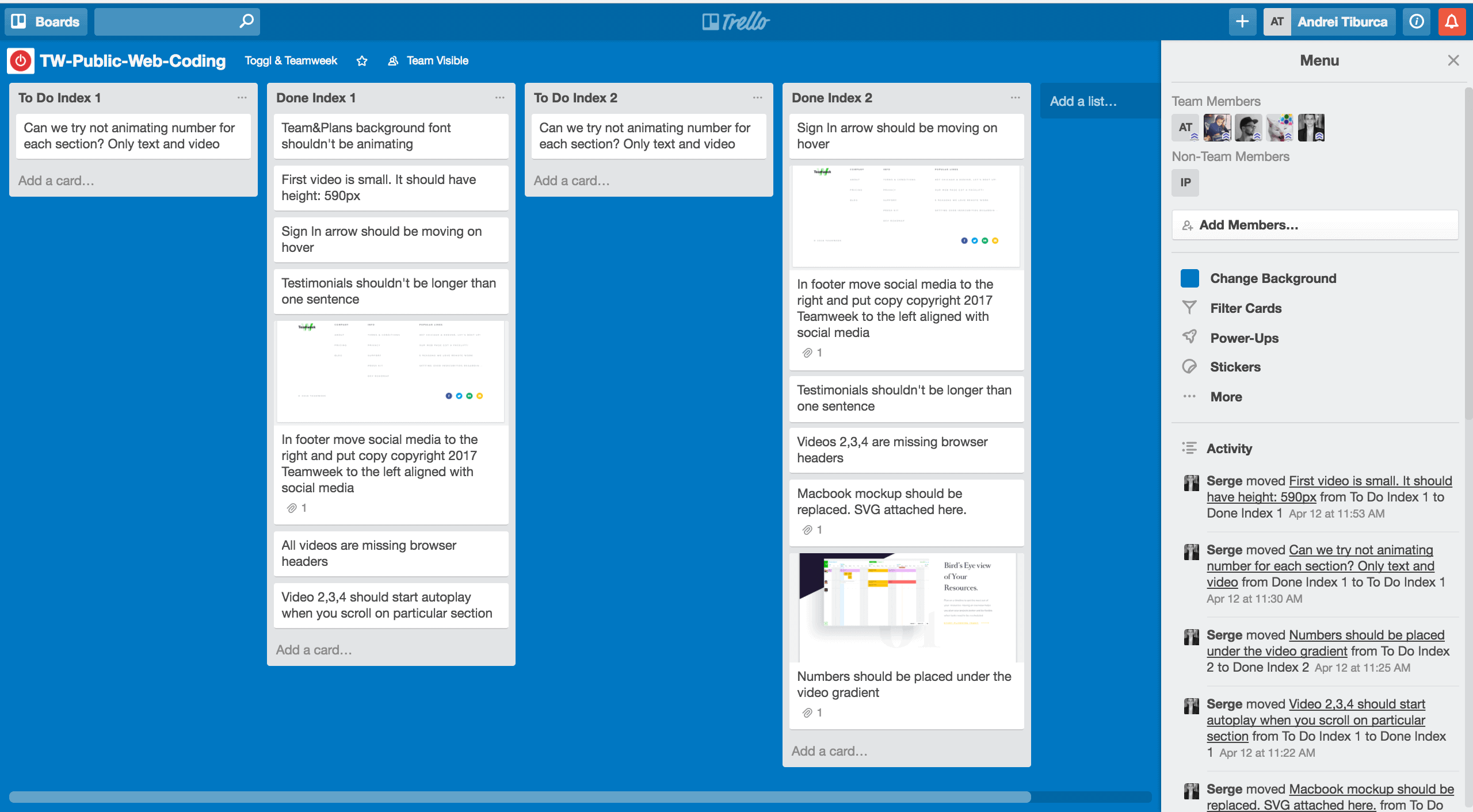 (Exhibit A)
There are two major benefits while using Trello:
Firstly, you can get tons of powerups and integrations that make Trello an incredibly versatile tool

Secondly, each member of my team has visibility into the state of the work that we need to do. This offers me both accountability and the possibility to help my team members who are falling behind.
"We at Bannersnack find Trello to be a really helpful tool for tracking work progress for our teams. The main thing we love about it is the versatility of the platform, which makes it an excellent tool for our marketing team. In order to make Trello more visually appealing and easier to use, we tweaked it by using some of the Power-ups that come with the premium plan, but we were also able to use a whole array of browser extensions. The end product is now a colorful, user-friendly and, most importantly, a highly effective platform that allows our teams to perform better than ever before."
Dorin Pantea – Bannersnack
3. Toggl Track – for time tracking.
Last, but not least, I like to use Toggl Track as a time tracker to know how much time we've spent on different tasks. This way, I know more about the capabilities and efficiency of each team member, but also of the team as a whole. Like all other project management tools I use, I've chosen Toggl Track because it fits me the best and I can use it directly on the web, my computer desktop, and Android devices.
To be completely honest, getting started with time tracking can be challenging. It takes a certain amount of discipline but after a few days using it kind of becomes a habit.
The app features a very friendly layout, and it's incredibly easy to use. The interface feels modern, but still, finds the right balance of utility and simplicity. I've installed Toggl Track Desktop on my laptop and the app my phone so I can start the timer on my computer and stop it on the other mobile device (if I forget to do this in the first moment after I finished a task, for example).  
Oh, and when I need to see the reports, I just log into the Toggl Track web and I can see everything, as detailed as I need. Overall, Toggl Track is fantastic because it finds a great balance of powerful features. Try it and I promise you will not regret!
"The main benefit of using Toggl Track over the years has been the fact that it keeps me focused on the task at hand. It's much harder to start multi-tasking when the running timer is secretly judging you."
Annika Helendi – Toggl Plan
Andrei is a Growth Hacker on Teamweek's marketing team. He is the person behind most of Teamweek's SEO-driven projects, including the budget calculator and the worst productivity tips generator. He enjoys writing about project management, graphic design, and anything tech.