From the growing importance of top-notch recruitment marketing to a more automated recruiting process – the latest recruiting trends for 2023 feel more like an evolution of effective HR practices than a revolution in hiring. And that's a relief, right?
Still, there are a few less-expected entries on our list.
So let's dive into the top recruitment trends you can ride on next year to uplevel your recruiting process and attract the best talent.
#1 – Employer Branding — A Recruitment Marketing Must
For our first recruiting trend, let's explore the growing importance of employer branding for job seekers. A recent survey by Glassdoor revealed that 92% of employees would consider hopping to a new opportunity at the same salary — if the new company had a good reputation! Now that says a lot, especially about how the world of work is changing.
What's important to today's prospective candidates differs greatly from what candidates a decade ago valued. And that's why it's good for employers to share more about their brand and culture, like diversity and inclusion, well-being, upskilling, and flexible work options, in their job descriptions — and make their brand stand out for modern job seekers.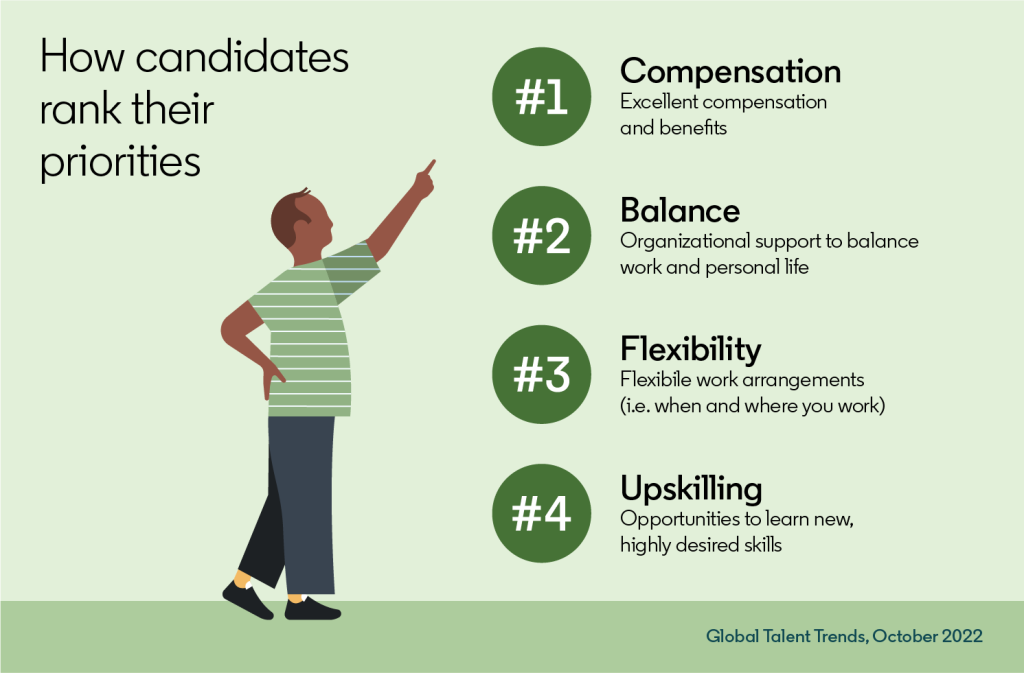 Proactive recruiters can easily connect with this talent through social media recruiting, such as job posts from their personal or company's social profiles, and active recruiting through sites like LinkedIn (a goldmine for building your talent pool). Traditional recruitment channels like online job boards or career sites are also important for spreading the word about your company's brand.
Ultimately, when HR managers help the business create a dynamic, open, supportive work environment, your employer branding will reflect that naturally on review sites like Glassdoor and Indeed.
Actionable tips:
#2 – The Quality of New Hires will be Key
It's natural that companies push to hire great talent to drive business growth, especially during times when the market is unstable. And that's also when the focus on quality candidates tends to intensify as staffing budgets decrease.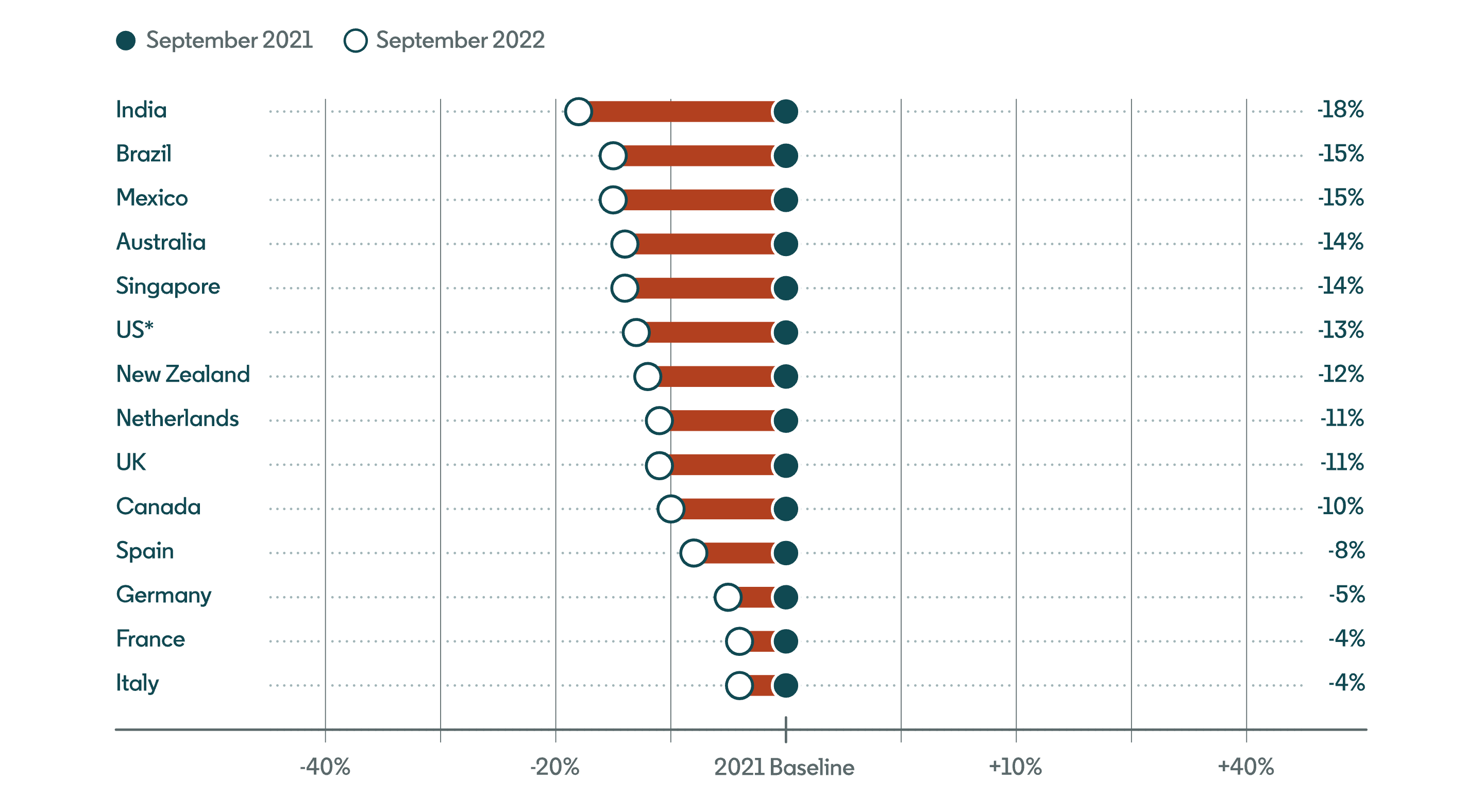 The increased emphasis on talent quality will put more pressure on HR leaders to tighten up the recruitment process. Hiring managers will be eager to vet job seekers more rigorously and at a wider scale.
"There will be a general theme of 'make every hire count'. Hiring managers will be facing a new reality. You're not going to get seven hires this year to add to your team — you're going to get two, so really think strategically about what talent you need."

John Vlastelica, CEO, Recruiting Toolbox
With this in mind, companies will move towards a skills-based hiring approach to minimize the risk of bad hires and recruit people with broader skill sets. Instead of hiring specialists and wedging them into a specific area, candidate screening will prioritize competent generalists who can shoulder more and broader responsibilities.
That's where proof of competence will become synonymous with recruiting top-level talent. Skills assessments can help hiring teams quickly whittle down the initial flood of applicants, and highlight the best potential candidates. With Toggl Hire, skills-first hiring is easy as you can access ready-made skills tests based on a particular role or skill even.
Together with structured and unstructured interviews, the recruitment process then covers the quality of each candidate's hard skills and soft skills.
Actionable tips:
#3 – Talent Acquisition — Building Quality Talent Pools
Using HR tools to fill your vacant positions makes life easier for recruiters and job applicants. Already approximately 94% of recruiters say that recruitment technology has impacted their hiring process positively, helping to manage and grow their pool of qualified candidates.
What's more, the role that talent acquisition teams will take on in 2023 and beyond may be broader than simply sourcing potential candidates. With recruitment teams bearing the brunt of tech layoffs in 2022, the need for efficient candidate sourcing will skyrocket. Fewer hands on deck will call for some level of automation.
That's where a strategic approach to building talent pools might save the day. Rather than treating every new role as a new project, recruiters will be better off pooling future applicants into well-defined talent pools: by skill set, seniority, or location. This way, they can skip the initial candidate screening and accelerate time-to-hire with newly opened roles.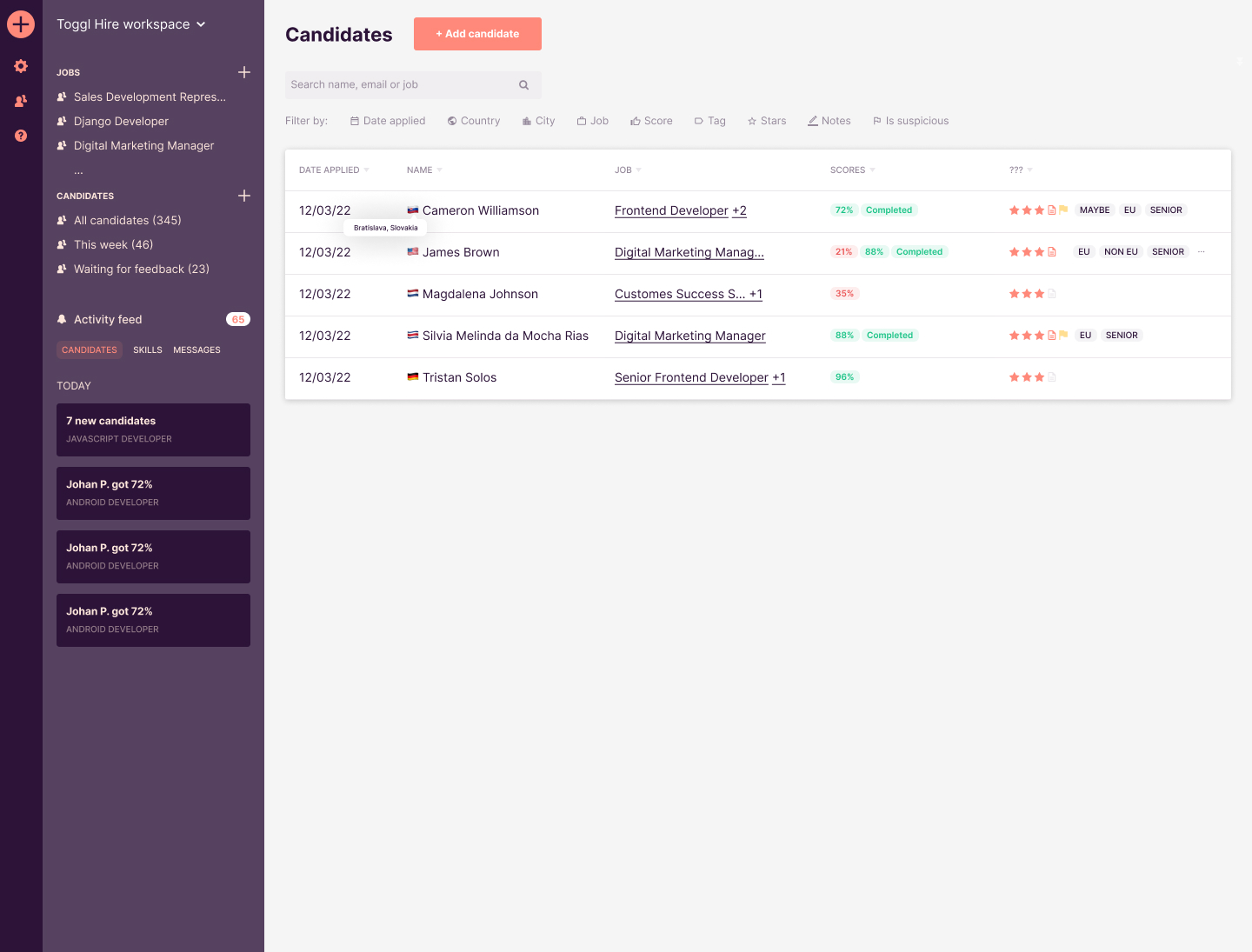 Actionable tips:
Make sure your recruitment software supports talent pooling
Engage with and nurture suitable candidates to keep them interested
Proactively reach out to candidates from your database before opening new vacancies publicly
#4 – Using HR Automation and AI to Improve the Hiring Process
Recruitment technology is helping to simplify the recruitment process and automate repetitive work, such as candidate screening, shortlisting, and the initial interview process.
Another way technology is improving recruitment is with the use of artificial intelligence (AI). AI technology is already being used in candidate sourcing, resume screening, and scheduling, for instance. And it is showing great potential in helping recruiters minimize bias in the hiring process.
Asynchronous video interviews are also a great example of using technology to modernize and speed up the hiring process.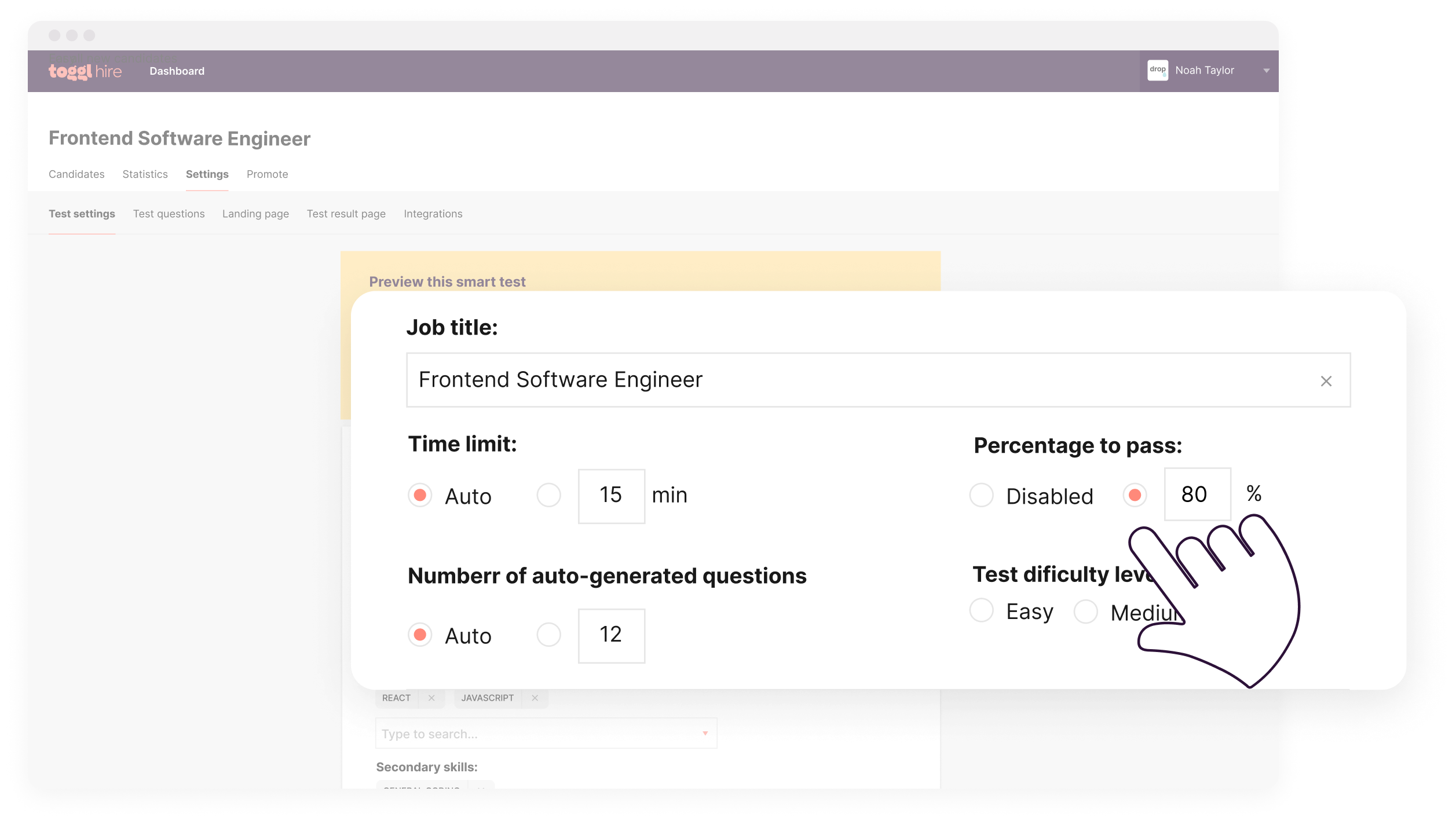 While not a completely new trend, artificial intelligence in recruitment will continue reshaping daily hiring workflows.
Actionable tips:
Take stock of the most time-consuming tasks – can you automate them?
Revisit your list of nice-to-haves (automated feedback, reference check, resume screening, etc). It's possible some of these tasks can be completed with the help of AI.
#5 – Data-driven Recruiting for Better Hiring Decisions
When your recruiting process is digitized, you're on the way to data-driven hiring. By using data-driven recruitment processes, like online skills assessments, you can streamline the talent hunt and make smarter hiring decisions.
Another upside to data-driven recruiting is that you're no longer basing your hiring decisions on gut feel, but rather on what the data reveals, making it more objective.
Leading talent acquisition teams now also use predictive analytics, or data, to predict the business's future staffing needs and how to be prepared for any big changes in the recruitment field.
"Scenario-based planning is really key in recruiting right now. It helps your team gain back some control so that every time the hiring market changes, you're not having to scramble. You have a playbook."

Jennifer Shappley, VP of Global Talent Acquisition, LinkedIn
As far as hot recruiting trends go, data-driven hiring is one of the most impactful trends an organization can adopt. From boosting the quality of hires to shifting to more proactive recruiting, it promises a range of benefits to HR teams.
Actionable tips:
Select the metrics you want to track and identify data sources
Build a recruitment dashboard to keep a close eye on your progress
Introduce more objective candidate screening and selection processes to improve your talent pipeline quality
#6 – Effective Diversity, Equity, and Inclusion Strategy
A robust diversity, equity, and inclusion strategy is something talented people are often on the lookout for. And when a company implements this strategy successfully, they create a diverse workforce with a wide variety of opinions, education, and thinking that leads to more innovation!
Part of the business case for diversity is also ensuring that you get creativity, innovation, and different ways of thinking.

McKinsey, May 2022
It's also good to remember that personal bias can easily creep into the hiring equation. One way to reduce this likelihood is with modern hiring software that facilitates blind hiring (removing peoples' identifiable characteristics like age and gender from their profile to prevent bias), helping to create positive recruiting statistics and build a diverse workforce.
While diversity recruiting isn't really a new trend, we will see a much more robust approach from larger organizations and recruiting firms to tracking results, not just actions.
Actionable tips:
Consider introducing tactical diversity recruitment metrics like the gender or ethnicity of candidates sourced, interviewed, or hired.
You could include info on your diversity, equity, and inclusion policy and other elements of your company culture in a pre-interview pack to empower potential employees.
#7 – Remote Work Model: Hybrid or Remote-friendly
Something unlikely to change any time soon is how comfortable people have grown with remote working. No longer having to face a 1-hour (or longer) commute to an office and back is a big plus for anyone in the workforce.
And companies need to consider remote-friendly work models and flexible schedules as key criteria candidates evaluate when deciding where to work. Especially since nearly 90% of workers in the US prefer the idea of flexible or remote work.
Even in a tightening job market, candidates increasingly want remote working opportunities. In September 2022, US remote jobs postings on Linkedin fell to just 14% of all posts but received 52% of all applications.
Companies that ignore job seekers' desire for a flexible work model will lose great talent in the long run. So, another recruiting trend for 2023 will be to remain flexible to get dibs on top talent – but who's surprised?
Actionable tips:
Remote-friendly work model is one of the most important factors for candidates when they're looking through job descriptions. If you offer flexible working hours or a remote setup, be sure to put it front and center in your job ads.

Get ready for a hybrid work environment: get to grips with the latest trends in video interviewing, remote collaboration tools, and asynchronous hiring to offer the best candidate experience.
#8 – Internal Mobility for Employee Retention and Filling Skills Gaps
Employee retention is an important part of workforce planning, and even more so in 2023. Thanks to a turbulent job market, employees are rethinking their path to career growth.
They're ditching the traditional career ladder for the lattice and moving horizontally within the organization to upskill, reskill and gain new experience. This signals a whole new recruitment trend for 2023 – internal mobility.
For HR leaders, the rise of internal mobility brings a shift in priorities as they must focus more on internal recruiting to keep employees moving around, but not out.
"Give employees more ownership over their career paths at your company. Start the conversation with them on their possibilities for learning, growth, and – ultimately – internal career transformation on Day 1."

Linda Jingfang Cai, VP of Talent Development, LinkedIn
To keep employee turnover low and effectively plan for future roles, recruitment leaders should work closely with managers. Identifying staff members who want to make a move and providing them with opportunities for learning and growth will be crucial.
Among the chief benefits, an internal move often reduces the likelihood of top talent leaving your company and can fill skills gaps that could otherwise be difficult to do with external candidates.
Actionable tips:
Identify the skills gaps within your organization and provide regular training to reskill or upskill your workforce. This way, you'll be ready to leverage internal recruiting tactics and fill critical skills gaps even amid hiring freezes.

While predictive analytics can help you identify and shortlist promising candidates, you'll need to invest in personalized career development and growth plans to get them ready for a smooth transition.
#9 – Creating a Future-proof Candidate Experience
First impressions last. And that's no different for candidates with their first experience of your organization. Getting the fundamentals right, like an efficient recruitment process, sets the scene for a great candidate experience.
But also focus on the bigger picture — how to include the candidate experience in your long-term recruitment strategy, which strengthens your overall employer brand.
"If you give candidates the right experience, at the end, even if you did not make an offer to them, they might go back to their network and say, 'You know what? I didn't get the job, but I loved the hiring experience at that organization and maybe you should try it too."

Gautam Shetty, APAC head of talent attraction and acquisition at A.P. Moller – Maersk
A candidate-centric recruitment process is one of the latest recruitment trends that is simply not sticking. Despite the overwhelming feedback from the candidate market, companies continue to prioritize short-term efficiency gains over long-term employer branding benefits.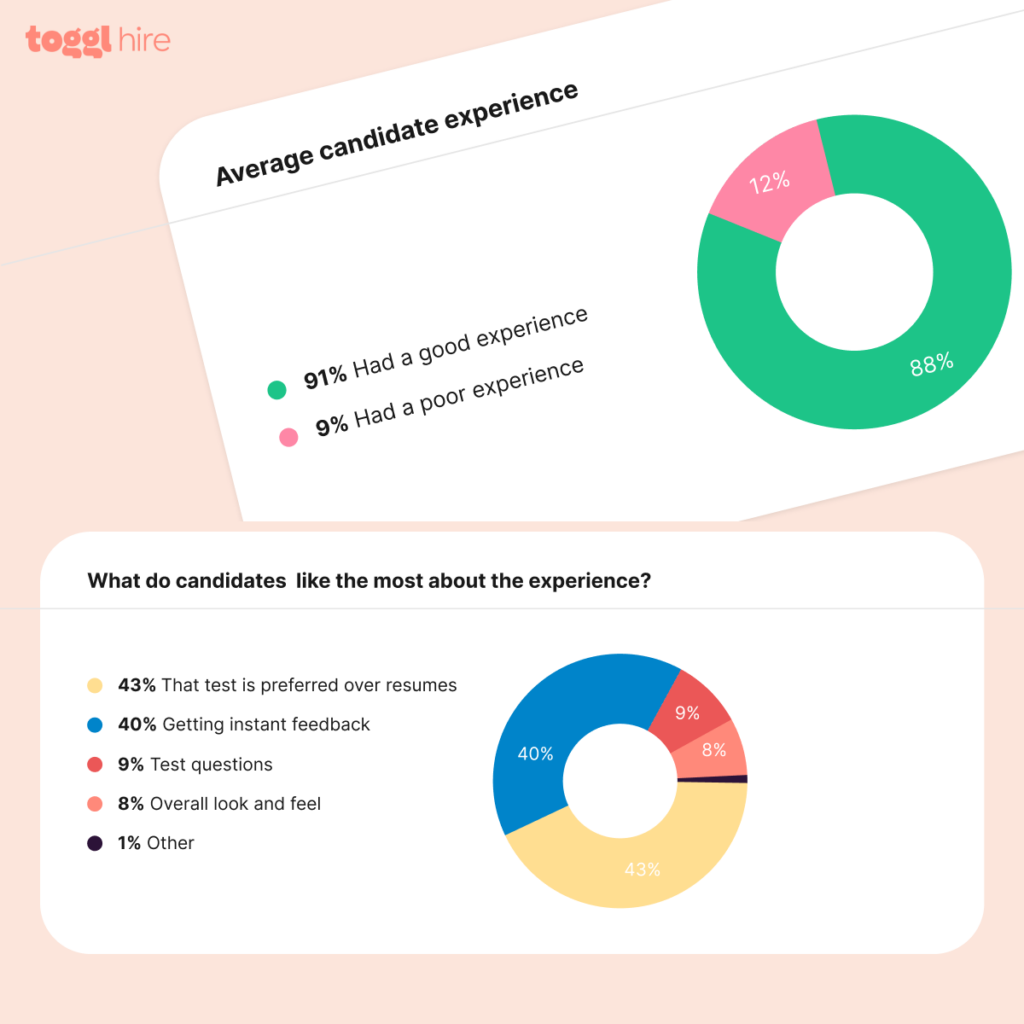 You can help your team build and improve the candidate experience by respecting candidates' time and effort. For example, by getting applicants to apply via a skills test instead of a resume, you're:
Actionable tips:
Cover the basics: things like including the salary in the job description, outlining the steps of the interview process, or providing timely feedback at the application stage (not ghosting) may seem basic but have a tremendous impact on the overall candidate satisfaction.

Make sure the interviewers are prepared for interviews and know how to evaluate candidates against set criteria.
#10 – Contract and Project-based Hiring Trends Will Pick Up
With so many skilled employees seeking flexible work opportunities and fewer remote-friendly roles available on the market, we're bound to see a spike in short-term contracting.
Instead of returning to the office on the employer's terms, many talented employees will opt for less security but more flexibility. And this might work out as a win-win for everyone.
People who choose contract work are often highly skilled and results-oriented, making them a perfect fit for interim roles or times when a company searches for a suitable permanent employee.
It can also make sense to rope in experienced people to help with specific projects or deliverables when you need specialized skills for a limited period of time.
Given the mass layoffs and hiring freezes in 2022, organizations will look for ways to achieve objectives on significantly lower budgets. Project-based hiring ticks most boxes: it carries very little overhead costs or risks while providing the much-needed skills to get projects over the line.
Actionable tips:
Sometimes, finding great freelance talent can be as difficult as hiring exceptional employees. Get ahead of this problem by building your freelance talent pool.

Develop a culture of documentation to onboard and offboard contractors more efficiently.
Wrapping up: Recruiting Trends for 2023
We hope these 10 recruitment trends help you prepare for 2023 — by syncing with what modern candidates want, empowering your hiring team with tools that simplify and automate the recruitment process, and facilitating a positively magnetic candidate experience.
And if boosting the quality of hires will be a priority for you next year, check out our skills-based hiring pipeline that helps screen, shortlist and hire the most qualified people for the job. Get started free!
Juste loves investigating through writing. A copywriter by trade, she spent the last ten years in startups, telling stories and building marketing teams. She works at Toggl Hire and writes about how businesses can recruit really great people.