The labor market never sits still, so every year, we're challenged with new recruitment trends. While it might feel exhausting trying to keep up, understanding what's happening on the market (and why) is the only way to improve your hiring strategy. 
From changes in talent acquisition strategies to shifting employee preferences regarding remote and hybrid work, let's first recap the impact of top hiring trends of the past few years on today's market — then analyze what's on the agenda for 2024.
Key shifts in the recruitment market in 2023
Last year was a bit of a roller coaster for the job market. After job openings hit record highs in mid-2022, the labor market soon took a U-turn on recovery.
In response to lower-than-expected economic growth, companies started laying off employess en masse. The tech industry alone has seen more than 240,000 jobs lost in 2023, which is 50% higher than in 2022. 
Overall, fewer companies were recruiting talent, and fewer people applying for jobs in 2023 than the year before.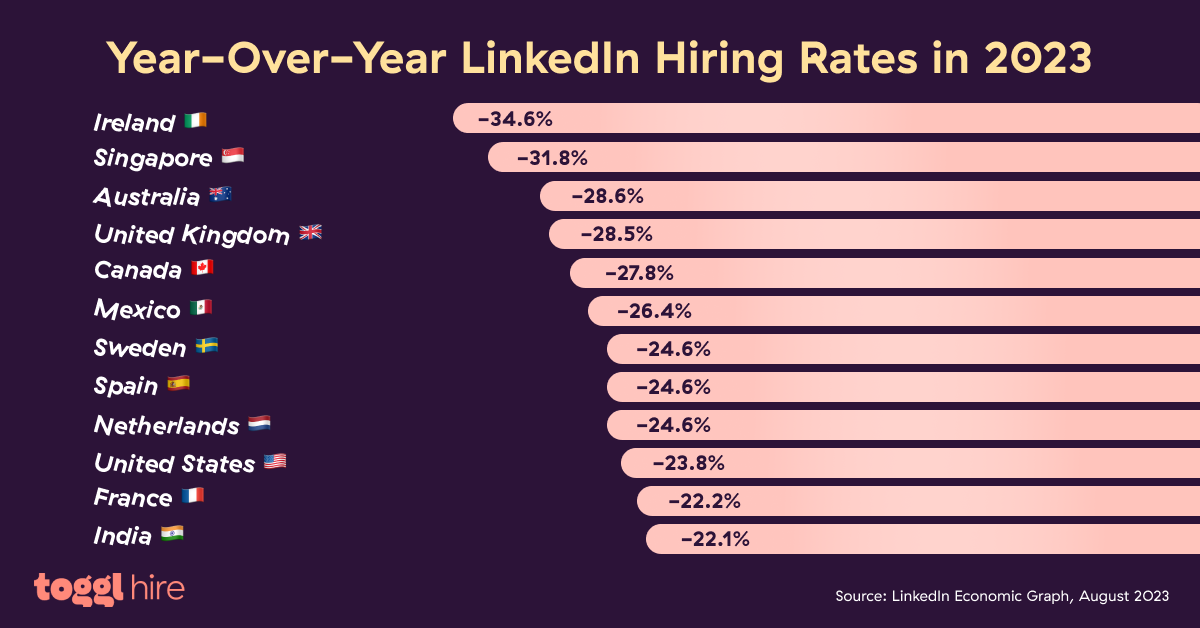 Although new tech talent became available, most employers also continued to struggle with skills shortages. Globally, 70% of tech leaders reported an all-time high demand for tech skills such as "cybersecurity expertise", "big data analytics", and "software architecture."
In fact, 62% of CIOs believe they'll never have sufficient tech talent as the modern market landscape demands faster operating speeds, continuous innovation, and cost efficiency.
Candidates with strong soft skills are also in short supply. As technology becomes capable of handling mundane, low-value work, people with strong problem-solving skills, cognitive reasoning, and creative thinking will be even more valued in the workplace. The only problem is that most companies don't have enough of them in their talent pools.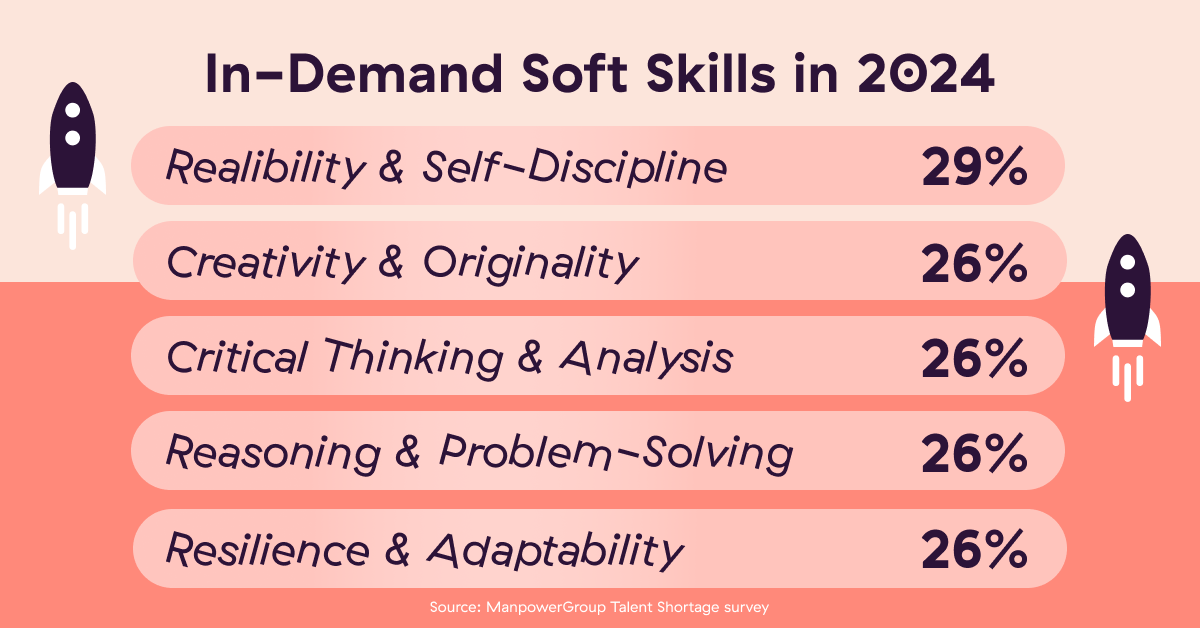 With employee engagement rates on the decline as well, skills took a front seat for companies looking to retain top talent. Teams with strong interpersonal skills and sound corporate culture are less prone to losing the best talent. 
Why are so many employees disengaged and unhappy, though? The leading cause of the Great Resignation was a toxic workplace culture, which was a tenfold stronger predictor of employee attrition than compensation. In 2023, we also saw a third of US employees resign due to misalignment with their employer's values, and a third of UK employees quit due to bad management. 
For companies that began backpedaling on their remote work policies, it's expected that their employee turnover will only continue to increase. In 2023, the workers and managers reached a truce, with hybrid work becoming the norm. Over 80% of Fortune 500 companies in the US offer workplace flexibility, with only two to three days of at-office work.
If you see companies that are as big and reputable as Fortune 500 being this flexible, and you see the newer companies being this flexible, it's a pretty clear sign of where we're heading. There may be some outliers who do more or less, but I think we're pretty settled [with hybrid work].

Nick Bloom, a Stanford professor and leader of the WFH Research group
That said, 9 in 10 companies had tentative plans to bring people back to the offices in 2024 (at least in some capacity). If the employers push on this, they risk losing more talent, as 72% of employees say they'd accept a lower salary if it meant a flexible work-from-home schedule. 
Top recruitment trends to expect in 2024
Effectively, last year's recruiting trends serve as a springboard for the new developments in the market. So, here's what we expect to see through 2024.
1. The quiet AI adoption
Artificial intelligence has become the go-to tool both for recruiters and job seekers. For better or worse, candidates turn to AI resume builders and use ChatGPT for cover letter writing. Some 70% of college seniors relied on AI to write resumes and cover letters in 2023 (which is hardly surprising).
Professional resume writers, job coaches, and other online tools have been around for decades. AI is just another version of the same. So, well-trained HR managers are well aware that the resumes they're reviewing may not have been written by the candidates (and that's one reason why Toggl eliminated resume screening long ago). 
The lesson here? To hire top talent in the age of AI, you need to adapt your recruiting process. 
Instead of giving candidates problems ChatGPT can solve, test their skills with open-ended homework assignments or soft skills assessments. Modern assessment tools like Toggl Hire include anti-cheating and anti-AI protection, which also prevents candidates from using apps during tests.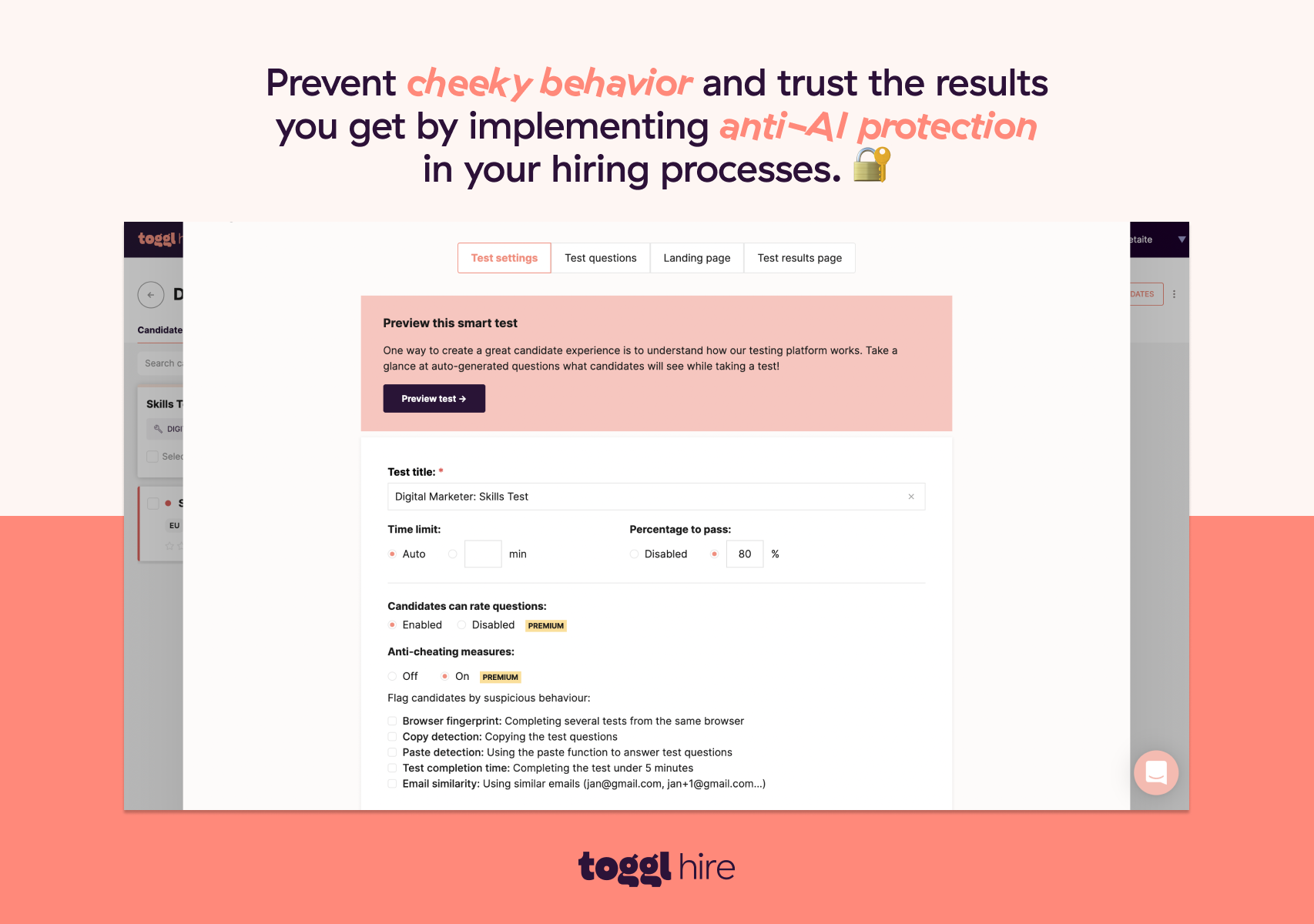 In a world where everybody is using AI to boost productivity and improve efficiency, it might seem "wrong" to prevent candidates from using AI to help them apply for your job listings. However, doing so allows you to assess the candidates' actual skills and personality traits rather than evaluate how well they can use ChatGPT to look up the right answers. 
It's not all about preventing AI usage, though. Hiring teams are also exploring ways to use AI for good in the hiring process. Mastercard uses an AI-based game to evaluate candidates' skills, while T-Mobile relies on an AI-powered tool to remove biased, non-inclusive language from job descriptions.
In 2024, we expect generative AI use to continue increasing, particularly to draft job descriptions, candidate communications, and even interview questions.

Emi Chiba, principal analyst in the Gartner HR practice
New HR technology, powered by advanced algorithms, can help hiring teams:
Streamline repetitive, manual tasks such as interview coordination and scheduling, ad publishing to multiple job boards, satisfaction survey management, new hire onboarding, employee payroll management, and more.  

Create automated communication channels to both

strengthen employer branding

and

improve candidate experience.

Thanks to natural language processing (NLP), chatbots can easily provide candidates with updates on their application status, answer questions about company culture, and handle a ton of other recruitment marketing activities.  

Automate document processing. Artificial intelligence can document cross-checks and information lookups at cruising speed with high accuracy. Streamline candidate identification and document checks with new KYC tools. Save time with AI-generated summaries of new regulatory or compliance documents.

Get more data for decision-making. Whether you're doing workforce planning for the new year or trying to evaluate your diversity, equity, and inclusion (DEI) metrics, AI can help crunch the numbers. Thanks to predictive analytics, you can also look into the future and model the volume of future applicants or estimate talent attrition using historical data.

Build bigger talent pools. Leverage AI to cross-check past candidates' or current employees' skills and match them with new job opportunities. Personalize outreach to potential prospects on social media and across job boards to get more people into your recruitment funnel.
AI already has ample practical use cases in recruiting — and we expect more talent leaders to embrace it in 2024. 
Practical tips for making better use of AI in recruitment
Learn about the different types of AI. Machine learning, predictive analytics, generative AI, and robotic process automation (RPA) — each of these technologies is better suited for specific tasks in a recruiting process. For example: Generative AI excels in content generation, while predictive analytics helps with advanced forecasting and modeling.

Brainstorm use cases. Identify the most time-consuming, error-prone, and manual elements of your talent acquisition process. Brainstorm with the hiring managers how different AI products can help address the inefficiencies.

Start with pilot projects. Select several test use cases. For example, test different AI apps for recruitment marketing tasks or employer branding activities (e.g., job ad copy generation or personalized nurturing sequences for candidates in your pipeline). Set clear success criteria for each and measure the impact to estimate ROI.
2. The rise of the 'skills hire'
As the cost and time-to-hire increase, every new employee becomes a critical hire. The increased emphasis on talent quality will require companies to tighten up the recruitment process. Hiring managers will be eager to vet job seekers more rigorously and at a wider scale with the help of skills-based hiring. 
For 79% of HR professionals, scores on skills assessments are just as or more important than traditional hiring criteria. Moreover, 36% will move candidates with high test scores to the next stage of the recruitment cycle even if they don't meet the minimum years of experience.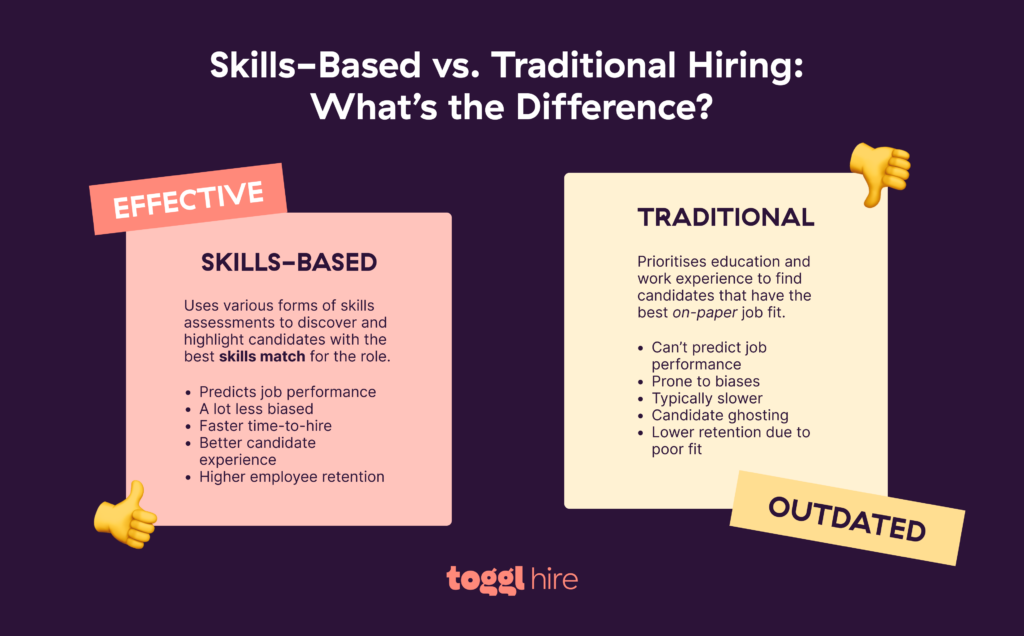 Including skills or interests in the recruitment process yields even greater growth in the number of underrepresented candidates: 3X more veterans and 3.5X more women and Black students.

Handshake
Another upside to skills-based recruiting is that you're no longer basing your hiring decisions on gut feel but rather on actual data on candidates' competency. You can practice collaborative hiring by giving each manager the power to select people with the skills they need.
With Toggl Hire, you can instantly validate a range of competencies through technical skills tests, homework assignments, and cognitive aptitude assessments.

Top tip:
Design custom assessments using expert-made questions from our test database featuring role-specific and skill-specific tests. 
If your goal is to build a more competent and diverse workforce in 2024, skills-based hiring is the way to go. 
Practical tips for implementing skills-based hiring in 2024
Conduct a job task analysis to better understand the role's competencies. Shift the focus from degree or work experience requirements to the skills, qualifications, and aptitudes of an ideal hire. 

Determine the optimal use cases for pre-employment tests. Use basic skill tests to quickly check if applicants have the skills needed. Then apply a combination of different interviewing methods and take-home assignments (case studies, coding challenges, language tests, time-boxed competency assessments) to find the perfect skill matches. 

Drop questions about the candidate's background to eliminate interviewer bias. Instead, ask more behavioral and problem-solving questions to understand how a candidate thinks and acts rather than what shaped them personally and professionally. By combining structured interviews with pre-employment tests, you can get a more comprehensive picture of a candidate's skill set and team fit. 
3. A shift back to the recruiter's market
Prepare for another year of a competitive labor market. The unemployment rate in the US is expected to remain around 4% through 2024. In the EU, unemployment rates will also stay at a stable 6%.
That said, globally, almost one-third of employees are likely to quit in the next year due to poor pay and work-life balance. Major layoffs, especially in the tech industry, are also on the agenda as the economy remains slow and business leaders are pressed to show higher profit margins. 
Nine in ten employers surveyed expect to reduce their workforce size in 2024. 

Randstad Riesmart
For recruiting professionals, the above trends translate to a bigger talent pool…and bigger workloads, too. With an increased supply of candidates, recruiters will likely spend more time wading through hundreds of applications, pre-screening for hard skills, and scheduling rounds of interviews. 
And without a strong talent acquisition strategy, you risk getting some bad hires on board.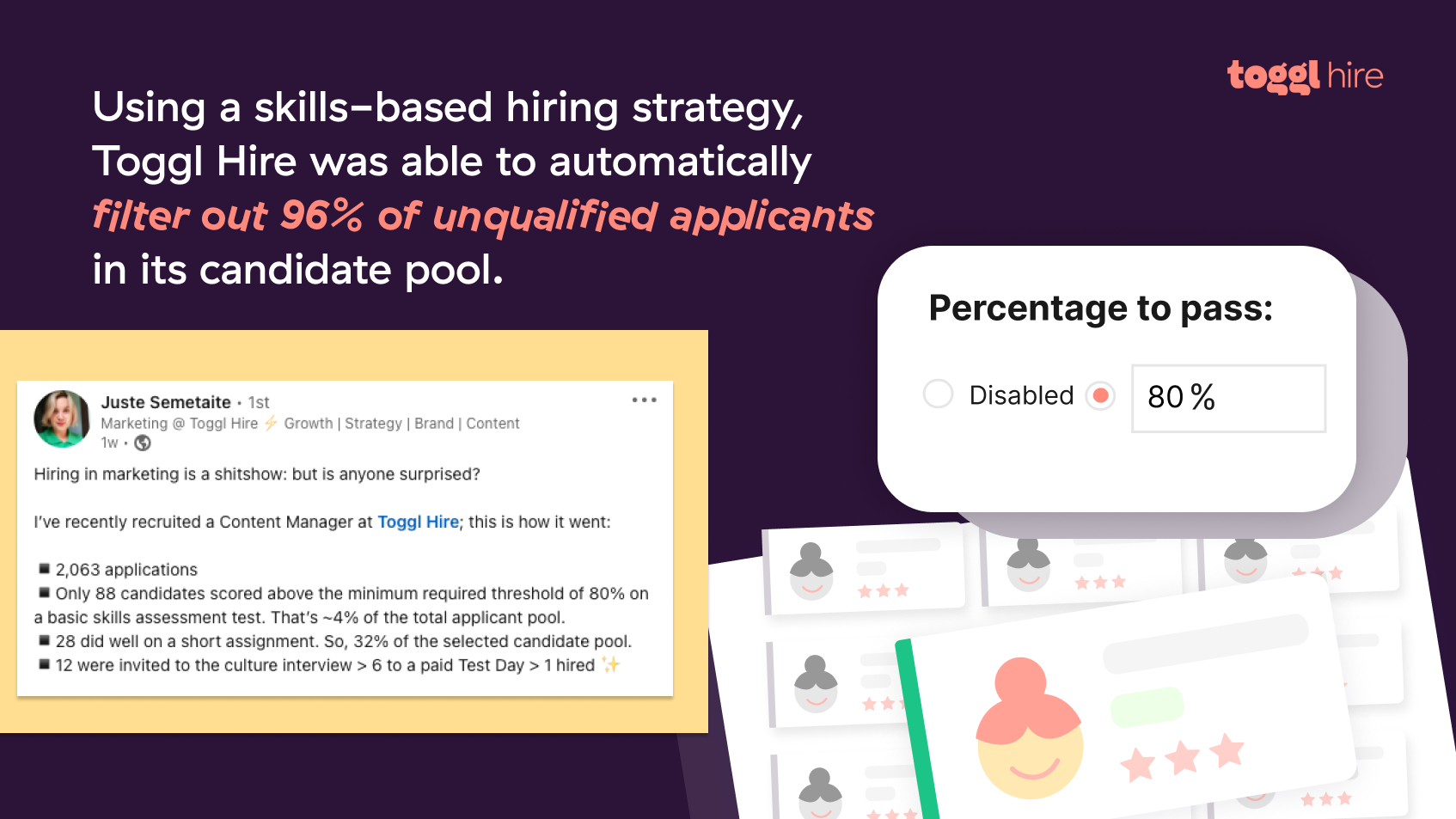 Sadly, many job seekers lack essential hard and soft skills for the jobs they are after. That's where proof of competence will become synonymous with recruiting top-level talent.
Skills assessments can help hiring teams quickly whittle down the initial flood of applicants and highlight the most suitable candidates. AI for process automation, in turn, can help with secondary hiring processes (background checks, job offer management, onboarding, etc.), helping you reduce time-to-hire and boost productivity.
Practical tips for managing your candidate pipeline in 2024
Refresh job descriptions with new skills to better reflect the kind of talent you're seeking for vacant positions.

Be upfront about non-negotiable criteria. State if the role doesn't support remote working or is strictly limited to candidates from a specific location.

Combine different pre-screening methods like resume checks, competency assessments, cognitive abilities, and aptitude tests (among others) to get more qualified candidates to the next stages. 

Use cultural fit interviews and job simulations to secure both proof of competence and a strong team fit. 
4. Increased focus on closing skills gaps
Although the overall candidate supply is higher this year, skill shortages aren't going away. Digital transformations, an aging workforce, a decreasing number of STEM graduates, and lower participation among women negatively affect today's labor market.
Modern-day jobs also require new, largely digital skill sets. Data analytics, knowledge of different business software, and low-coding capabilities — these skills are no longer exclusively demanded for tech roles.
Sales, manufacturing, and even customer support roles require high digital literacy. Since 2015, the skill sets for jobs have changed by 25%, and that number is expected to double by 2027. Yet, both existing employees and active job seekers are behind in developing new competencies. 
CXOs cite skilling and developing the workforce as the No.1 challenge hindering organizational growth in the next 12 months.

Accenture
Talent upskilling and reskilling will be a major recruiting trend in 2024.
To address the problem, HR leaders will need to first gain visibility into existing organizational skill gaps and evaluate the effects of tech disruption on the existing roles.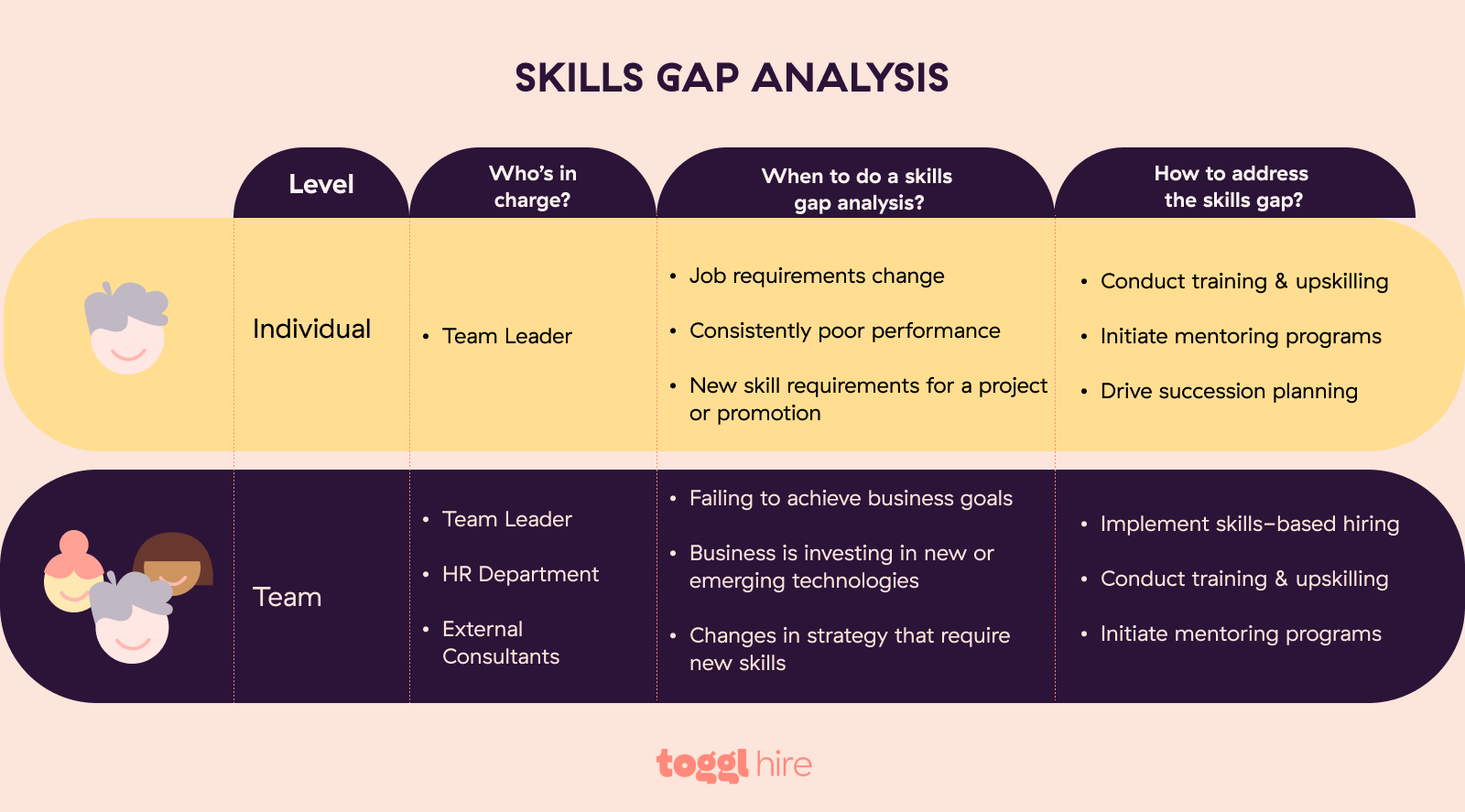 Practical tips for addressing skills gaps in 2024
Schedule a talent gap analysis to deconstruct the work your people already do and the skills they have (and lack) to perform their jobs better. Identifies areas for strategic recruitment, training, and development.

Introduce career coaching sessions. Improve employee engagement and talent retention by introducing new professional development plans for employees and walking them through different training programs available.

Offer a training budget. Instead of super-imposing training from above, let employees choose any training, workshop, or conference they fancy professionally. At Toggl, we give each employee €4K as part of our benefits program, and this helps us maintain a highly skilled workforce.

Launch an apprenticeship program. Expand your campus recruiting program with a digital apprenticeship — a fixed-duration program aimed at teaching fresh grads suitable hard skills. Verizon used the apprenticeship model to fill software engineering jobs. 95% of the first cohort participants accepted full-time job offers, supplying the telecom with future-proof talent.
5. The age of the contractor
Since 2020, business leaders have been increasingly turning to contingent, seasonal, or consultant employees to address the skills gaps, better respond to changing market conditions, and maintain a competitive edge.
A joint study by Harvard Business School and BCG found that almost all Fortune 500 are recruiting talent via on-demand digital platforms. Of these, 30% use digital talent platforms extensively for project-based hiring. Another 30% report medium usage. Another 50% plan to hire more contractors through digital platforms in the future.
Contingent labor is expected to comprise 35% to 40% of the global workforce by 2025. 

Gartner
This trend translates to extra workloads and complexities in compliance management for recruiting teams. Faster hiring cycles, proper worker classification, rapid onboarding (and offboarding) — a lot of grunt work is required to maintain a contingent workforce.
To streamline external workforce management, create a set of processes, projects, or roles you want to fill in with contractors and map these to anticipate engagement duration. Determine:
Which roles have temporary or fluctuating demand?

Which roles are need-driven?

Which roles require long-term support?
Instead of standard job descriptions, highlight specific job tasks that contractors will need to complete (e.g., produce three blog posts per month) or processes you'd want them to handle (e.g., payroll management).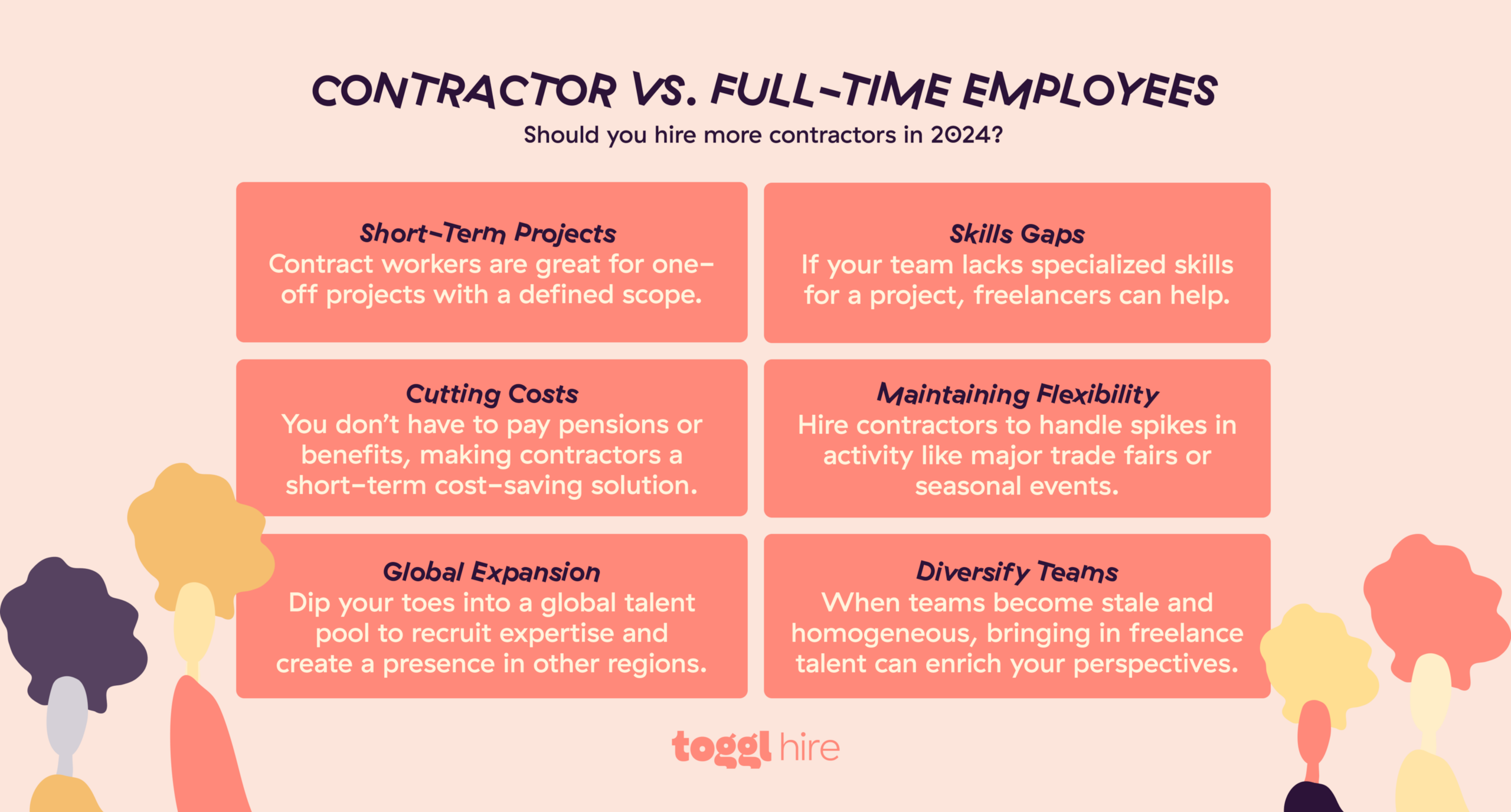 Finally, don't forget about compliance. Be upfront about any specific requirements you have — mandatory liability insurance, valid professional license, ability to perform on-site work, and so on.
You will need to change your hiring strategy to recruit and onboard contractors. But the payoff of doing so is greater operational agility, faster hiring cycles, and easier access to in-demand skills.
Practical tips for hiring contractors in 2024
Understand the different service models. Some contractors do mostly deliverable-based, fixed-price gigs. Others prefer retainers, charge hourly for fractional engagements, or take a day rate for consulting work. Check if your current accounting setup can accommodate their proposed payment cycle and payment terms.

Rely on social media recruiting. Contractors and freelancers don't frequent popular career sites. Instead, they hang out in online communities and on social media. Prioritize LinkedIn and Twitter to build relationships with independent workers.

Offer fair compensation. Contractors save companies a lot of payroll costs since most taxes are passed on to them. This means few can (or will) afford to charge the same hourly rates as regular employees. Don't lowball the proposed rates, and try to negotiate the scope of work instead if you have budgetary constraints.  
6. Employee engagement is in crisis mode
Over the past years, we've seen Great Resignation, and then Quiet Quitting (and Quite Firing). Loud employee quitting appears to be a new trend. That's hardly surprising given that employee engagement has been sinking year-over-year.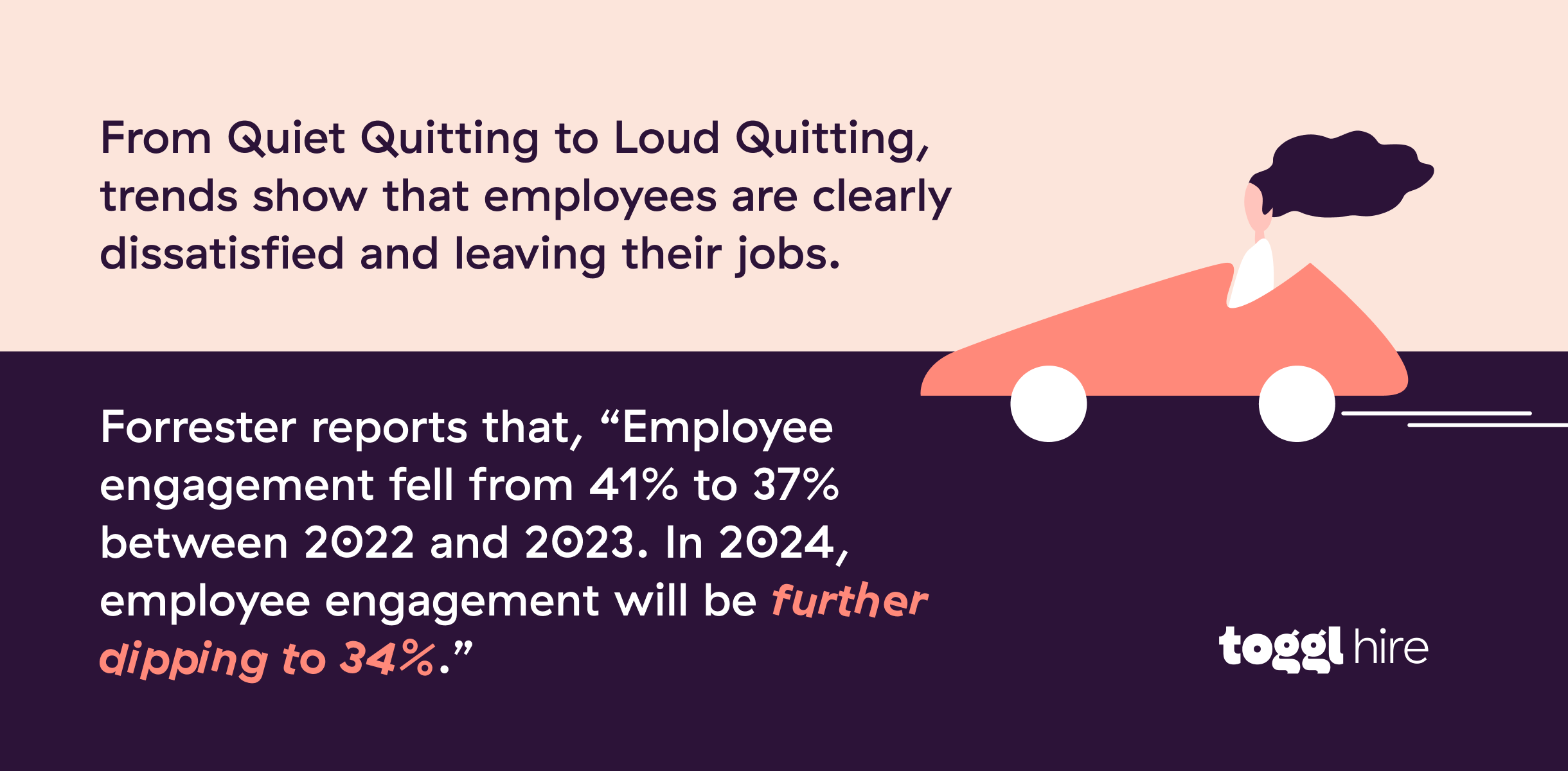 Rising cost of living, salary freezes, forced returns to the offices — a lot of factors have made the global workforce less optimistic about the future.
The latest recruiting trends, including increased reliance on contingent talent, accelerated adoption of AI, and the return of a recruiter's market, are making people even more anxious about their job security.
To patch things up in 2024, HR professionals will need to first evaluate the job satisfaction scores and then drill down to the causes of poor engagement.
Collect feedback on all levels:
Survey managers about their levels of happiness, motivation, and recognition, plus their perception of the team's morale and satisfaction.

Ask lower-level employees to anonymously share feedback about their managers. Do they get enough recognition, timely feedback, and the ability to bring up new ideas?
Compare the sentiments to better understand the gaps and overlaps in perception and determine the best course of action.
Practical tips for improving employee engagement in 2024
Coach your managers to lead better. Middle managers are responsible for 70% of the variance in employee engagement. Identify leaders with strong people skills (and likely higher team engagement scores!) that you already have and look to hire more people with similar skill sets for open roles. Invest in extra training for current staff to help them develop better soft skills, curb micro-management tendencies, and learn some new ways to empower and recognize their employees.  

Advocate for employees' ideas. Don't just ask for feedback — act on it. Create a transparent system for accepting, evaluating, and executing employee ideas. Show that your company listens, cares, and implements suggestions from people at every level.

Prioritize internal recruiting. Start looking for prospective job candidates inside your company before circulating a new job ad on a career site. Advertise open roles through a company newsletter. Encourage transitions from other roles by using skill assessments to identify prospective candidates. Your goal is to keep employees moving around, but not out.
7. Talent mobility is on the rise
The recruiting landscape will remain dynamic, with people moving internally and cross-border. According to Mecer, over half of businesses expect an increase in the following types of talent mobility:
Business travel (70%)

Virtual assignments (59%)

Short-term assignments (59%)

One-way transfers (57%)

Hiring of international remote workers (56%)
With remote work being amongst the ongoing recruiting trends, employees have come to expect a greater degree of mobility — be it short-term remote "workations" or permanent hybrid work arrangements.
"Give employees more ownership over their career paths at your company. Start the conversation with them on their possibilities for learning, growth, and, ultimately, internal career transformation on day one."

Linda Jingfang Cai, VP of Talent Development, LinkedIn
A tough job market, combined with sinking employee engagement rates, means that businesses will likely be forced to keep flexibility on the agenda. However, these recruitment trends allow for hiring more diverse candidates, optimizing operating costs, and increasing corporate resilience.
When done right, a strong internal mobility strategy helps close the knowledge and skills gaps, improve employee engagement rates, and minimize the impact of local labor shortages on business operations.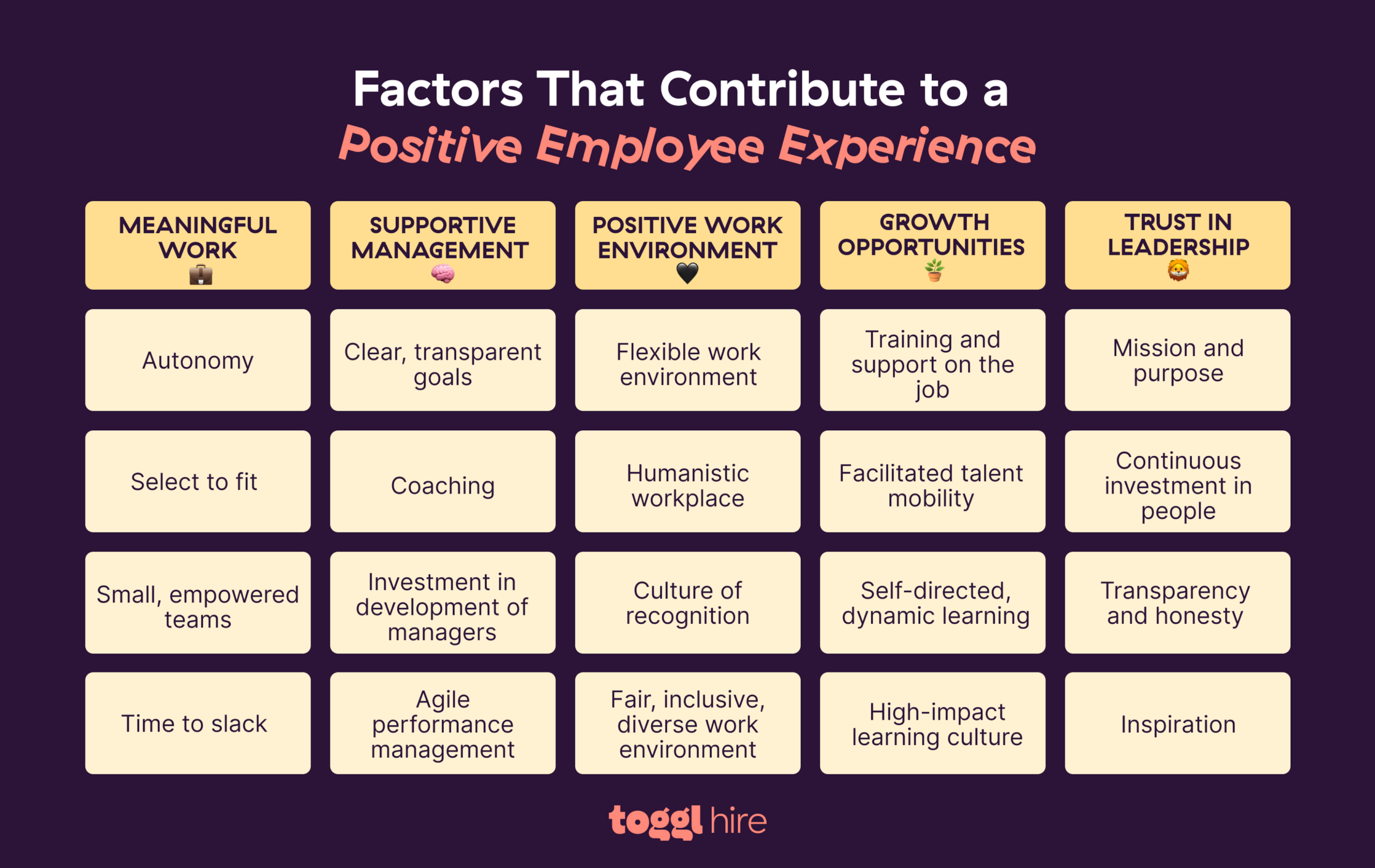 Practical tips for improving your talent mobility strategy in 2024
Brainstorm new talent mobility opportunities. Instead of only moving talent geographically or vertically up the career ladder, consider alternative schemes: lateral moves to other teams or projects, job shadowing or mentorship to support cross-function mobility, and virtual "experience exchange" assignments. The current state of technology allows you to effectively combine in-person and virtual collaboration across functions.

Create a dedicated internal hiring process. Don't force existing employees to go through the same process as any other job seeker. Streamline and simplify the application process by using competency assessments rather than resume pre-screening and peer interviews instead of culture pre-screeners with HR. 

Mind compliance. Work-from-anywhere arrangements come with a new pane of tax, immigration, and employment law risks. New remote work-related tax rules may also emerge. Ensure that your policies remain in close sync with the current compliance regulations to avoid unnecessary risk exposure. 
8. Talent retention is a top priority
Telenet retention is an important part of workforce planning, and even more so in 2024 as the wave of resignations continues.
According to The Barton Partnership survey, 36% of employees in consulting and 41% of employees in other industries plan to change jobs in the next 12 months. Higher compensation, new challenges, and a better company culture are the main reasons for switching.
What's even more problematic is that new hires are at the highest risk of leaving. Qualtrics captured a 27-point difference in intent to stay between new employees (with less than six months tenure) and everyone else.
Clearly, HR teams need to focus more on improving the candidate experience and employee experience.
To do better in 2024, focus on addressing the necessities. Compare the current compensation levels against the industry averages to understand whether you're underpaying your workforce.
If cash bonuses and pay bumps will strain corporate cash flow, prioritize alternative options. To improve talent retention and engagement, 83% of US tech companies made changes to company culture (e.g., offered more flexible hours, increased parental leave time, added more work-from-home days, etc).

Top tip:
You can also consider other non-cash perks like more personal time-off, tenure-based sabbaticals, flexible time-off (like we have at Toggl!), catered weekly lunches, etc. 
Introduce greater pay transparency to avoid the unwarranted negative sentiment some employees may harbor. On average, an increase in pay transparency levels leads to a 30% decrease in the likelihood of an employee seeking a new job. 
Switch from proactive recruiting to proactive talent nurturing to ensure that your best hires are motivated to do their best work for your company, and not to look for a new job.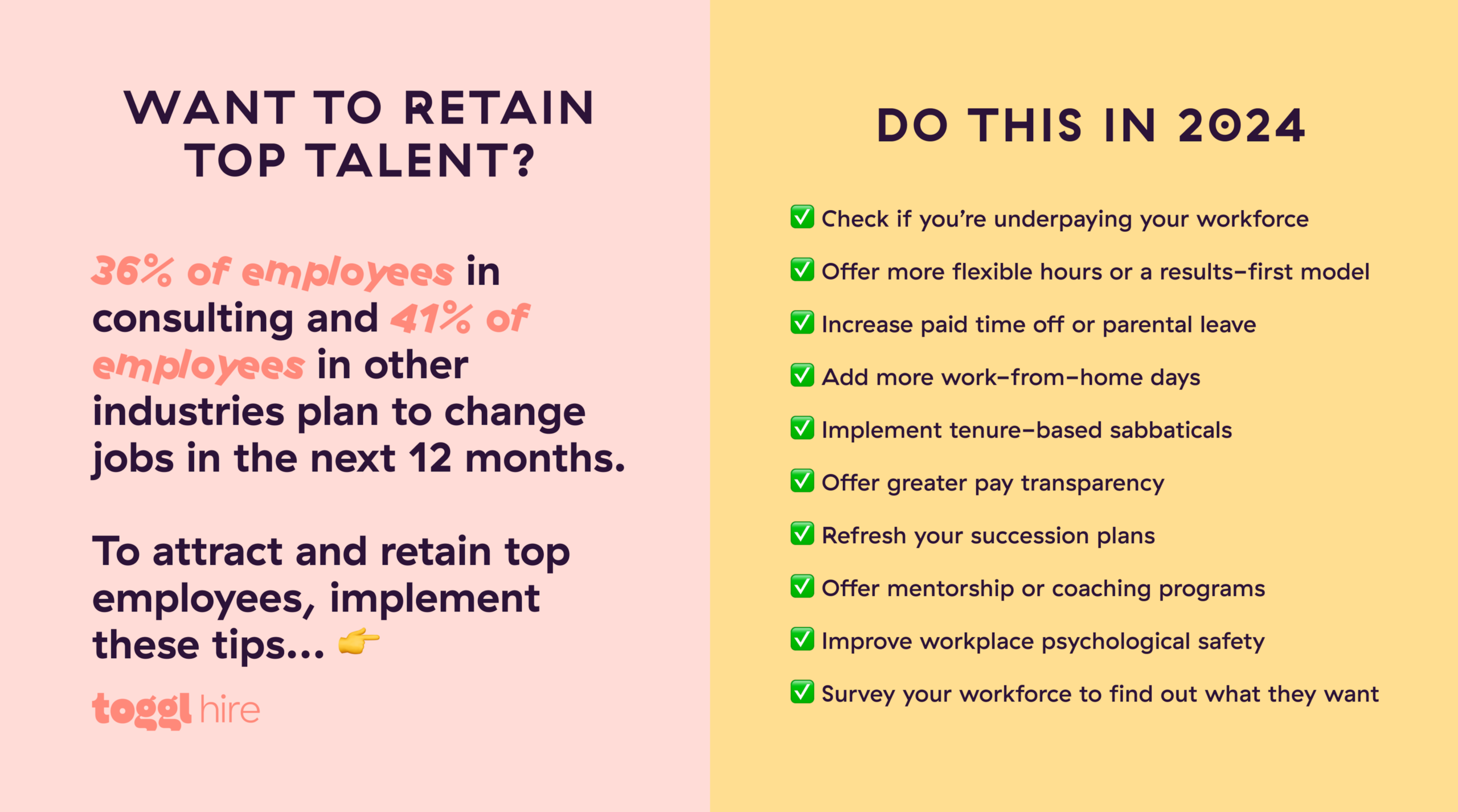 Practical tips for retaining top talent in 2024
Refresh your succession plans. Look into creating new vertical and horizontal growth opportunities for experienced employees. Standardize performance reviews and industry benchmarks to make compensation offers more competitive. Use data-backed KPIs to clearly set performance expectations and recognize the best candidates for promotion.

Introduce better perks. Only 29% of employees feel that the offered perks align with their lifestyle. With inflation rising, fewer people appreciate fancy gym memberships or having access to an in-office meditation room. Among the most in-demand employee retention perks for 2024 were better family care packages (sponsored daycare, elderly care), adoption assistance, catered food, and better work-from-home support. Survey your workforce on what they actually need and adjust the packages.

Improve the workplace ambiance. Mass layoffs, budget cuts, workplace automation — a lot of the latest recruitment trends make employees wary about their job security. Combined with a tougher leadership style, these factors dramatically reduce the employees' comfort with taking risks and making mistakes without fear of negative consequences. Only 58% of workers feel psychologically safe at work and, by proxy, less engaged and productive. Measure how your company performs in the area of psychological safety and implement better practices like a "no-blame culture" and "fail fast-learn fast."
Stay ahead of recruitment trends in 2024
From the growing importance of employee engagement to skills-based hiring, the latest recruiting trends for 2024 feel more like an evolution of effective HR practices than a revolution in hiring. And that's a relief, right? Sure, but it's definitely not a sign to kick back and relax, because the job market will be anything but steady this year. 
Sync with new candidates and current employees' expectations to avoid higher talent attrition. Empower your hiring team with AI tools that simplify and automate the recruitment process. Evaluate how contingency workforce and new talent mobility models can help you address skills gaps.
If improving the quality and speed of hires is your priority for 2024, check out our skills-based hiring pipeline that helps screen, shortlist, and hire the most qualified people for the job. Get started for free!

Elizabeth is an experienced entrepreneur and content marketer. She has nine years of experience helping grow businesses and has experienced first-hand the impact of skills-based hiring in today's global, digital world.